Disclaimer: I recieved a FREE copy of this product through the HOMESCHOOL REVIEW CREW in exchange for my honest review. I was not required to write a positive review nor was I compensated in any other way. All opinions I have expressed are my own or those of my family. I am disclosing this in accordance with FTC Regulations.
Institute for Excellence in Writing® is impressive so I was delighted to review IEW's Structure and Style® for Students Year 1 Level A  (Grades 3-5), a writing curriculum for beginners and part of IEW's Structure and Style series. I reviewed the Student Manual and Teacher's Manual. I received the physical kit with student notebook, pages to insert, and teacher's manual–in a cute sturdy box.
A comprehensive writing program, there are literature suggestions to round out the course. Fix-It Grammar is also available from IEW. Vocabulary is included in the assignments.
IEW's Structure and Style(R) has 3 levels: Level A (upper elementary), Level B (middle school), and Level C (high school). You can download a free pdf that shows how you can use this program throughout your entire homeschool adventure! Download the pdf HERE.
What I love about this program is how students learn writing systematically and they begin with reading, observing, and summarizing simple paragraphs. It is such an easy way to learn! With bite-sized steps, students learning to read clearly and effectively. That's great for homeschool moms!
At the beginning of the Teacher's Manual, there were several options for using the curriculum. You can use it one day a week, every day, 3 days a week, or 4 days a week. One day a week was our best option!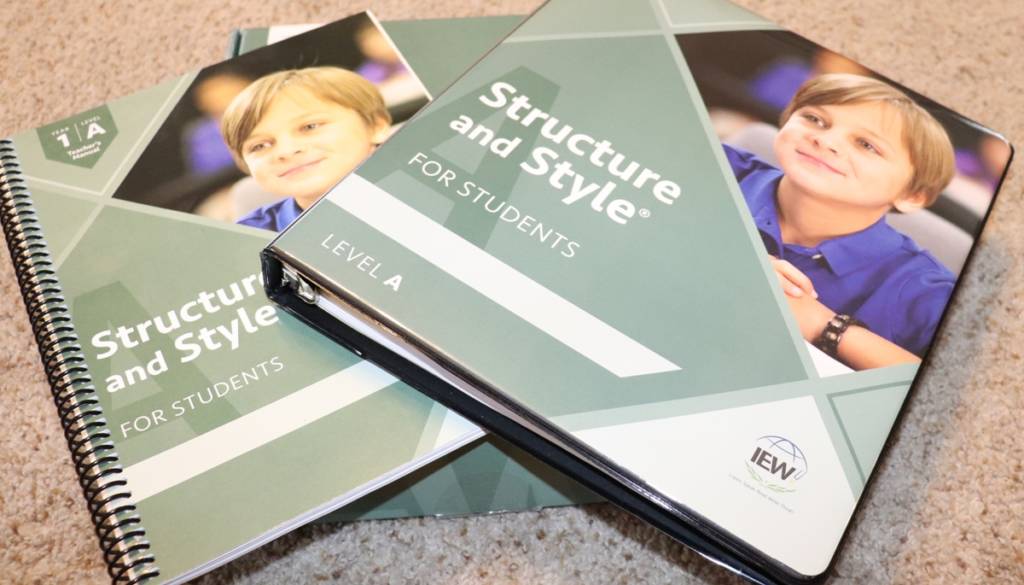 The first lesson introduces the method children will use to write without actually writing. I love that because writing can be intimidating! Students begin with reading a paragraph and jotting down key words from each sentence.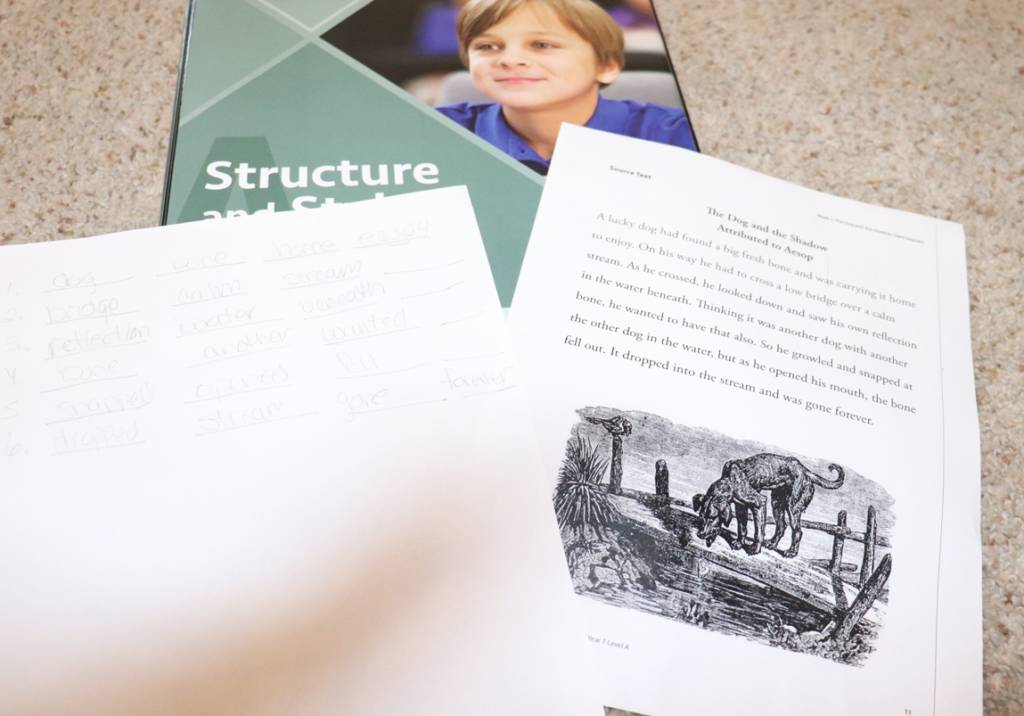 We opted not to use the video, but there is a video available of the author Andrew Pudewa teaching a group of students. He has a giant white board easy for kids to read. The video is like bringing a professional writing teacher right into your living room.
Since the lessons were so simple, we just followed the directions in the first lesson to read, write key words, and retell the story by using those key words. Simple, easy, and fun!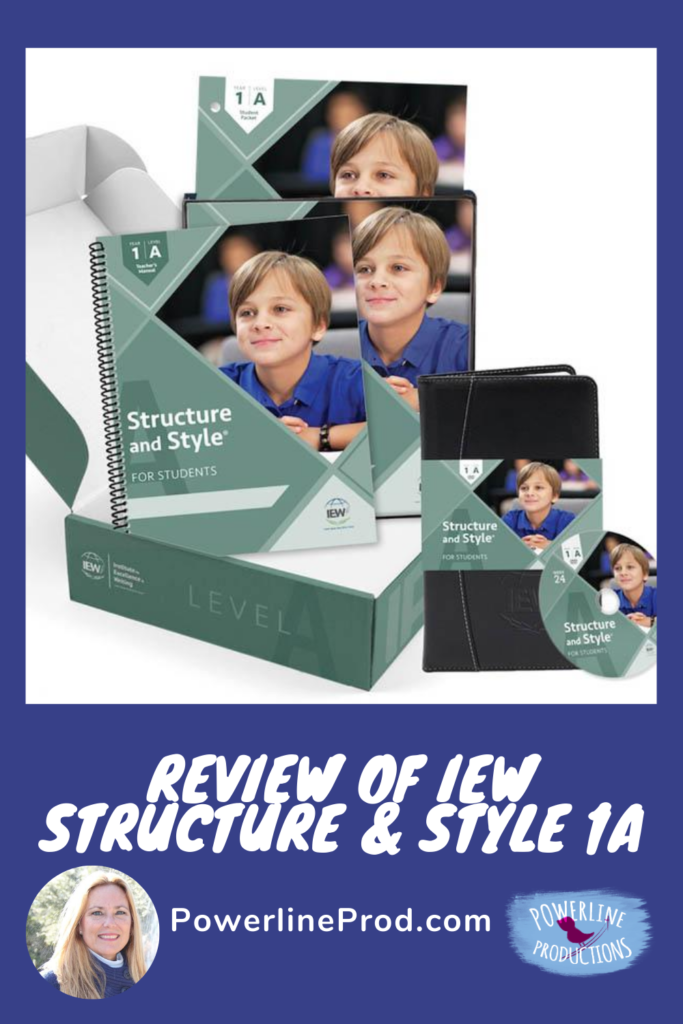 The next lessons all involved writing a "retelling" of the paragraph we read. We read about scorpions, camels, and deserts. We also "retold" several fables and folk tales. All the reading and writing we had to do was on an interesting topic or fun story.
We also started a list of -ly adverbs which we could use to find works to liven up our writing. More "dress ups" for our writing included the which/who clause, strong verbs, and because clause. I thought this was so helpful in the way it was presented and those ideas truly do make a child's writing more fun to read.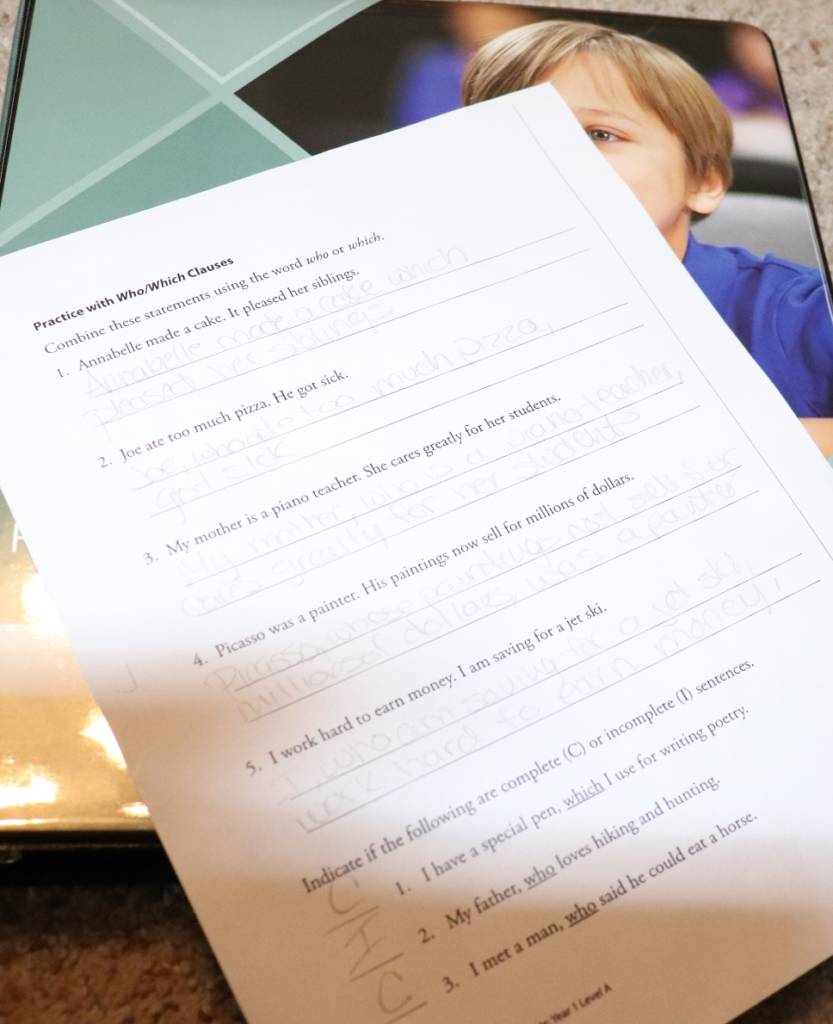 If you're interested in purchasing IEW's Structure and Style® for Students Year 1 Level A (Grades 3-5), it is now available digitally and the physical components will be shipped as soon as they are available. I love that IEW is constantly upgrading to making their language arts curriculum even better and even easier for homeschooling families to use.
Also, I ust want to let you know that IEW has digital forever streaming that can be used for any student in a household. So, if you buy the curriculum for your oldest with the streaming, you can use it for all the other children. That's great news!
Also, the student packet is consumable, but it can be duplicated within your household. So you can make copies for younger brothers and sisters.
There is also training available from IEW for parents so they can be confident teachers raising confident communicators! If you want help raising a great communicator/writer, consider IEW's Structure and Style Writing Program.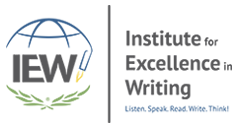 You can find IEW on Facebook, Twitter, Pinterest, Instagram, and YouTube.
Do you want to read additional reviews about IEW's Stucture and Style Writing Program, read more reviews from the Review Crew HERE!
I also encourage you to check out the Review crew blog HERE! You will find reviews of so many different homeschool resources. I love knowing what's out there and hearing what other Moms think about the products.
Until next time, Happy Homeschooling!
Warmly,
Meredith Curtis