The spring issue is here! Homeschool Life Magazine has just released their spring issue full of inspirational articles to make homeschooling easier and more effective!
To be honest, I received my digital Homeschool Life Magazine issue on a day that I needed some encouragement!
"Finding Strength In Your Child's Weakness" by Lee Ann Rubsam was a real encouragement to me!
Leann had this to say:
"While it isn't always the case, some character flaws are
actually good qualities in disguise. Originally, mankind was
created in God's image, bearing an accurate reflection of His
nature, but the resemblance became marred when Adam and
Eve rebelled in the garden. We all have inherited the sin
nature and the damaged character traits which go with it. The
God-image in us is now grossly distorted, like those mirrors in
carnival funhouses. The good news is, Jesus redeemed
mankind through His atonement at the cross. He is restoring
all things. The negative traits can be transformed back into
what God originally intended them to be."

page 10 Homeschool Life Magazine Spring 2021 issue
I enjoyed the hands-on learning ideas on Snow, Victorian Age, Spring, Ancient Pyramids, and the Louvre. The reviews were really helpful, too!
Here are some of the articles in the Spring 2021 issue:
Learning Styles: The Auditory Learner
Hands-on History: Ancient Pyramids
Help! How Do I Homeschool on a Budget?
Learning in Everyday Life
Finding Strength in Your Child's Weakness
Lab Lesson: Snow
How Do You Do That? Actress!
Preschool Theme Day: Spring
Preparing a High School Transcript
Raising Children in Christ-like Character: Kindness
Project Passport: The Middle Ages
High School Prep Genius
Acts to Revelation
Our Star-Spangled Banner
Organizing the Schoolroom
Homeschooling in the Great Outdoors
Teaching Your Kids Not to Quit
Unit Study: Victorian Age
Virtual Field Trip: The Louvre
Will Your Children Kneel or Bow?
I'm looking forward to receiving a copy of Homeschool Life Magazine 4 times a year. It's just what I need to continue my homeschool journey with joy and success!
I love their mission statement:
The Homeschool Life Magazine mission is to empower, enrich, and encourage homeschool families. While we may not agree with every detail and statement in each article that we publish, our policy is to only publish articles that uphold our mission statement and statement of faith.
You can purchase Homeschool Life Magazine HERE!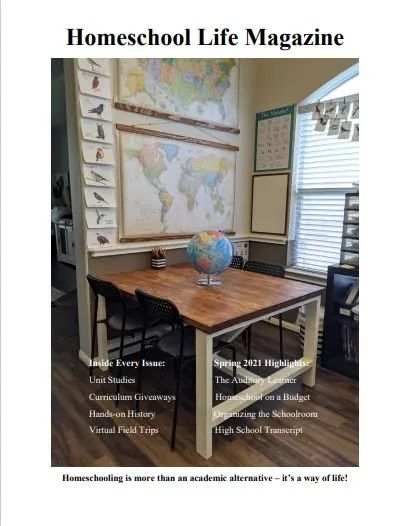 Until next time, Happy Homeschooling!
Warmly,
Meredith Curtis