Disclaimer: I recieved a FREE copy of this product through the HOMESCHOOL REVIEW CREW in exchange for my honest review. I was not required to write a positive review nor was I compensated in any other way. All opinions I have expressed are my own or those of my family. I am disclosing this in accordance with FTC Regulations.
My older children loved the thinking skills books from The Critical Thinking Co.TM when they were little, so I was so excited to get to review Dare To Compare Math: Beginning for grades 2-3 to review.
I remember loving math as a youngster, but there were still certain problems that made me freeze! Dividing fractions. Division with remainders. And comparing one group to another. I found the answer, but always second-guessed myself. I needed more confidence.
Dare to Compare Math: Beginning is a confidence-booster for young children. It introduces them to all kinds of math comparison problems using pictures, graphs, charts, word problems, money, time, sales, calories, measurement, and so much more!
It is perfect for young children to reinforce these concepts that involved adding, subtracting, multiplying, and dividing. They are not the simple in -your-face-obvious-what-to-do problems. They are problems that make you stop and think.
Each problem requires 2 or more calculations to come up with the final solution. That sounds challenging and it is! However, there was such a great variety and the problems were so interesting that we had a lot of fun together doing this book!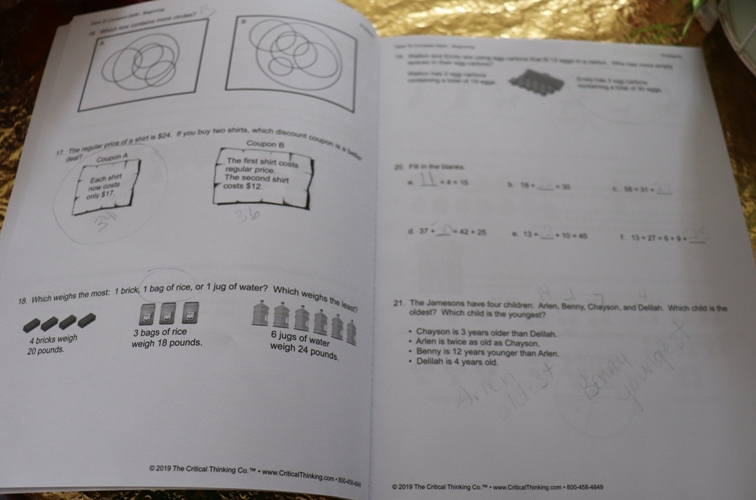 For example, one of our favorite problems was determining the ages of the 4 Jameson children from the information given. After we determined the ages of all for children using math, we had to write down who the oldest was and who the youngest was.
We simply worked on 2 pages each session–that kept it simple! I noticed before too long an increase in subtle logical thinking. That is one of the beautiful benefits of math–growing in logical thought!
Dare to Compare Math: Beginning contains 50 pages of comparison problems so we will complete it in 25 days–only 5 weeks if we had done it every day or 10 weeks if we continue at our pace.
The pages have black and white illustrations. There are answers to every single problem in the back of the book. It works great to supplement your math program.
I highly recommend this math comparison workbook!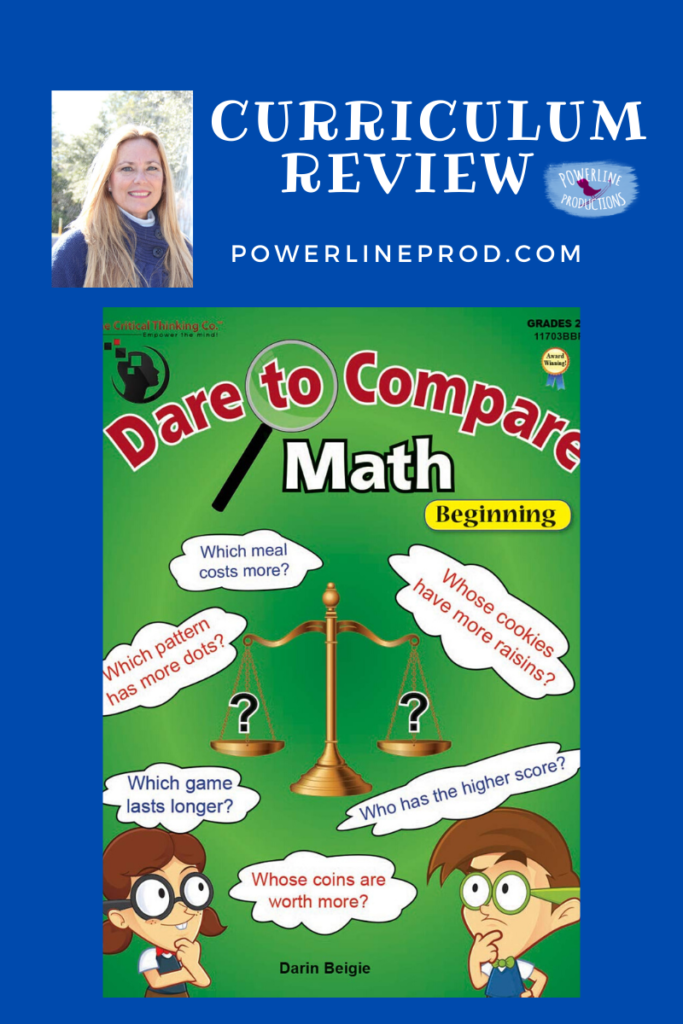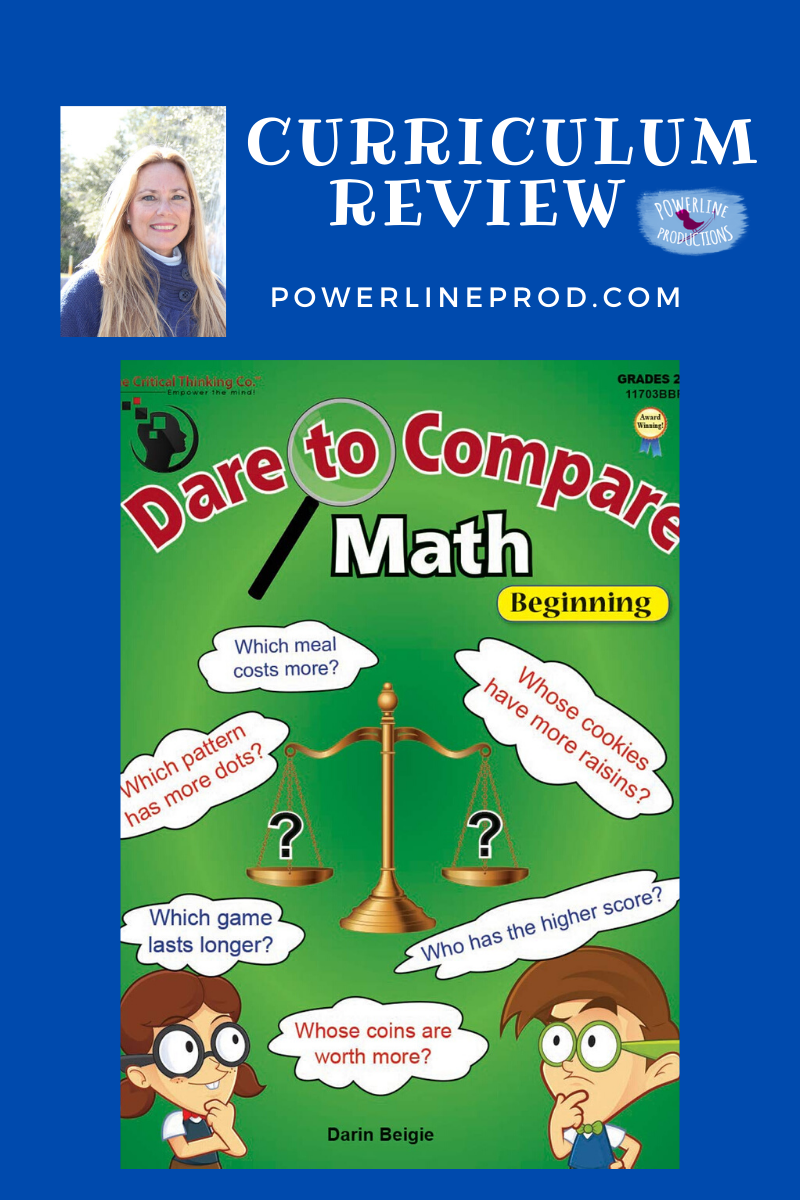 My children loved Building Thinking Skills back in the day! The Critical Thinking Co. TM still sells these fun books. And they still have another family favorite, Editor-in-Chief to learn grammar. Both series come in several different grade levels.
But, wow! They offer so much more now! I was excited to discover:
Language Smarts
Fun-Time Phonics
Word Roots
Reading Detective
Building Writing Skills
Mathematical Reasoning
Math Analogies
Balance Math
Math Detective
Pattern Explorer
Science Detective
Mind Benders
Balance Benders
Inference Jones
Critical Thinking Detective
The Basics of Critical Thinking
I really appreciate this company and the focus they have on thinking logically and critically. They bring a much-needed slant to their educational resources.
I'm happy to see a company that I've always enjoyed using to round out our homeschool curriculum expand into so many areas like science, English, Latin roots, and math. I would encourage you to check out all the have to offer!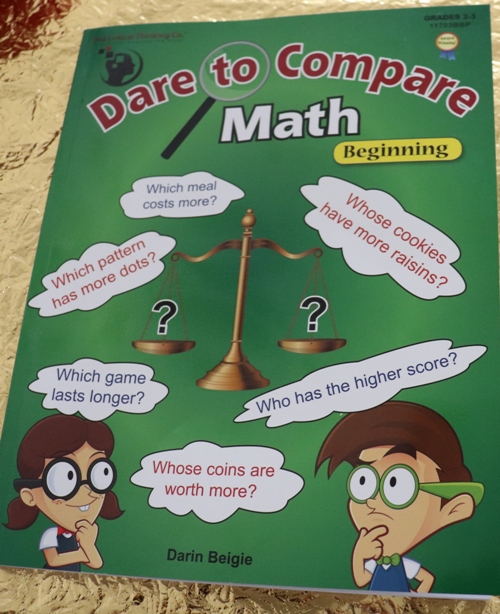 You can learn more about The Critical Thinking Co.TM at Facebook, Twitter, Instagram, Pinterest, and YouTube.
You can read more reviews about Dare to Compare Math: Beginning and other products from The Critical Thinking Co.TM here.
I also want to encourage you to check out The Old Schoolhouse's Review Crew Blog. You can read reviews on all kinds of homeschooling products for all ages.
Until next time, Happy Homeschooling!
Meredith Curtis