Book clubs are like a party with food, talking, and people who like each other. My children prefer them to book reports.
Our book clubs had included lots of laughter and some emotional moments where tangents took us to emotional issues of our lives or what was going on in the world around us. We compared characters to people we knew, talked about characters we loved, and how we wanted to the ending to be different.
Join Our Book Club
"It's just because you think Robin Hood can do no wrong!"

Everyone laughed. We were teasing Victoria who was hotly defending Robin Hood's behavior in The Merry Adventures of Robin Hood. In answer that Robin Hood was a thief, Victoria defending him saying, "He was returned money the government stole from people to the people who were stolen from."

There was more laughter and we started discussing some of the other characters. We were enjoying our bimonthly book club, as part of our Foundations of Western Literature class.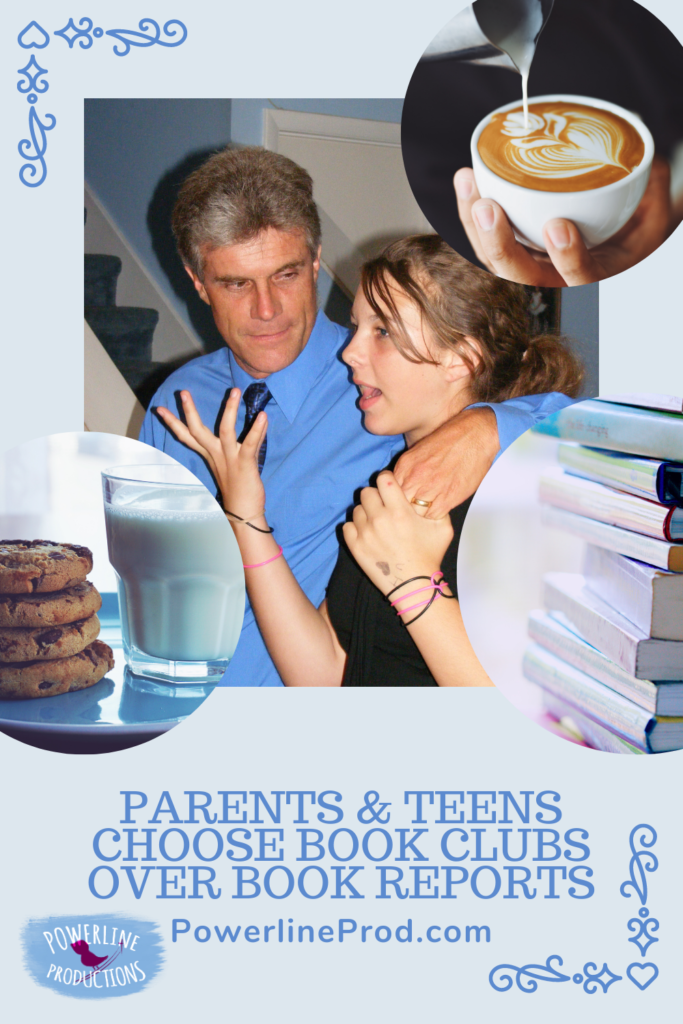 Why This Homeschool Mom Loves Book Clubs
As we talk about what we like and don't like, plot, tone, mood, setting, worldview, and theme, we find ourselves digging deeper into books than we ever have before.
There is just something about talking together that often leads to deep analysis. We always have fun together even if we don't like the book a lot. Book clubs, after all, are friendship builders.

Best of all, book clubs actually motivate students to hurry and finish the book so we can all discuss it together.
I embrace book clubs over book reports because I want to build an enjoyable lifetime habit in my children's lives. I want them to read because reading is fun, interesting, entertaining, and a privilege.
How Book Clubs Work
We choose a place to meet that is comfortable like a family room with comfortable seating.
Book clubs are like a party with food, talking, and people who like each other.
Food helps create an informal, festive atmosphere. We love to drink cappuccino and eat homemade cookies. Or big bowls of popcorn.
We all read the book and finish it before we show up. The leader starts by asking a basic question that everyone answers like "Did you like the book and why?"
Usually we focus on one element of literature for some time during the book club meeting. For example, we might focus on setting so we take about where and when for a while and then how the setting relates to the our enjoyment of the book.
Often the conversation takes several tangents at this time. These unplanned discussions are the best part of the book club. Here we dig deeper into the story.​
Alternatives to Book Club
If having a book club just won't work for you right now, here are some suggestions to bring book club fun into your homeschooling.
Discuss books in homeschool co-op classes and don't forget the snacks.
Chat online with others who are reading the same book.
Discuss what everyone is reading around the family dinner table. ​Read a book as a family and discuss the same book around the family dinner table.
Questions to Get Started
Here are some questions that can get you started.
Did you like this book? Why or why not?
What was your favorite part of the book and why?
Who was your favorite character and why?
Did anything happen in the story that surprised you? Why did it surprise you? How did the author work things together to make it surprising?
Does anyone in the book remind you of someone in your family or one of your friends?
​Was there anyone in the book you didn't like? Why did you like them?
Don't forget to embrace tangents. Some of our deepest literature analysis has resulted because of tangents.
We Have Curriculum that Uses Living Books
Once I discovered the blessing of book clubs in our home school, I put together curriculum that used book clubs for my children and our homeschool co-op. Now, I've made them all available to you!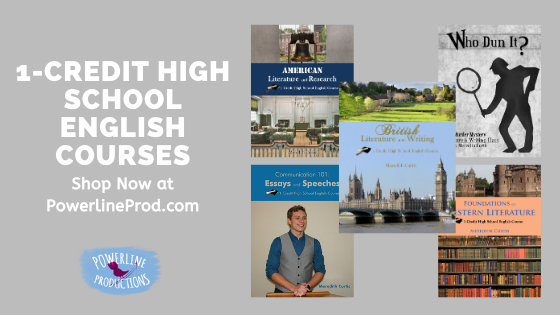 There are 5 high school English courses that you can enjoy with your teenagers. Read amazing literature, develop writing skills for the real world, and participate in book clubs. If you would like to use my English courses in your own homeschool, they are all available for sale in print at Amazon and as E-books from PowerlineProd, PayHip and TeachersPayTeachers.
Until next time, Happy Homeschooling!
Warmly,
Meredith Curtis