My husband and I raised and homeschooled three sons and a daughter in a four-bedroom 1400 square foot old ranch style house. Every member of my family are musicians and artists. We had a drum set, piano, guitars, flutes, easels, sketch pads, paints, and many more art supplies, in addition to everything else a homeschool family needs.
​
Four small bedrooms, 2 bathrooms, a tiny kitchen, and a great room, as well as closets were all we had to work with. There was no garage or basement for storing lawn equipment, sports gear, tools, holiday decorations, out of season clothing, or whatever else people store in these places. There was no office, playroom, or homeschool room to separate students. We needed creative solutions.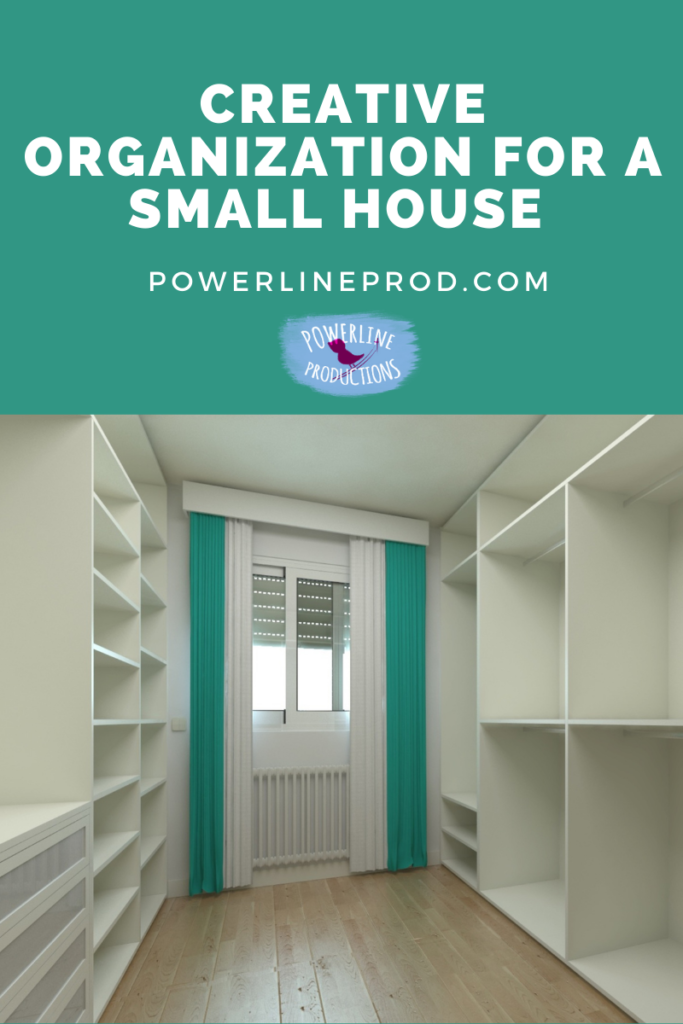 Though we were blessed with plenty of storage spaces, there were no walk-in closets. The house was built in the early sixties with tiny closets and bathrooms. We did have boxes and totes. Each closet had two selves over the clothes rack, which we filled with totes. We lined the hallways with bookshelves and installed at least one in each bedroom. Bed frames were not just to keep the box springs off the floor. They made room for more storage. These were all good things.
Put Everything Somewhere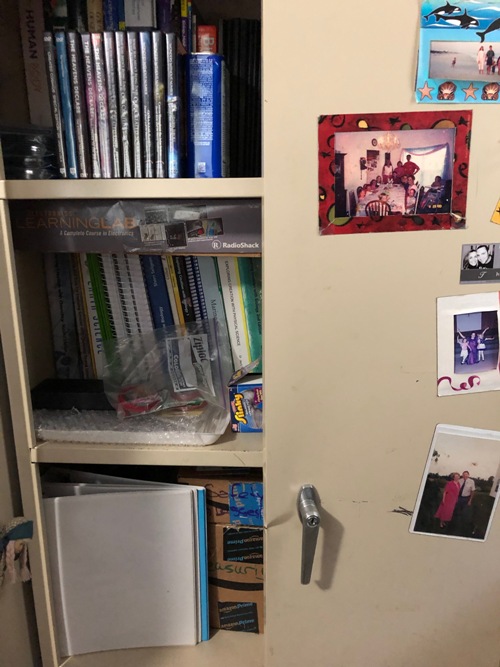 When we were younger and finances were tighter, thrift stores, estate sales, and garage sales were our favorite spots to shop. We found steel file cabinets, a storage cabinet with two doors and shelves inside, as well as bookcases in various sizes and colors. You don't have to be struggling financially to appreciate treasures at bargain prices. After all, we all want to be good stewards of our money.
​
Once you have shelves to load up with stuff, you need ways to keep the stuff neat. This is where are the totes and boxes come in. I have been told that bugs get into homes through boxes picked up from grocery stores, so I don't use them. I spend the money and buy new unused boxes from my local storage store. In Florida, avoiding bug infestations is an important concern. Those pests are everywhere down here. One year, I have traded in my cardboard boxes for plastic totes. They come in more sizes, shapes, and colors which makes organizing easier.
Don't Just Put It Anywhere
​It's not enough to have receptacles for all the stuff. Your belongings must be sorted. I know that to some people "sort" is a four-letter word, but believe me, you will be glad you did it. If you have all of one type of thing in one box it's easier to label and keep track of what's inside. I would put all the math books in one box. If it didn't fill a box, I would add books from another subject which didn't have enough to fill a box. One box was needle crafts supplies, like pattern books, sorted cotton floss, needles, Aida cloth, etc. It's true that there were always one or two boxes which collected random things, but that's better than every box being random.
Label It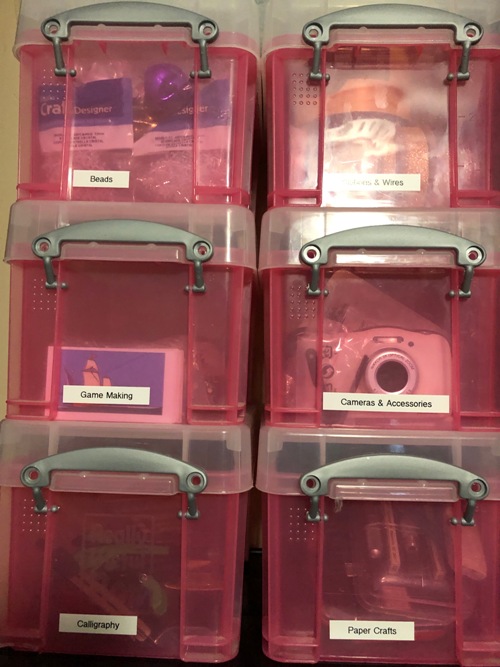 Something I noticed in my friends' homes is that they had things tucked away but couldn't find anything. Labels are my best tool. When things were packed in a cardboard box, everything inside was listed on the outside, on two sides. If you label the long side and the short side of a box, you are free to turn it whichever way fits best in the available space. When I've used opaque plastic totes, which I can't see through, I make labels. Typed or handwritten they work the same. When I've used clear plastic totes, I write the contents of the box on two sheets of paper and slide one inside the box against the long wall, and one against the short wall. Now I know what is inside all those totes and boxes that I have packed up.
What To Do with All Those Books
Labels worked so well on boxes and totes that I started putting them on bookshelves. First, I sorted the books. I'm not a librarian and don't have my books sorted like that. I have a friend who does. My books were sorted according how we used them.
All the fiction was sorted alphabetically by author. Okay so that part is like the library. What can I say? It works and it was easy. My kids always knew where to look for their literature reading assignment books.
I am a musician and a cook, so music and cookbooks each got at least one shelf. Time to be honest, it was more like two or three shelves each.
All my kids studied Economics their Senior years and there were a lot of books to be read so I filled one shelf with economic and government books, as well as other books they would read Senior year.
I own many Bibles and have hosted Bible study groups in my home so one bookshelf held various Bibles. I even include Bibles of languages we're trying to learn, like French and Spanish.
Bible study is important so there were a few shelves for Bible study helps, as well as books on Christian living.
Because we are a homeschool family, we need many shelves for additional subjects. I tried to keep general subjects together, but really, I didn't sort them so much. Looking through three shelves is much easier than looking through six bookcases.
There was a shelf of computer books. Did I mention that I'm kind-of a computer geek? It's true. I like to learn to program in new languages for fun, so I collect books on the subject.
Lastly there was a shelf of various special interest books and a shelf for photo albums.
​These are just my personal preferences.
Think about how you prioritize your books and sort them the way it works for you. After they are sorted and, on their shelves, label them. I use a label maker that I purchased for $15 at Walmart. The labels are the perfect size to fit on the front edge of the shelves. I put the label above the books being reference. We look up and see, "Econ" and we know that the Economics books are below.
When You Use It Every Day
In addition to storing things we don't need every day; we need to neatly store all the things that we do use all the time. The schoolbooks for the year at hand had their own dedicated space. In addition, we used "The Bins".
We purchased a commercial restaurant rack of bins from Sam's Club. On the bottom row were bins divided in half lengthwise which held pencils, colored pencils, pens, markers, tape, glue, glue sticks, crayons, and random marking utensils for special projects. The bins were large enough to hold most school books and folders. Three ring binders were too big. The bins were removable to one bin was removed from each of four of the shelves to be used elsewhere.
​
Each of my four children had their own shelf with two bins and extra shelf space. There was also extra space for books we all shared, construction paper, lined paper, graph paper, folders, notebooks, and composition books.
Discipline
The last component of this organization that I want to mention is probably the most difficult. Discipline. You must have it and you must instill it in your children. It doesn't do any good to have these lovely sorted shelves if nobody puts things away in the right place. You must train your children to always return things to where they found them, or to their correct place if somebody else has just dropped it somewhere.
Don't play the, "I didn't leave it there. Why do I have to pick it up?" game! Everybody, including Mom and Dad, must participate. While we're reading a book, it stays in our hand or in our bins. When we're finished with a coloring project the crayons and extra paper go back to their bins. Just like I labeled all my boxes and shelves, I labeled my kids folders and notebooks. If their books were consumable, I labeled them too. Textbooks were never to be written in or on so those I just knew who was studying that subject. If somebody's book was left out, they were called back to put it away. This was non-negotiable and delays were not permitted. My kids really don't like being interrupted so it was its own motivator.
​
Whether you are homeschooling in a tiny space or a sprawling mansion, you need to be organized. Everything can get lost just as quickly in large spaces as small. Not only will organization help you keep track of what you own, it will make more room for what you want, like more BOOKS!
Home & Homeschool Resource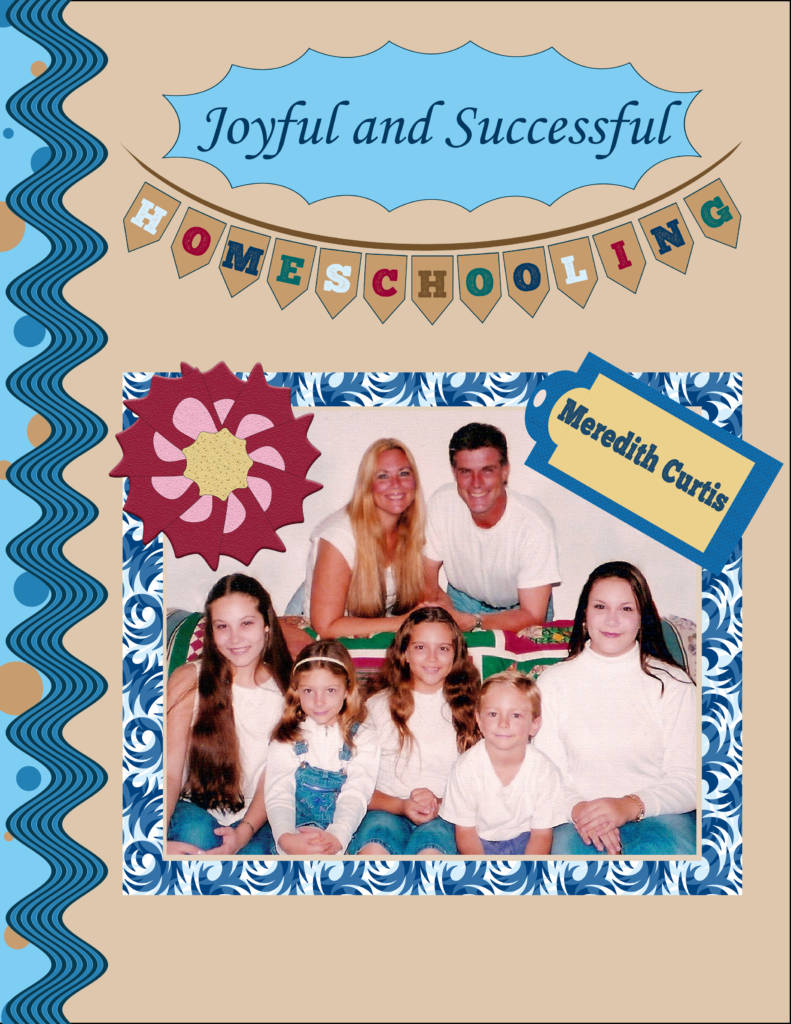 For more tips on managing your home and homeschool, read Joyful and Successful Homeschooling written by my friend Meredith Curtis​.
​ Joyful and Successful Homeschooling is for those who want to experience a joyful and successful homeschooling journey. There are no shortcuts or easy answers; just honest wisdom and experience from a homeschooling mom of five children who has been homeschooling since 1991. Wherever you are on your homeschooling journey, receive encouragement, ideas, and insights to grow in your calling to teach your children.
​
You can purchase Joyful and Successful Homeschooling at Amazon. The E-book is available at PowerlineProd, PayHip. and TeachersPayTeachers.
Learn more about Joyful and Successful Homeschooling ​here.
If you have any great ideas for getting your homeschool home organize, please share them with us all in the comments section below.
Until Next Time, Happy Homeschooling!
Warmly,
Laura Nolette