Disclosure: This blog post may contain affiliate links from my participation in the Amazon Service LLC Associates Program. I receive a small commission at no cost to you when you make a purchase using my link.
Queen Elizabeth is the great-great-granddaughter of Queen Victoria. Her father King George VI helped hold the country together during World War II. When he died unexpectedly, Princess Elizabeth was crowned queen in 1952. For seven decades, she has served her country faithfully. Today the United Kingdom continued their celebration of their queen's Platinum Jubilee—70 years on the throne with grand parades, parties, concerts, and a Thanksgiving church service.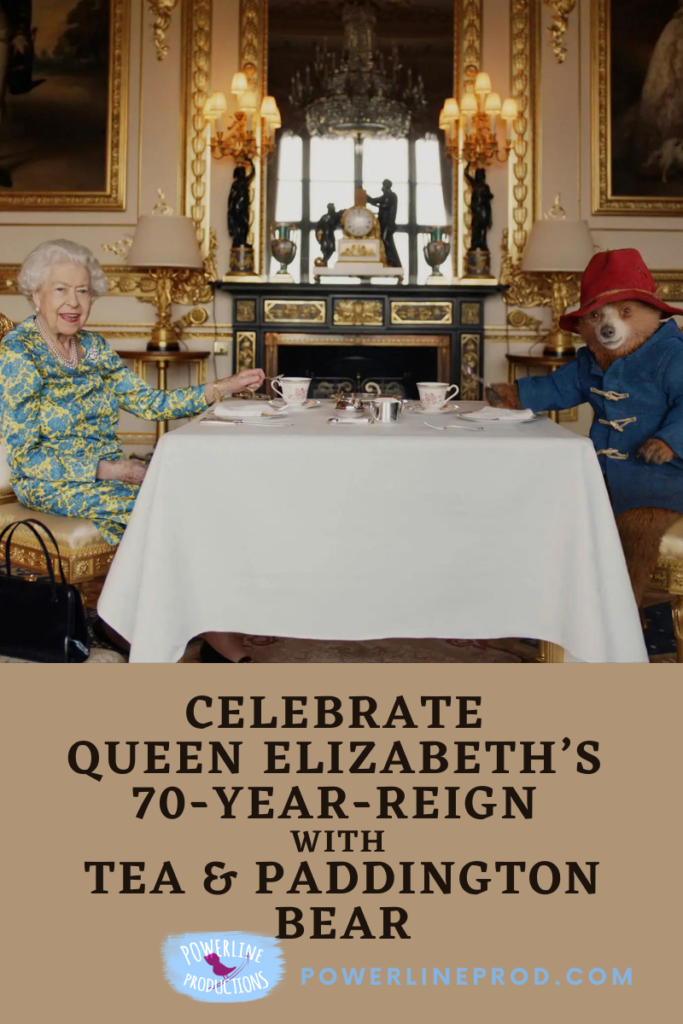 Paddington Bear grew up in Peru where he met a British explorer who invited him to England anytime. He was discovered in Paddington Station by the Brown family who adopted him and named him "Paddington," because his original name in bear language was too hard for them to pronounce. Paddington likes marmalade sandwiches with tea. British author Michael Bond created beloved Paddington Bear and you can meet him in his more than 20 books.
To kick off the Platinum Jubilee Concert, the Queen and Paddington Bear took tea together so he could thank her for 70 years of service.
T
To celebrate 70 years of service, a tea party is in order. Your kids will love to eat marmalade sandwiches (Paddington Bear's favorite!) while drinking tea with sugar and cream. Or you may want to make a trifle.
The Official Platinum Jubilee dessert is a Lemon and Amaretti Trifle. A contest was held to determine the winning dessert—you can get the recipes for the winner and runner-up desserts here: https://www.bbc.com/news/uk-61428970
After you watch the video above with the children, they might wonder who Paddington Bear is. Introduce them to the beloved bear with books in the series by Michael Bond or watch the movies.
You can also watch some of the Platinum Jubilee events on YouTube—I provide links below.
After you watch the video above with the children, they might wonder who Paddington Bear is. Introduce them to the beloved bear with the first books in a series by Michael Bond. Or watch the movie.
Paddington Bear
Here are the first 15 Paddington Bear books.
A Bear Called Paddington by Michael Bond (1938)
More About Paddington by Michael Bond (1959)
Paddington Helps Out by Michael Bond (1960)
Paddington Abroad by Michael Bond (1961)
Paddington at Large by Michael Bond (1963)
Paddington Marches On by Michael Bond (1964)
The Adventures of Paddington by Michael Bond (1965)
Paddington at Work by Michael Bond (1967)
Paddington Goes to Town by Michael Bond (1968)
The Best of Paddington Bear by Michael Bond (1970)
Paddington Takes the Air by Michael Bond (1970)
Paddington Takes to TV by Michael Bond (1971)
The Hilarious Adventures of Paddington by Michael Bond (1972)
Paddington's Blue Peter Story Book by Michael Bond (1973)
Paddington on Top by Michael Bond (1974)
Introduce your family to Paddington Bear with the first three books in the series:
Or you might want to buy a Paddington Bear Collection.
Or you might want to watch a movie about Paddington
If you want Paddington to join the tea party, you can bring this cute little stuff Paddington.
Now onto the queen.
Queen Elizabeth
Queen Elizabeth rules over the United Kingdom (England, Wales, Scotland, and Northern Ireland). Can you find them on a map?
She is also the queen of Australia, Canada, New Zealand, Bahamas, Antigua & Barbuda, Belize, Grenada, Jamaica, St. Christopher & Nevis, Tuvalu, St. Lucia, Papua New Guinea, St. Vincent & the Grenadines, and Solomon Islands. Each of these countries is independent and has their own political leaders. Can you find these countries on a globe or world map?
The queen's role is mostly ceremonial. She represents the UK and other countries to the nation and on the world stage. Elizabeth II stays politically neutral.
Here is a short video about Queen Elizabeth's 70-Year-Reign
For you and your children to learn more about Queen Elizabeth, check out these books.
Platinum Jubilee Celebration
Festivities started Thursday June 2, 2022 until Sunday June 5, 2022. These festivities include:
Trooping the Colour (Thursday)
Service of Thanksgiving at St. Paul's Cathedral (Friday)
The Derby at Epsom Downs (Saturday)
Platinum Party at the Palace Extravaganza (Saturday)
The Big Jubilee Lunch (Sunday)
The Platinum Jubilee Pageant (Sunday)
You can read more about these events and see pictures HERE.
Trooping the Colour
The Trooping of the Colour has marked the official birthday of the British Sovereign for over 260 years.
Queen Elizabeth II's annual birthday parade kicked off four days of Platinum Jubilee festivities on June 2, when more than 1,200 officers and soldiers of the 1st Battalion and the Irish Guards put on a display of military pageantry through the streets of London, U.K. Over 1400 parading soldiers, 200 horses and 400 musicians come together each June in a great display of military precision, horsemanship and fanfare to mark The Queen's official birthday.
The streets were lined with crowds waving flags as the parade moves from Buckingham Palace and down The Mall to Horse Guard's Parade, alongside Members of the Royal Family on horseback and in carriages.
The display closed with an RAF fly-past, watched by Members of the Royal Family from Buckingham Palace balcony.
This 2-hour video shows the whole thing: https://youtu.be/4530KCYg9WQ
Here are some highlights to look for:
Circa Minute 1:28: Queen Elizabeth II appeared first with one of her royal cousins, the Duke of Kent, to take the salute of her troops
Circa Minute 1:40: an aerial view of London.
Circa Minute 1:45: Look how many folks are watching then canons
Circa Minute 1:58-2:03: canons firing
Circa Minute 2:03: Extended Working Royal Family comes out to Balcony
Circa Minute 2:07: Helicopters
Circa Minute 2:08: Planes
Favorite moment of flyover 2:12
More on Trooping the Colour with Parade Route: https://platinumjubilee.gov.uk/event/the-queens-birthday-parade-trooping-the-colour/
Platinum Jubilee Celebration – Short Videos
The Royal Family hosted a night of song and speeches outside Buckingham Palace to celebrate the Queen's Platinum Jubilee. Rock band Queen opened the show and Diana Ross, Sir Rod Stewart and Duran Duran were among the other big names.
Jubilee Thanksgiving Service June 3, 2022 at St. Paul's Cathedral, an Anglican Church.
Jubilee Lunch at Oval Cricket Grounds in South London.
Whether you read Paddington Bear aloud to your kids over tea and watch some of the celebration videos online or you spend a few days exploring British history during Queen Elizabeth's reign, this historic moment is worth celebrating!
Until next time, Happy Homeschooling.
Warmly,
Meredith Curtis