Have you ever considered taking a road trip to learn geography? You can learn US geography the fun way—on a road trip! So, pack your suitcase, grab your gear, and head for the open road–it's wide open space out here in the west.
On our whirlwind tour of the Southwest and Western States, we'll see the deserts, cattle ranches, rock formations, mountains, Native Americans, and cowboys. We'll need to stay hydrated out in the desert and warm in the mountains. This is the land of rugged beauty and wide open spaces!
Most of this area was influenced by the Spanish and once part of Mexico. You will see and taste Mexican, Native American, and European influences in the food and culture.
Our first stop is tribal land belonging to the Cherokee Nation.
Cherokee Nation
The Cherokees lived in the Great Smokey Mountains before European settlers began moving close by. For a century, the tribe co-existed with the newcomers, but in 1830s to the 1850s, the Cherokee, along with the Chickasaw, Choctaw, and Muscogee nations were forced to relocate to "Indian Territory," now Oklahoma. Their westward move is called the "Trail of Tears." There is a still a settlement of Cherokees in NC, but the majority set up their own lands and government in present-day Oklahoma.
Tahlequah became the Cherokee's new capital. A constitution was adopted in September of 1839, 68 years prior to Oklahoma's statehood. Their tribal land covers most of northeast Oklahoma. You can visit the Cherokee Heritage Center, a living museum created to preserve the history and culture of the Cherokee nation. We can explore Cherokee life in the 1710s and 1890s.
More Native Americans live in Oklahoma than any other state except California. Except for Alaska, Oklahoma has the highest percentage of Native Americans in their population
Oklahoma's capital is Oklahoma City, the largest city in the state, and that's our next stop.
Oklahoma
Home to one of the largest livestock markets in the country, Oklahoma City is also surrounded by oil fields and oil companies. The Oklahoma State Capitol building sits right on top of an oil field with a working oil well right in front of the capitol.
Visit the National Cowboy Hall of Fame to see artwork and artifacts from cowboys of the Wild West. Children can use their ranch skills in the Children's Cowboy Corral. The Oklahoma City Stockyards are nearby. The outdoor pens fill with cattle every Monday and Tuesday. Now this is really cool—we can go Underground in Oklahoma City to see all kinds of art galleries through secret entrances across the city.
Texas
Everything is bigger in Texas. Texas may be #2 in area (after Alaska) and #2 in population (after California), but in the heart of Texans, Texas is #1. The Lone Star State is famous for BBQ, hot weather, country music, the Alamo, and the Fort Worth Stockyards. Texas is the only state that was a free country before she joined the union.
Texas has beaches, deserts, and mountains. We are going to head south down to San Antonio which is about 1 hour 30-minute drive from the Mexican border.
Smack dab in the middle of San Antonio, the second largest city in Texas is The Alamo. Once we get inside this mission/fort, it's like stepping back in time. Built in 1744 as a mission by Spanish missionaries, the Alamo was a busy place. Missions were like little cites with a church, living quarters, storage facilities, and workrooms It was turned into a fort later. It was here that the famous standoff between the Mexican Army and the small group of Texans, including Davy Crockett and James Bowie, took place during the War for Texas Independence.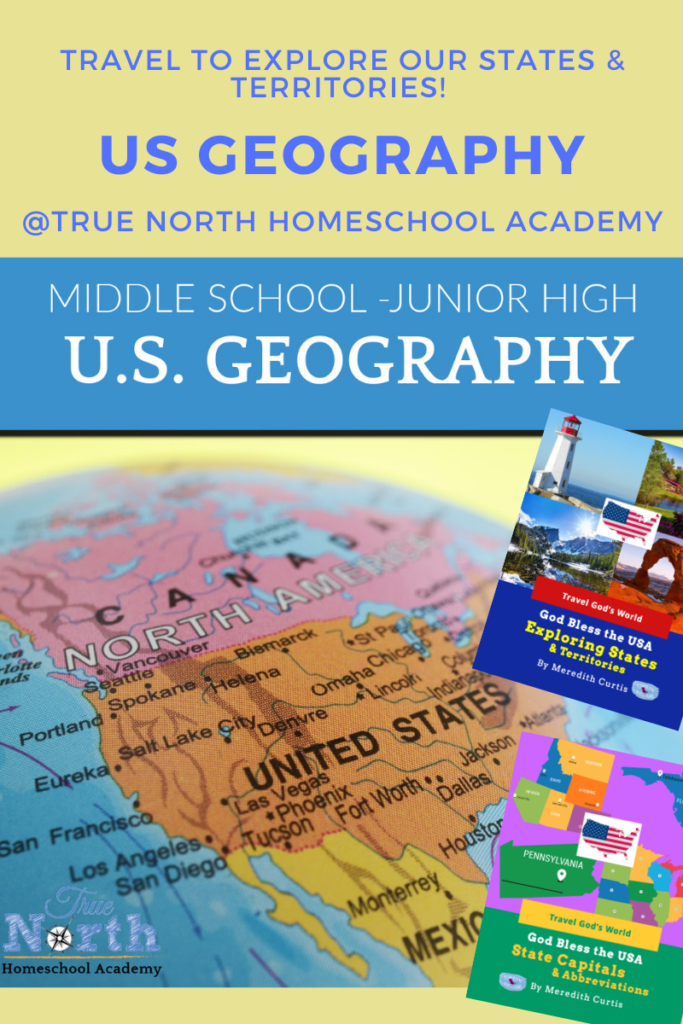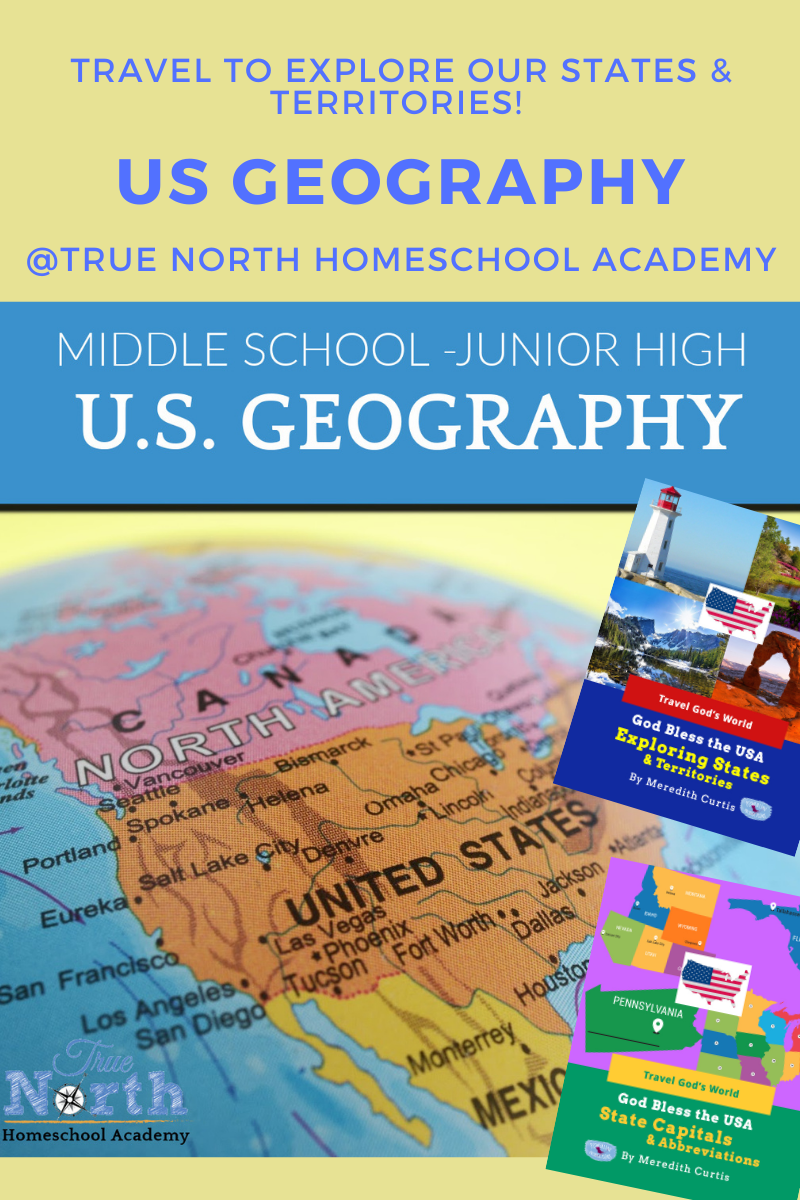 You can learn a lot about geography when you travel! You might want to take this trip with your family. OR join us at True North Homeschool Academy this fall and travel to every state and inhabited territory in our US Geography class (Jr. High but open to high school students). Purchase online class HERE.
New Mexico
Once part of New Spain and later Mexico, New Mexico is covered with cattle ranches and home to the largest balloon festival in the world. The annual festival started in 1972 and is a spectacular, colorful sight!
The first atomic bomb was detonated in the New Mexico desert. New Mexico is full of dry dusty deserts with mesas, forests, and snow-capped mountains.
Santa Fe (holy faith), the oldest capital in the USA, was founded in 1610 as the capital of Nuevo Mexico. High up in the mountains with four centuries of history, a thriving artist community, and beautiful pueblo-style architecture, Santa Fe is home to San Miguel Chapel, the oldest Catholic Church in the USA –still regularly used for services. This simple adobe church contains art treasures. Can you just imagine what life was like back in the 1600s with the little mission church the center of community life for the Franciscans, Native American converts, and Spanish soldiers?
Various tribal nations lived in pueblos, similar to modern-day apartment buildings. The Spanish explorers established a colony in the Salinas Valley and shared their faith with the Native Americans. Churches were built and missions established. Today, visitors can wander through the ruins at nearby Salinas Pueblo Missions National Monument and imagine what life was like many years ago.
Four Corners
There is a specific place where four corners of four different states (New Mexico, Arizona, Utah, and Colorado) meet, known as Four Corners. After the Mexican-American War ended, the USA acquired land from Mexico that became Arizona Territory just below Colorado Territory. The borders were defined at that point to make the four corners meet at one point. This land belongs to the Navajo Nation whose boundaries extend into NM, AZ, and UT with smaller portions nearby belonging to the Hopi, Ute, and Zuni. We just might run into a Hopi or Navajo farmer, rancher, or shepherd.
Arizona
When you think of the Wild West, the Arizona desert comes to mind with its famous saguaro cacti. The Grand Canyon, red rock formations, retirees, and desert landscaping scream "Arizona!" Our 48th state includes land belonging to the Navajo Nation, the Apache Nation, and the Hopi Nation. The amazing Petrified Forest and Painted Desert along Route 66 and several ghost towns make Arizona an exciting place to visit.
Our next stop is the Grand Canyon. Just stand on the rim of the Grand Canyon and soak up all the incredible beauty below. The Colorado River runs through the canyon a mile deep and 18 miles wide. From the South Rim, we can take a donkey ride down the trail to the bottom of the canyon. After we get up to the rim again, we can drive around to another section of the park and take a helicopter ride down to visit the Havasupai reservation down at the bottom of the Canyon. Visitors can see Havasu Falls and swim in a natural swimming pool of turquoise water.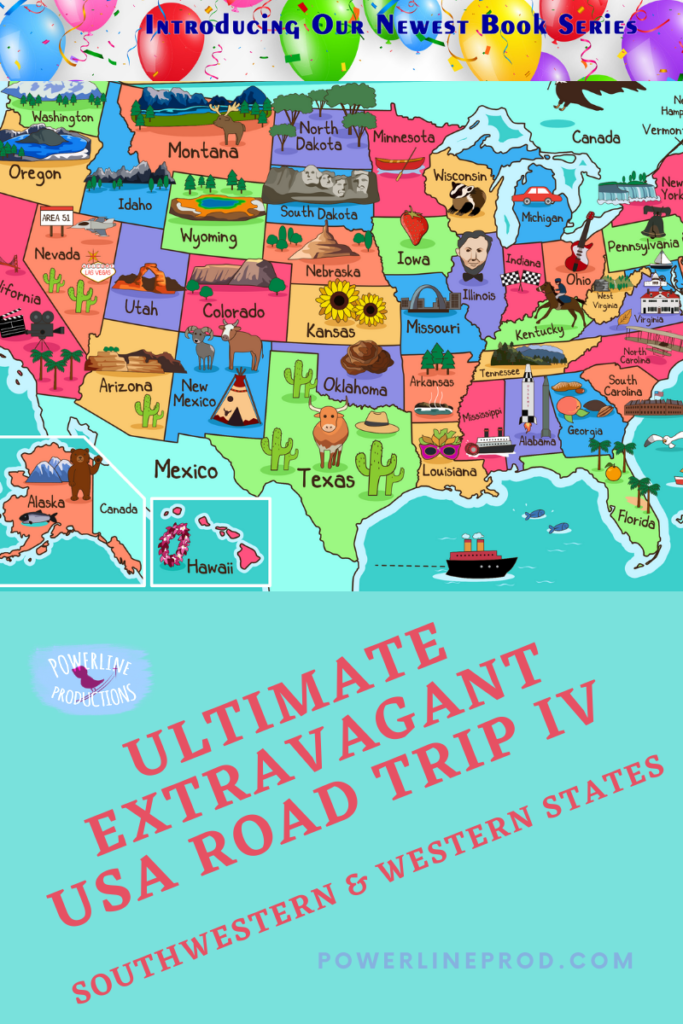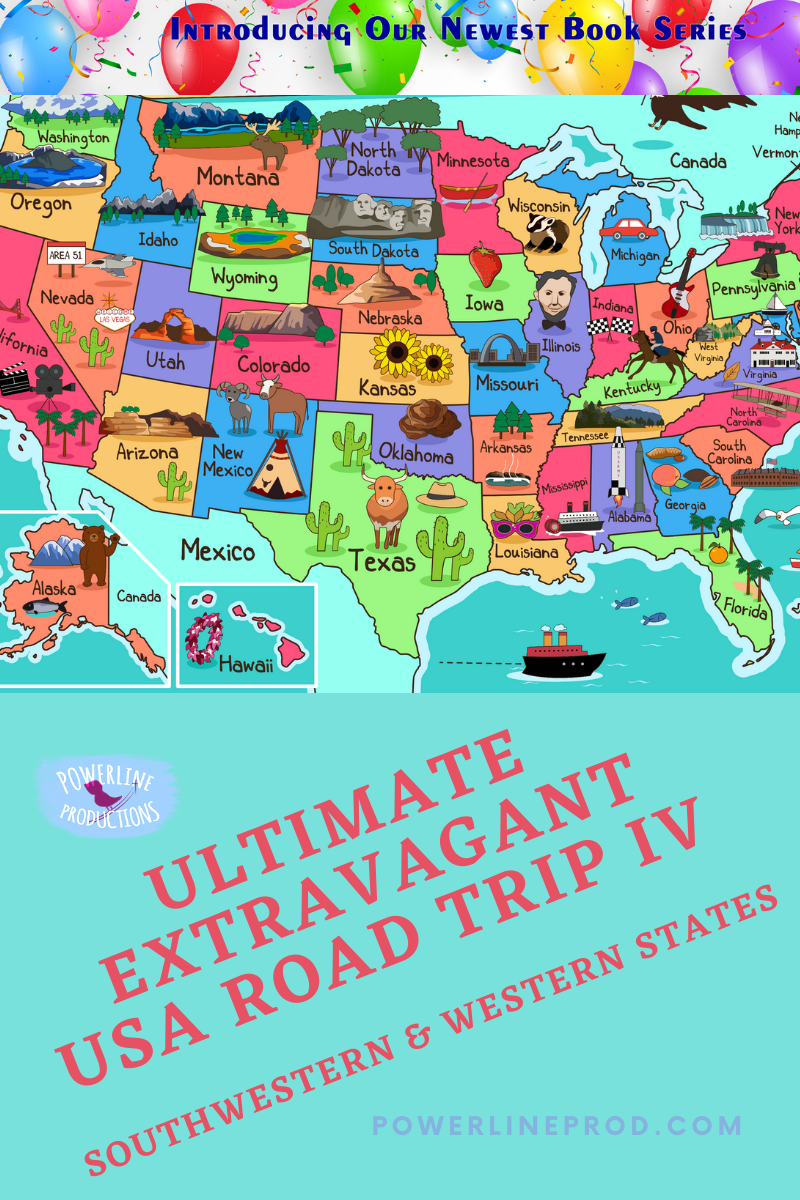 Colorado
Snowcapped Rocky Mountains, ski resorts, vintage mines, ghost towns, and breathtaking scenery await us in Colorado. In Colorado's Rocky Mountains, 53 peaks are fourteeners, meaning they are at least 14,000 feet above sea level. Colorado also has forests, mesas, canyons, plateaus, rivers, and deserts. Denver, the capital and largest city, sits in a valley.
People come from all over the world to ski in Colorado. There are so many great resorts, but I like Breckenridge the best! More than a resort town, it's packed with history, historic buildings, galleries, and shops to explore. If Breckenridge is the most popular, Vail is the biggest! This is luxury skiing at its finest with a decidedly European feel! Aspen is a ski resort for the rich and famous. We might see a celebrity. Wherever you choose to go, get out on the slopes and do what people around the world long for: ski down a Colorado mountain!
Utah
Utah has everything from dry deserts with sand dunes to lush pine forests in fertile valleys. Home to the largest salt lake in America, Utah's rugged landscape is dotted with unique rock formations like giant arches. They also have SALT!
West of Great Salt Lake, the Bonneville Salt Flats are perfectly flat with a crust of salty soil. It looks like a lake covered with snow. No plant life can grow in the saltiest places. Let's stop at a rest stop and walk out on the salty soil. When we get back, we better wash all the salt off our shoes. Though Great Salt Lake is mined for salt, the Bonneville Salt Flats are only mined for magnesium and the leftovers are used for road salt.
About 6 hours southeast, nestled between red sandstone cliffs, the sand dunes in Coral Pink Sand Dunes State Park are a light peach/pink color. We can go sandboarding down the dunes after we hike up to the top and enjoy the picturesque view.
Nevada
Named and explored by the Spanish, Nevada means "snow-covered." This name was also given to the snow-peaked Sierra Nevada mountains within her borders. The rest of Nevada is desert! After the Mexican-American War, the USA acquired a large amount of territory in the West. When silver was discovered in Utah Territory, she became Nevada Territory and later a state. However, mining is still big business and Nevada is the fourth-largest producer of gold in the whole world. Nevada is mostly desert and is the driest state in the country!
The capital of Nevada, Carson City is named after Kit Carson. Christopher "Kit" Houston Carson was a larger-than-life mountain man, explorer, map maker, fur trapper, wilderness guide, Indian agent, and US Army officer. Like her namesake, Carson City has an exciting history. First a stopover for those traveling on to California, she started growing when silver was discovered at Comstock Lode near Virginia City and became a railroad hub. Visitor can explore the Nevada State Railroad Museum with a locomotive and railroad station, Nevada State Museum with a recreated Wild West village, and the Kit Carson Trail with 50 landmarks telling the story of Carson City.
Nearby Virginia City is a well-preserved, frozen-in-time Wild West town. For 25 years, Virginia City was a bustling mining town. Explore and soak in the Wild West atmosphere.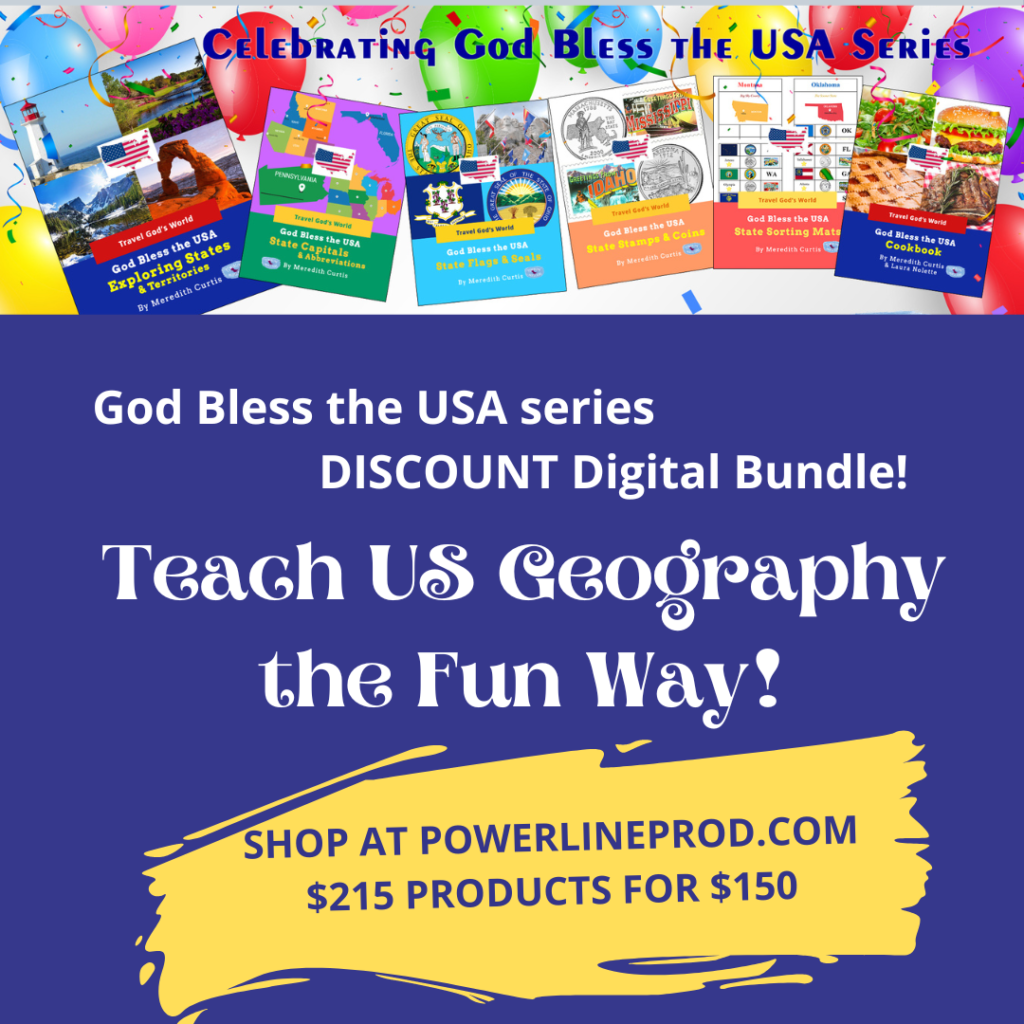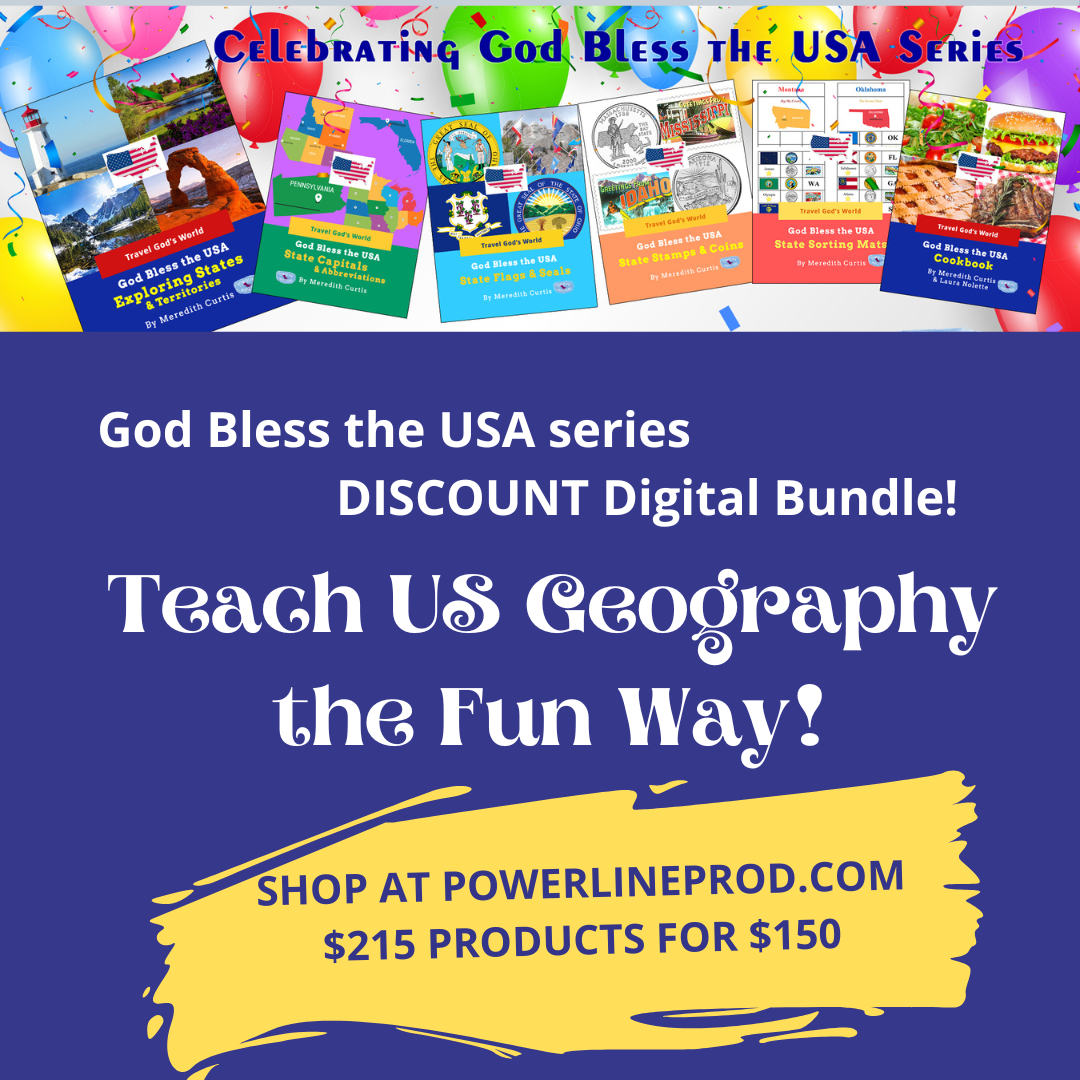 Our digital bundle: all 8 digital products totaling $215. value at the low price of $150. Plus, you can use the 40% off coupon to make the total price $90 for $215 worth of US geography digital resources! That's a deal!
Wyoming
Wyoming is the place to go to see gorgeous scenery, enjoy the great outdoors, and remember frontier life in the Wild West. Sparsely populated, you can meet real cowboys, enjoy rodeos, and see working ranches. Nature offers hot springs, red-walled gorges, geysers, and waterfalls. Once inhabited by Arapaho, Crow, Lakota, and Shoshone, Southwest Wyoming was part of the Spanish Empire before becoming a territory and later a state.
Yellowstone National Park is the world's oldest and first national park. Huge herds of bison roam free in the valleys. Trumpeter swans glide effortlessly across pristine lakes. Majestic bald eagles soar above the mountain tops. Geysers hiss. Mud pots bubble and steaming hot springs delight visitors. Waterfalls pour down steep ravines creating a vision of delight. Yellowstone Lake, the largest high elevation lake (7,733 feet above sea level) in North America, is too cold for swimming. It freezes over in the winter and stays cold during the summer. We can fish for cutthroat trout or go boating. Grand Prismatic Spring will delight us! This very large hot spring has a colorful rainbow ring on the surface created by bacteria and microbes. The Yellowstone River has two awe-inspiring waterfalls: Upper Falls and Lower Falls. The Lower Falls drop 308 feet as the river starts flowing through the Grand Canyon of Yellowstone Park. The entire view is spectacular! Finally, the signature site of Yellowstone National Park is Old Faithful, a cone-shaped geyser that shoots a burst of hot water over 100 feet into the air every hour or so.
Montana
The fourth largest state, Montana is full of beautiful wilderness to explore. Home to national parks, ten national forests, animal preserves, ski resorts, and battlefields, this state is the land of copper and cowboys. From hot springs to caverns, this mountain state is so fun to explore! Everything just seems bigger in Montana—maybe that's why they call it Big Sky Country!
Butte started as a copper mining boom town and today we can see the World Museum of Mining with a restored mining camp and an underground tour of a mine. Copper King Mansion, built in 1888, reflects the prosperity of Butte in Victorian times. I want to see the 27.5-ounce gold nugget at the Mineral Museum. Close by are the Ringing Rocks, a fascinating geological phenomenon. When the rocks are hit, they ring like a bell. However, if a rock is removed, it doesn't work! We can climb the rocks and use a little hammer to hit the rocks.
Idaho
Idaho is filled with endless mountains, forests, and rivers. Known as the top potato producer in the USA, Idaho is also the lentil capital of the world. Philo T. Farnsworth invented television in Rigby, making Idaho the birthplace of TV. 72 precious and semi-precious gems have been discovered in Idaho. Sacagawea, a Shoshoni who guided Lewis and Clark, was from Idaho. The California and Oregon Trails pass through the state. Idaho became part of Washington Territory in 1853. After gold was discovered in 1860, Idaho became a territory in 1863 and a state in 1890.
Nevada has the highest number of hot springs in the country, but most are not usable. Idaho has 340 hot springs and 130 can be soaked in, making it the state with the most usable hot springs. Lava Hot Springs with hot springs pools heated geothermally and located all around the city with a variety of temperatures is the perfect way to relax after a busy trip. We can choose which temperature we like best! We can explore the five caves, or lava tubes. We can also visit water parks, hike, golf, or explore the mountains nearby.
Well, it's time to head home. I hope you took lots of photos. Thank you so much for joining me on this whirlwind tour of the Southwest and Western states. I look forward to our next trip—to the Pacific States and our 5 inhabited Territories.
God Bless the USA series – Geography Resources
God Bless the USA Exploring States & Territories is at the core reimagining US geography by taking kids to each state as if they are traveling–we visit sites, landmarks, and beautiful places.
God Bless the USA Cookbook-travel from state to state in the kitchen!
There's more!
We have included all kinds of printables–use one or two or all of them to supplement your US geography studies:
Take Geography Online at True North Homeschool Academy
You can learn a lot about geography when you travel! You might want to take this trip with your family. OR join us at True North Homeschool Academy this fall and travel to every state and inhabited territory in our US Geography class (Jr. High but open to high school students). Purchase online class HERE.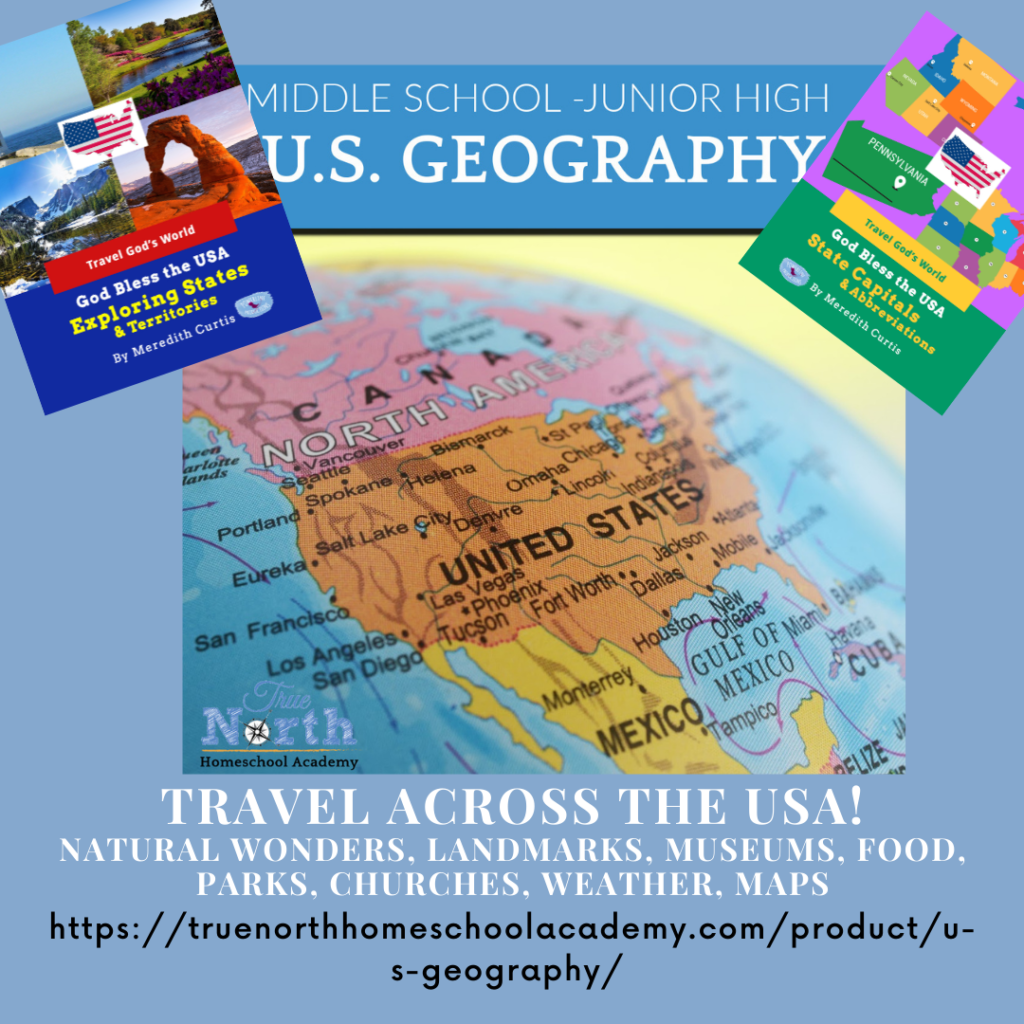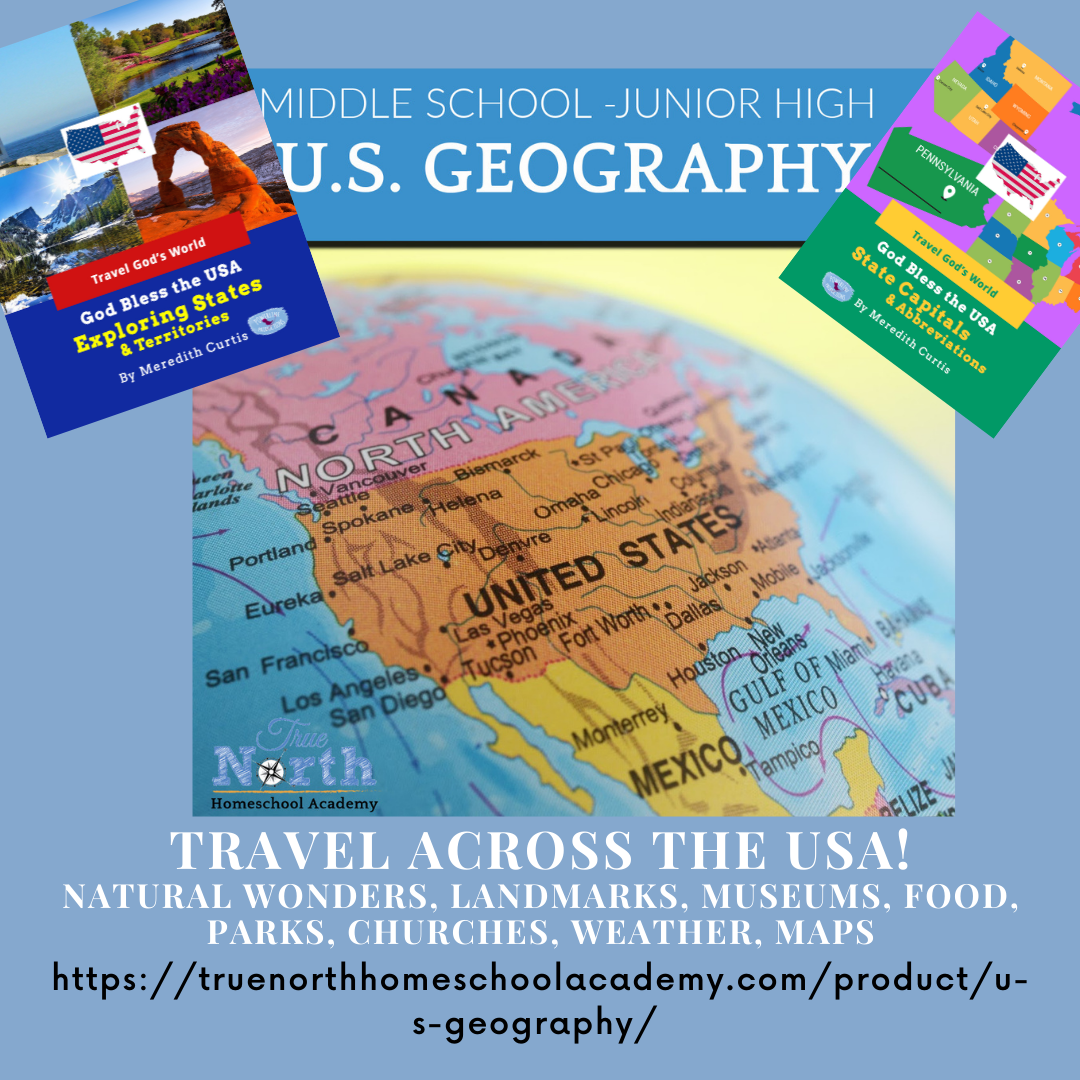 We'll be using God Bless the USA Exploring States & Territories and God Bless the USA State Capitals & Abbreviations. Purchase them at PowerlineProd.com.
Until next time, Happy Homeschooling!
Warmly,
Meredith Curtis