When something exciting happens or a special occasion comes along, celebrate with a party! Everyone loves a party, but they can be intimidating to plan. Let's plan a party the simple way with these 11 party planning basics.  
Define the Purpose of Your Party
Celebrations can include good food, sweet drinks, lively conversations, games, singing, or dancing!

The key to a successful party is planning ahead. This might be your son's graduation from high school, your husband's fortieth birthday, or Easter, the celebration of Jesus' Resurrection!
Talk to the Person You are Celebrating
If you are celebrating your son's graduation, what would be meaningful to him and his family? Would he enjoy something formal or informal. Would he like people to share what they appreciate about him at the party? Open gifts? Play games?
If you are celebrating a birthday, focus on the birthday boy or girl. What would make his or her day special. Of course expectations have to be realistic. Shine had a friend whose parents took her and her friends to Disney World for her birthday including staying at a hotel. Yikes! Our family cannot afford that! But, one time, we had a movie-theme party with an admission booth (painted cardboard box), movie posters on the walls, and a snack bar complete with popcorn and movie-theatre candy. Shine loved it!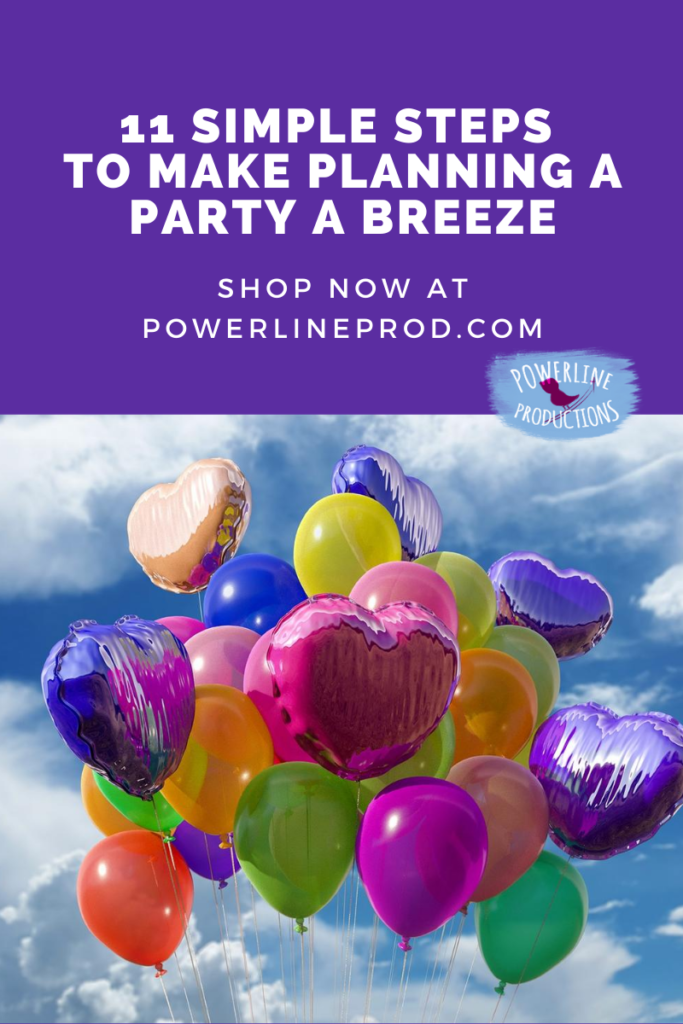 Choose Time & Place
Decide on the date, time, and location!

Choose where the party will be and when. Will it be at your house? Is there enough room at your house?
We have a large home and many times, friends have hosted their parties at my house. I have also held my parties at other people's homes. Laura has a huge field in the back yard and my son has had soccer parties and airsoft parties in Laura's field.
Time of the year matters as well. When Katie Beth was little, we set up little pools for a swim party each year. Her birthday is in August. However, that cute idea would never work for Julianna whose birthday is in February.
Choose Theme & Decorations
A special occasion such as a wedding, graduation, or birthday will have a guest of honor. A seasonal party usually will not.
If there is a guest of honor, let him/her play a large role in deciding the menu, theme, decorations, and guest lists. If it is a surprise, try to keep the guest of honor's likes and dislikes in mind.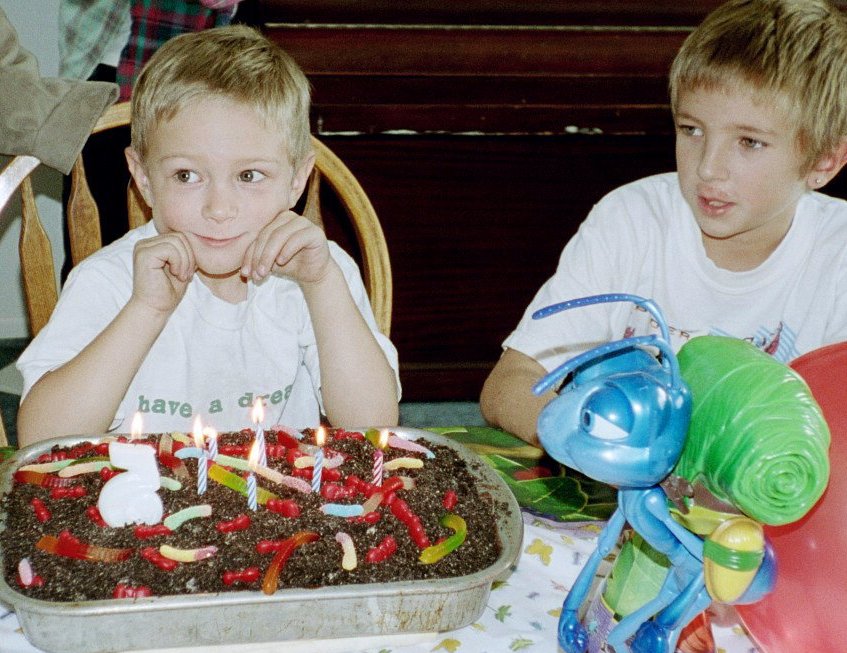 When my friend, Sarah, had her twenty-first birthday, she had a 1950's Party complete with root beer floats, malted milk shakes, and cheeseburgers. We all dressed up and it looked like the cast of the old television show, Happy Days, had invaded my house.

Choose a theme or at least a color scheme right at the beginning.
Western themes (cowboy hats, rope, bandanas, cowboy songs)
Hawaiian (pineapples, coconuts, tropical isle décor, island music)
Mexican (sombrero, Mexican flags, music)
Teddy Bears (with teddy bears EVERYWHERE!)
Different holidays and seasons bring their own themes and colors:
Christmas colors are red and green or burgundy and dark green
Easter colors are lavender, mint green, yellow, soft pink, and powder blue St. Valentine's Day colors are reds and pinks with lots of hearts, lace, and roses
Thanksgiving colors are orange, brown, dark greens, gold, and beige
Food & Drinks
Make a menu first and gather needed recipes. Try to keep everything simple.
You'll have to make a shopping list. You may have to adjust your menu in light of your budget. Food and drinks are usually the biggest expense of any party. If you can't afford to pay for all the food, consider a pitch-in where everyone brings something to share.
Can you make anything a few days ahead and freeze it?
Can you make anything the day before and refrigerate it?
Make a timetable for preparing the food.
Make a master shopping list. Be sure to get ice! You will be adding paper products and decorations to your shopping list too. Don't forget!

When you make your timetable for preparing the food, keep in mind that it will take time to decorate and time to clean the house. All of that will need to be included in the final timetable.
If you are having a pitch-in, tell your guests what to bring (salad, vegetable, main dish, dessert, drinks), so that you don't end up with twenty bags of chips. Also, tell them how many people are coming so they can make enough food.
Choose drinks. Iced tea, lemonade, ice water, coffee, and tea are perfectly fine to serve.
Tableware
Tablecloths add so much to a buffet table. If you have a nice white or beige linen or lace tablecloth, that always works well for a party.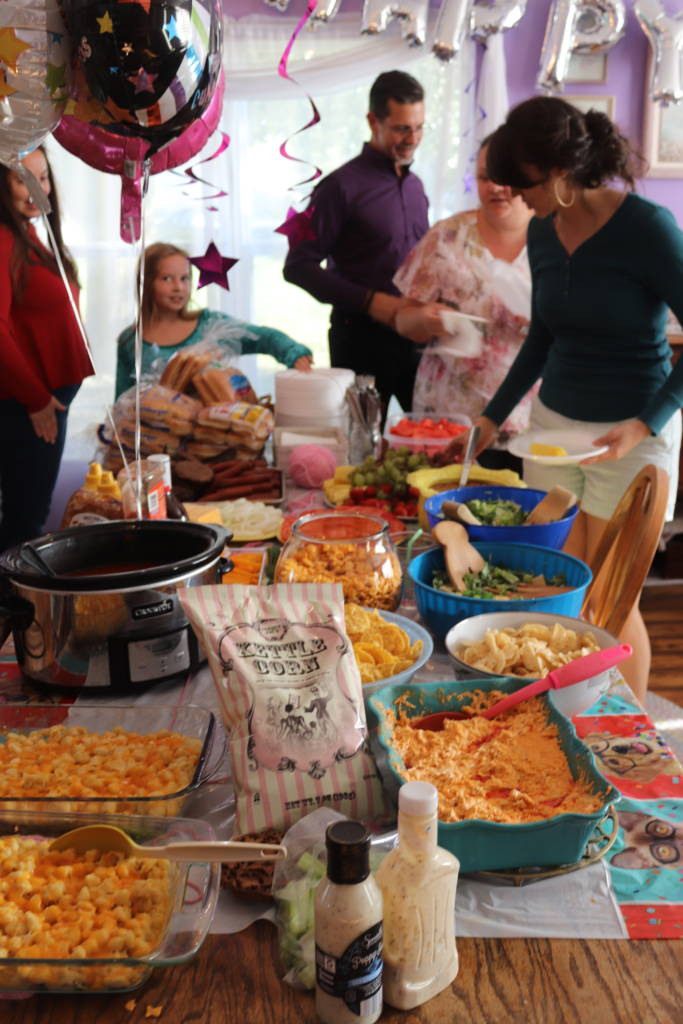 Over the years, I have purchased washable tablecloths that look just like linen or lace. They have worn well over the years. I also bought a festive 'Happy Birthday' tablecloth that we use several times a year for birthdays.
I love cloth napkins, but realize that they are expensive, so I have bought lovely cotton blend material that is thick enough to serve well as a napkin, cut it into squares and serged the edges with contrasting or matching thread with my serger. These napkins have lasted over twenty years and are still beautiful.

Disposable napkins work well too, but I do recommend a cloth tablecloth if you are going for any kind of formal look. It just looks much nicer.
I often use generic white paper plates (Hefty plates are sturdy!) with bright colored napkins that match the occasion for casual events. This saves money but still looks festive. If it's a birthday, I'll buy 'Happy Birthday' napkins in the birthday boy's/girl's favorite color. If it's a holiday, I'll buy holiday napkins for the occasion.

For more formal occasions, I find that clear dinnerware looks elegant, especially on a lace tablecloth or paired with linen napkins.
I have gobs of silverware thanks to hand-me-downs from grandparents and aunts who have upgraded. I never need to use plastic silverware. I simply put forks in a sturdy mason jar. Sometimes I put a ribbon around the glass to decorate. I do the same with the knives and spoons.

Plastic silverware is fine too. One time we had pink 'plasticware' at a ladies' brunch for church and it was lovely!
Prepare & Decorate the House
If you are throwing a party, you will need to straighten the house and clean it. You don't have to decorate for a party. I love to decorate, even if it's just the buffet table.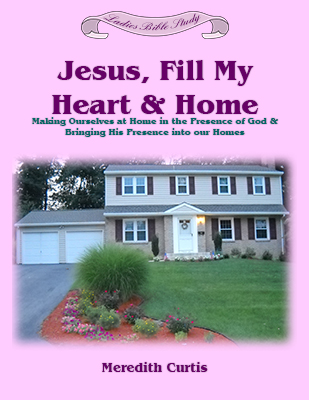 Plan the decorations and gather all the necessary supplies. Part of setting up for a party might include moving furniture around a little or setting up extra chairs.
We keep extra folding chairs in the garage for times when we need more chairs. If you have to, chairs are inexpensive to rent, but I wouldn't recommend renting chairs unless you are hosting a formal event. You may need to pare the guest list down and make your party more manageable. Make a timetable for decorating, set-up, and cleaning and combine it with the food preparation timetable so that you have one party timetable.
Party Helper Squad
If you need help to clean and decorate, let everyone know in advance. Don't expect people to change their plans at the last minute to help you the day of the party. Tell them NOW what you need and expect. ​That includes your husband and children.
Here is a drink station at a Christmas party. I love to put the drinks in one place and the food in another room. It lessons traffic around both places.
Guests
​You need to write up a guest list. Keep in mind where the party will be. Will there be room for everyone?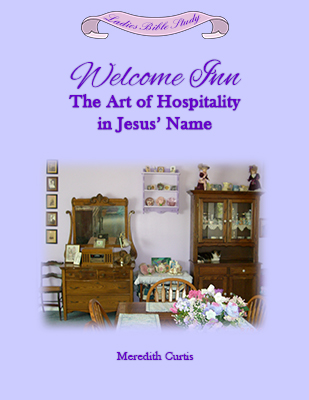 Realize that not everyone who you invite will come. In addition, not everyone who says they'll be there will actually come.

The best way to invite guests is to email them an invitation and make an event page on Facebook. More formal parties might call for a mailed invitation.
Include the reason for the celebration, the guest of honor's name if there is one, time, date, location, type of dress for event, anything they need to bring, and the need to R.S.V.P.

In case you are wondering, R. S. V .P. is the abbreviation for the French term Répondez S'il Vous Plaît. It is a polite request for the guest to let the host, or hostess, know if he/she is coming or not.
Dressing for the Party
Sometimes you want your guests to dress a certain way!
We have a Christmas party every year and we ask all of our guests to dress up. Some of the ladies wear long gowns, while others are dressed more casually, but no one is in jeans. Almost all of our other parties during the year are casual.
Of course, there are also costume parties such as Sarah's 1950's party that I mentioned earlier. One year Katie Beth had a literary party where everyone dressed as their favorite literary character. What fun! However, you want your guests to dress, make it clear on the invitation.
Party Itinerary
Decide what you will do at the party. Will you just eat and visit? Conversation is fun and relaxing.

Will you play games, have ice-breakers, or enjoy other activities such as playing volleyball or singing karaoke? Games are a great way to break the ice and make people feel comfortable with one another.

Okay, you are ready to go plan your party!
For more help, here are some resources:
Learn how I hosted my own luau, Victorian tea, and medieval banquet from setting up/decorating the venue, scheduling the event, planning the menu, and dressing for the occasion.
With adaptable step-by-step plans that will work for you, the planning process is very simple. We have included game ideas, job descriptions, decorating tips, and tons of recipes! You and your guests will have a blast! Background information is also supplied on breathtakingly beautiful Hawaii.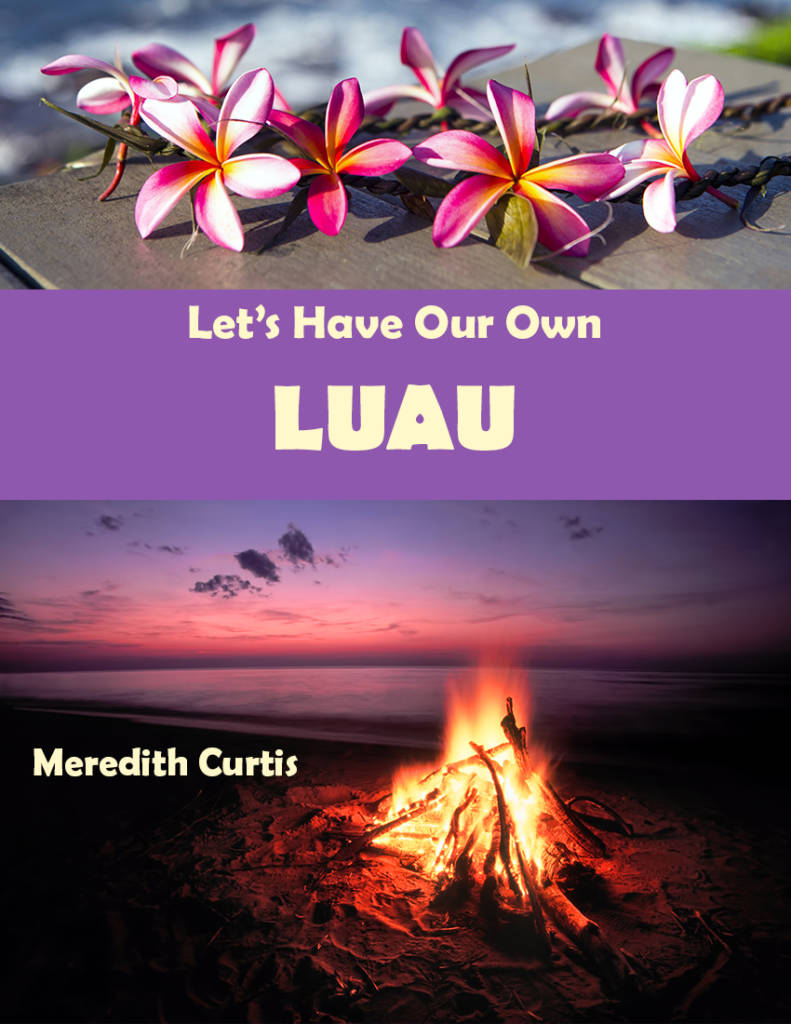 Learn how I hosted my own Victorian Tea including setting up/decorating the venue, scheduling the event, planning the menu, and dressing for the occasion. In Let's Have Our Own Victorian Tea, all plans are created to be adaptable to you and your family. The planning process is broken down to keep it simple. I have included conversation starters, hostess descriptions, decorating tips, fashion tips, Victorian poetry, and tons of recipes!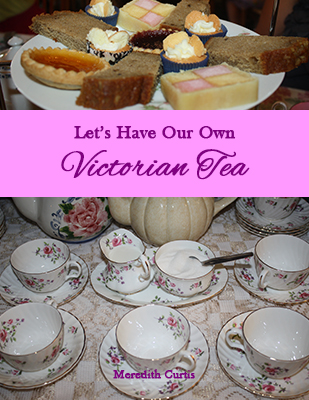 Do you want to learn history the fun way? How about planning and throwing a Medieval Banquet with your children? We've done all the research and planning for you! ​What could be more fun than dressing up as lords, ladies, knights, jesters, and peasants to celebrate with your own medieval feast? You might want to have an archery or jousting tournament to complete the festivities. Let's Have Our Own Medieval Banquet!
Until next time, Happy Celebrating!

Warmly,
Meredith Curtis