Have you ever considered taking a road trip to learn geography? You can learn US geography the fun way—on a road trip! So, pack your suitcase, grab your gear, and head for the open road and some lake boating!
On your whirlwind tour of the Midwest states, you'll experience the wheat belt, corn belt, dairy belt, and rust belt. There is so much beautiful farmland out here, but also some very big, bustling, productive cities. We'll enjoy farm-fresh produce and meat, along with lots of hot dishes (casseroles). Why not start your trip with Ohio?
Ohio
Let's travel the Great Lakes and some famous rivers by boat. You can stop at Cleveland, a bustling city filled with businesses and people; surrounded by more and more suburbs and smaller cities. This huge metropolitan area is home to A Christmas Story Museum and House.
A Christmas Story is a movie that came out in 1983. Set in the mid-1900s in a midwestern small town this sweet Christmas movie is a favorite in our house. A Christmas Story Museum is filled with memorabilia, and restored to be the setting of the movie. Guest can choose to spend the night at Ralphie's house if they want to.
Geography Concepts: metropolis, urban, rural, museum, movie setting, 1900s history, Great Lakes, Port of Cleveland, Lake Huron
Michigan
From the Port of Cleveland on Lake Erie, you can make your way to Michigan, passing the ports at Dearborn, Detroit (another huge metropolis and heavy hitting commercial city), and Port Huron into Lake Huron, another Great Lake. We'll pass the thumb of the mitten and make our way to Mackinac Island.
If you're on the mainland, a ferry is the only way to get to the island. No cars are allowed on the islands. It is a step back in time to a simpler lifestyle with plenty of stores, restaurants, and inns. You can take a carriage ride or visit Fort Mackinac. Hiking, kayaking, cycling, and horse-drawn carriages are a great way to see the lovely place. Continue to the other side of Michigan through the Straits of Mackinac passing under the famous Mackinac Bridge, the fourth largest suspension bridge in the world.
Geography Concepts: ferry, straits, island, suspension bridge, Great Lakes, Lake Huron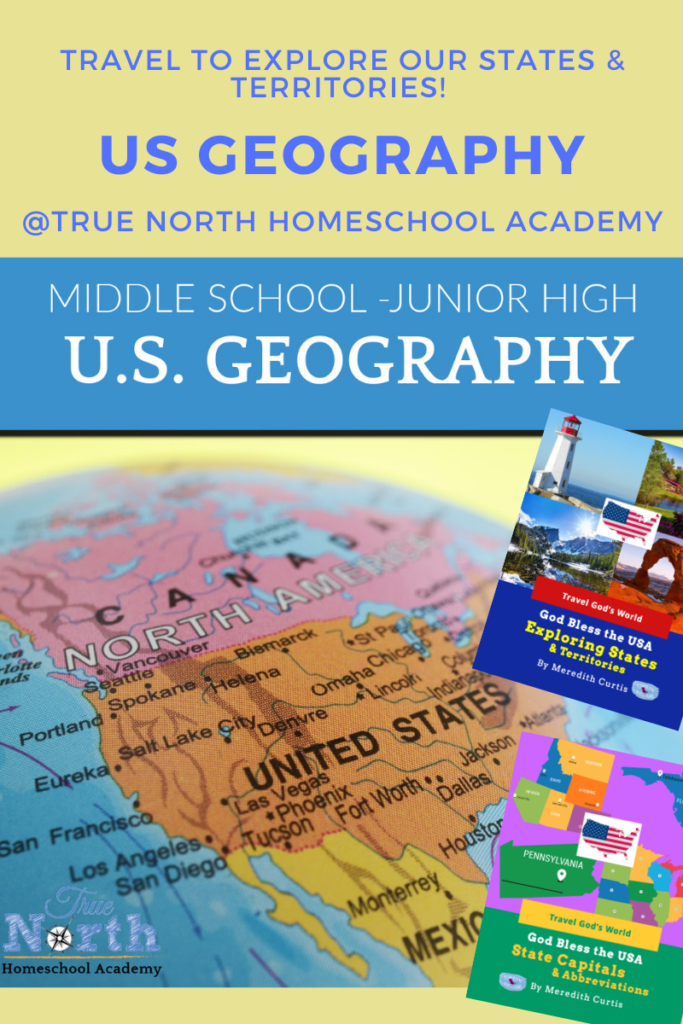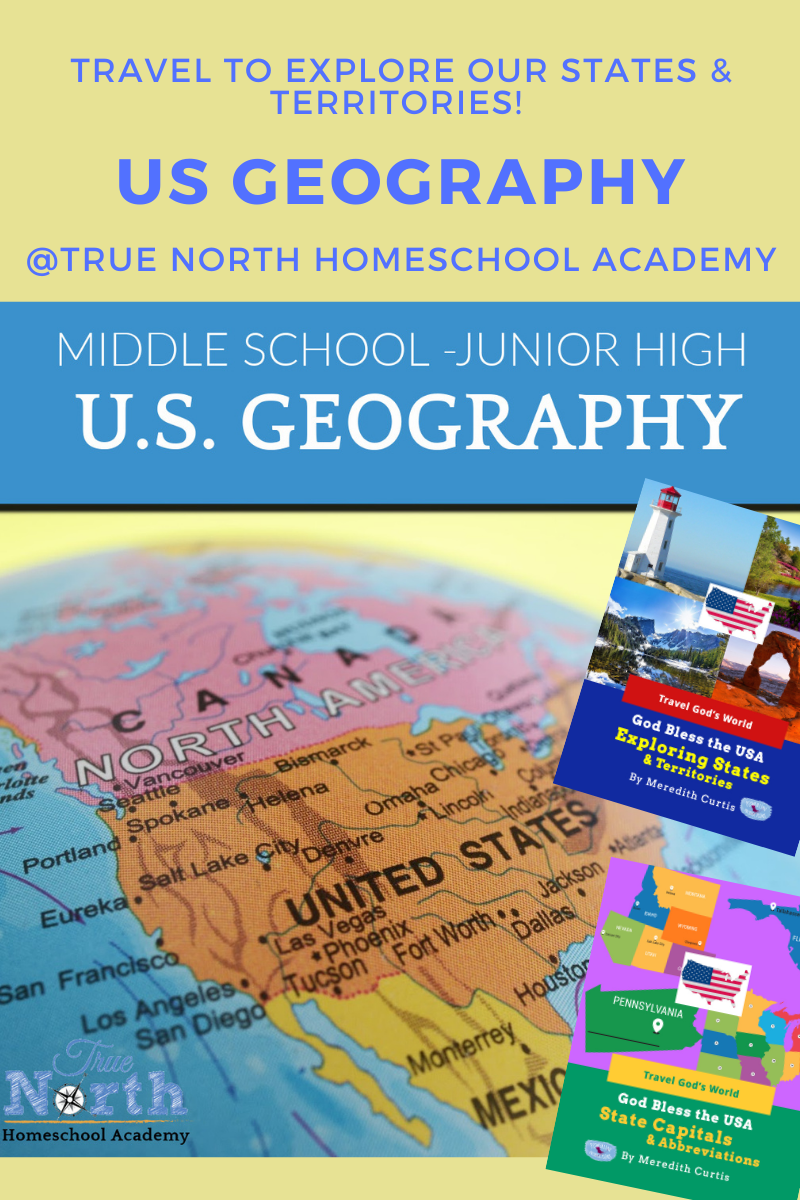 You can learn a lot about geography when you travel! You might want to take this trip with your family. OR join us at True North Homeschool Academy this fall and travel to every state and inhabited territory in our US Geography class (Jr. High but open to high school students). Purchase online class HERE.
Indiana
Further south on the shore of Lake Michigan is Indiana Dues State Park, an amazing place to visit. Hike around the park or swim in Lake Michigan. There's also fishing and birdwatching. You can take the Three Dune Challenge where you climb to the top of the 3 tallest dunes. Yes, it is quite a hike, but the views are amazing!
Geography Concepts: Great Lakes, Lake Michigan, sand dunes
Illinois
Our next stop is Chicago, the third-largest city in the USA, a port city on Lake Michigan. In 1871, a cow kicked over a lantern in a Chicago barn and much of the city burned down. City planners decided a construct a city center with large buildings for big businesses. There is a beautiful skyline as you approach. There is so much to do and see in Chicago! When we're finished exploring, let's visit the Navy Pier on Lake Michigan. We can ride a Ferris wheel, watch a movie, or grab some deep-dish Chicago Pizza.
Geography Concepts: city planning, skyline, construction, skyscrapers, pier, Lake Michigan
Wisconsin
Now it's time to cut across Wisconsin by car to Lake Superior and visit another national lakeshore, Apostle Islands. This 22-island archipelago, or group of islands, on the south shore of Lake Superior is blessed with red sandstone, sea caves, stately lighthouses, and historic shipwrecks. When winter comes, it becomes a snow and ice wonderland. Lake Superior freezes over so people can cross the lake on foot to reach the ice caves. Each year, it's a different spectacle because of whatever snow and ice the winter brings. I love the icicles!
Geography concepts: archipelago, sandstone, sea caves, lighthouses, shipwrecks, winter freeze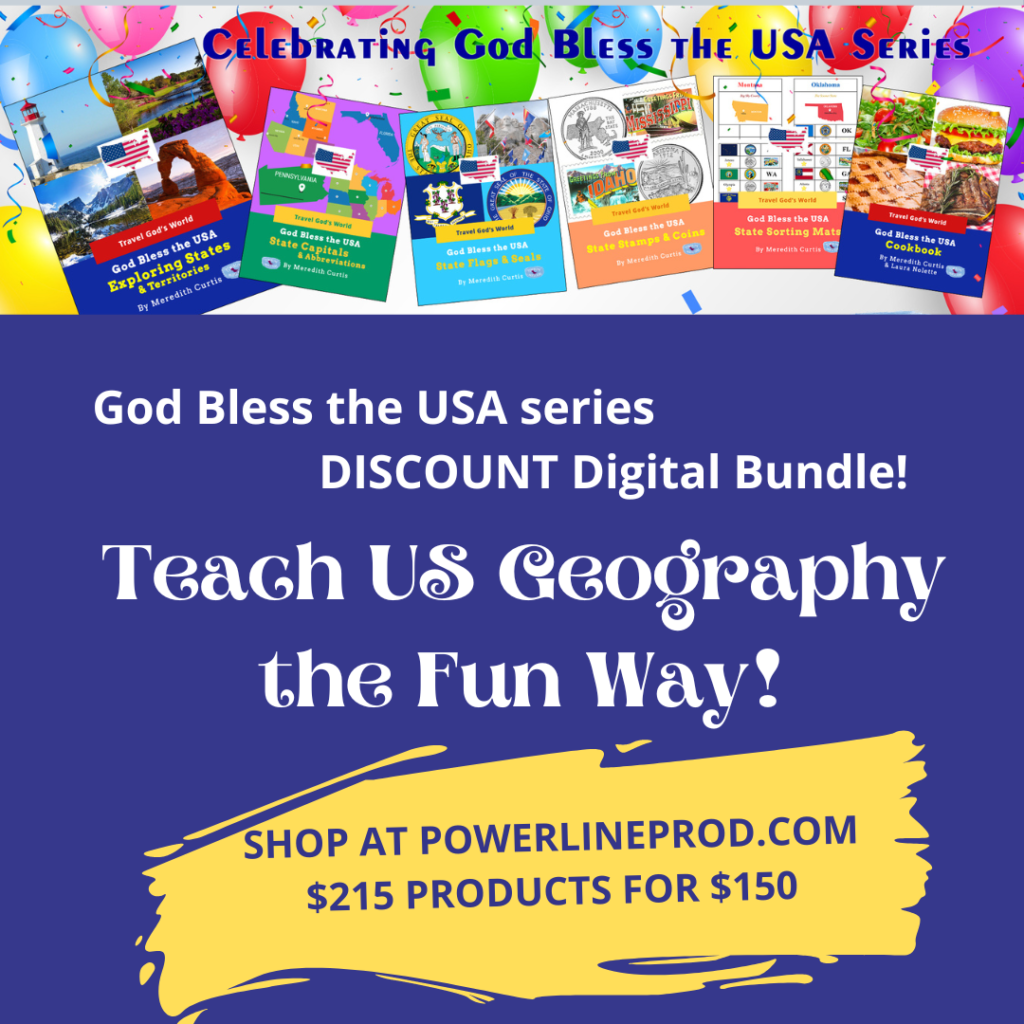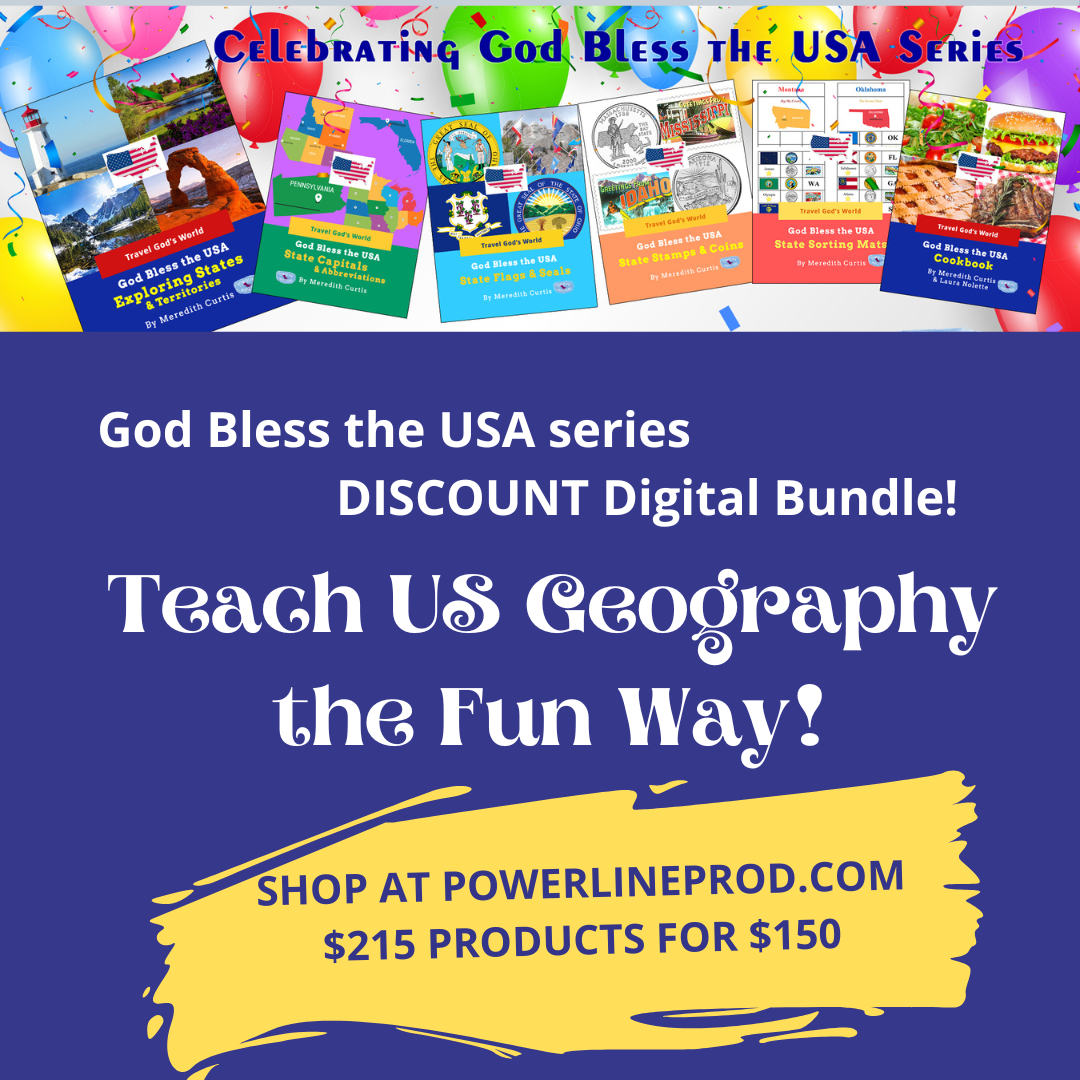 Our digital bundle: all 8 digital products totaling $215. value at the low price of $150. Plus, you can use the 40% off coupon to make the total price $90 for $215 worth of US geography digital resources! That's a deal!
Minnesota
From Duluth, hop on I-35 and travel down to the twin cities of Minneapolis and St. Paul separated by the Mississippi River. St. Paul is full of historic buildings and has one of the prettiest Renaissance-style cathedrals in the country. Minneapolis is more modern with tall skyscrapers and the "Golden Mile," 35 restored opulent mansions from the turn of the century.
Geography Concepts: historic buildings, cathedrals, architecture, skyscrapers, restored buildings, Mississippi River
Iowa
Get on another boat and head down the Mississippi River to Iowa. Take a little detour along the Maquoketa River to visit Maquoketa Caves State Park. This place is amazing with overlooks, rock formations, limestone bluffs, and caves! My favorite is the Natural Bridge and Balanced Rock. Natural Bridge, made of limestone, cross Raccoon Creek 50 feet in the air. Balanced Rock is a 50-ton boulder that sits on a base measuring 1 square foot—it's true! Talk about precarious!
Geography Concepts: Natural Bridge, Balanced Rock, tributaries, limestone bluffs, caves, overlooks, rock formations, creek, stream, river
Missouri
Take the Maquoketa River back to the Mississippi River and head downstream to St. Louis with it's huge Arch, the Gateway to the West! Grab an elevator to the top of the Arch to view the beautiful city of St. Louis. Next, visit the Museum of Western Expansion to learn more about Lewis & Clark and the Discovery Corps and the beautiful St. Louis Cathedral. From St. Louis, take I-70 straight across the Independence, MO, the starting point for all 4 Westward Trails: Oregon, Santa Fe, Mormon, and California. Enjoy a mule-drawn wagon ride and imagine what it would have bene like to be a pioneer heading west.
Geography Concepts: Westward Trails, St. Louis, St. Louis Arch, Independence, Lewis & Clark's Discovery Corps, Mississippi River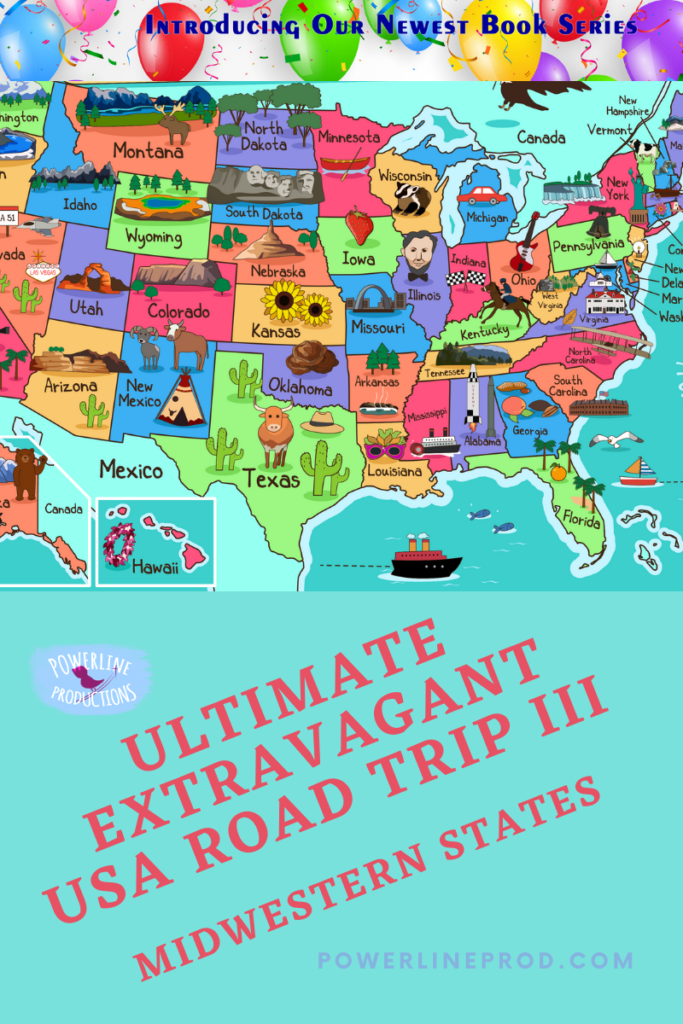 Kansas
It's not far to Leavenworth, Kansas sitting on the Missouri River. US Army Base Fort Leavenworth, built in 1827, is the oldest permanent settlement in the state. As the nation was expanding westward, soldiers, immigrants, missionaries, Native Americans, and pioneers all passed through the fort as the traveled the trails west. From Leavenworth, those going to Santa Fe started south.
Geography Concept: US Army bases, westward expansion, forts, missionaries, soldiers, Native Americans, pioneers
Nebraska
You can try to duplicate the other 3 trails into Nebraska. Eventually you can get on I-29 north and head west on I-80 to the next fort. Fort Kearny, built because of all the travel on the Oregon Trail, was founded in 1848 near Kearny, It was also a home station for the Pony Express riders and Pawnee scouts. Though the fort was torn down for pioneers to homestead, it has been reconstructed according to the archaeological exploration and historical documents. Visitors can enjoy a stockade, parade grounds, powder magazine, and carpenter-blacksmith shop. The west is so fascinating! Camping and hiking is another great thing to enjoy at Fort Kearny
Geographical Concepts: Oregon Trail, Fort Kearny, Pony Express, Pawnee scouts, homesteading, archaeology, historical documents
We have two more stops on our whirlwind Midwest tour. Are you ready for the Dakotas?
South Dakota
Mount Rushmore, a national monument with the faces of four great Presidents: Washington, Jefferson, Lincoln, and Roosevelt is a must-see! Artist Gutzon Borglum had 400 assistants for the herculean task of carving these huge faces in stone. Unfortunately, no can visit the secret room—it's locked. You see Mr. Borglum wanted to have a room behind Abraham Lincoln's face with historical documents for visitors to look at. A long tunnel was built, but the artist died and we entered World War II. It was never completed. Of course, there are rumors….
Deadwood is about 40 minutes away, so tour an old gold mine. Deadwood boomed after gold was discovered nearby in the Black Hills. Western heroes like Wyatt Earp, Calamity Jane, and Wild Bill Hickock moved in to the town. Visitors can enjoy the rustic charm of the historic storefronts and maybe see a shoot-out or at least some gunslingers roaming the street.
Geography: boom towns, gold, mining, mines, carving stone, Mount Rushmore, Black Hills
North Dakota
The Little Missouri River meanders through Theodore Roosevelt National Park. A 14-mile scenic drive through the north unit of the park along the bottom of the Badlands will keeping moving higher until one can see Oxbow Overlook. How can I describe the Badlands? The Badlands are dry canyons, ravines, gullies, buttes, and mesas with steep slopes, rocks, and clay-rich soil. The south unit of the park's scenic drive takes visitors across more rolling, jumbled badlands with several scenic overlooks. There is even a Petrified Forest Loop where trees have turned to stone. The city of Medora, home to Cowboy Hall of Fame, is right between the north and south unit of the park–a great place to learn about cowboys.
Geography Concepts: Badlands, canyons, ravines, gullies, buttes, mesas, rocks, clay-rich soil, Petrified Forest
Well, it's time to head home. I hope you took lots of photos. Thank you so much for joining me on this whirlwind tour of the Midwest.
God Bless the USA series – Geography Resources
God Bless the USA Exploring States & Territories is at the core reimagining US geography by taking kids to each state as if they are traveling–we visit sites, landmarks, and beautiful places.
God Bless the USA Cookbook-travel from state to state in the kitchen!
There's more!
We have included all kinds of printables–use one or two or all of them to supplement your US geography studies:
Take Geography Online at True North Homeschool Academy
You can learn a lot about geography when you travel! You might want to take this trip with your family. OR join us at True North Homeschool Academy this fall and travel to every state and inhabited territory in our US Geography class (Jr. High but open to high school students). Purchase online class HERE.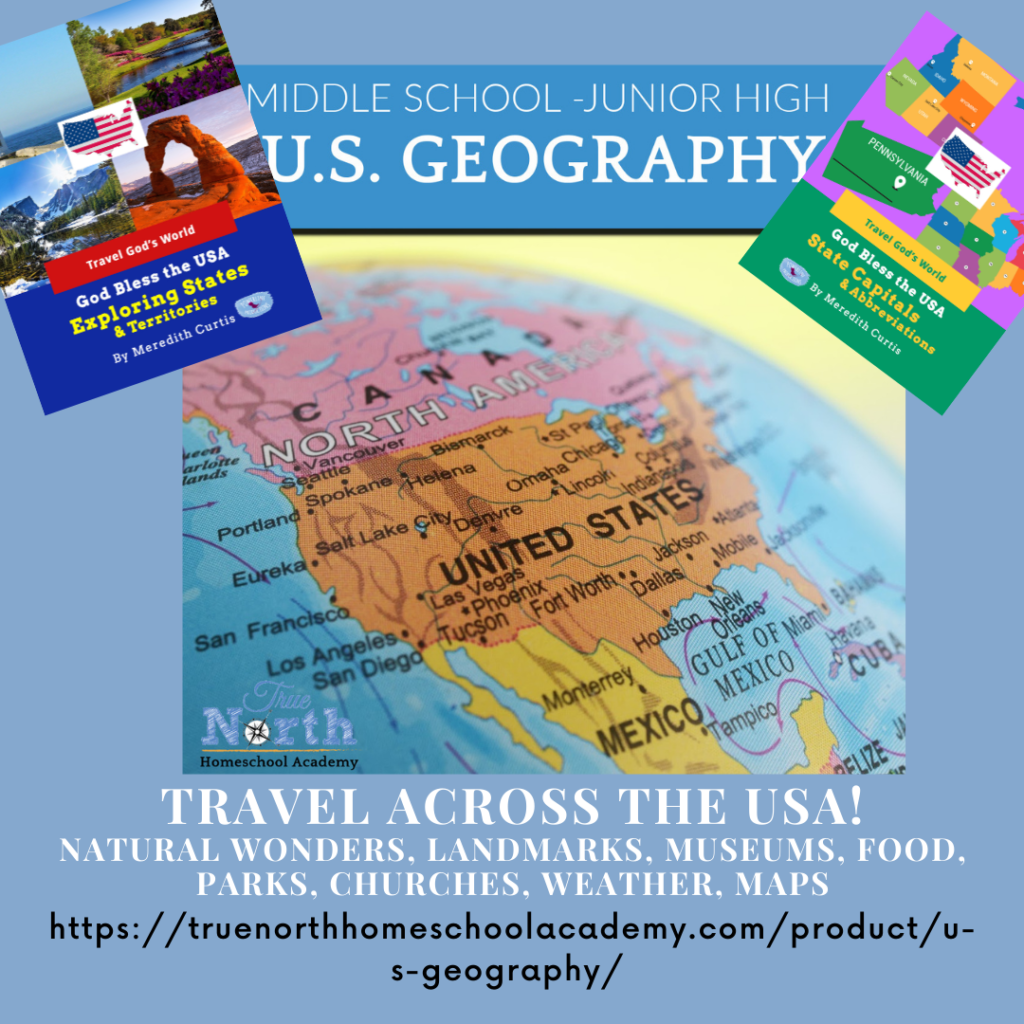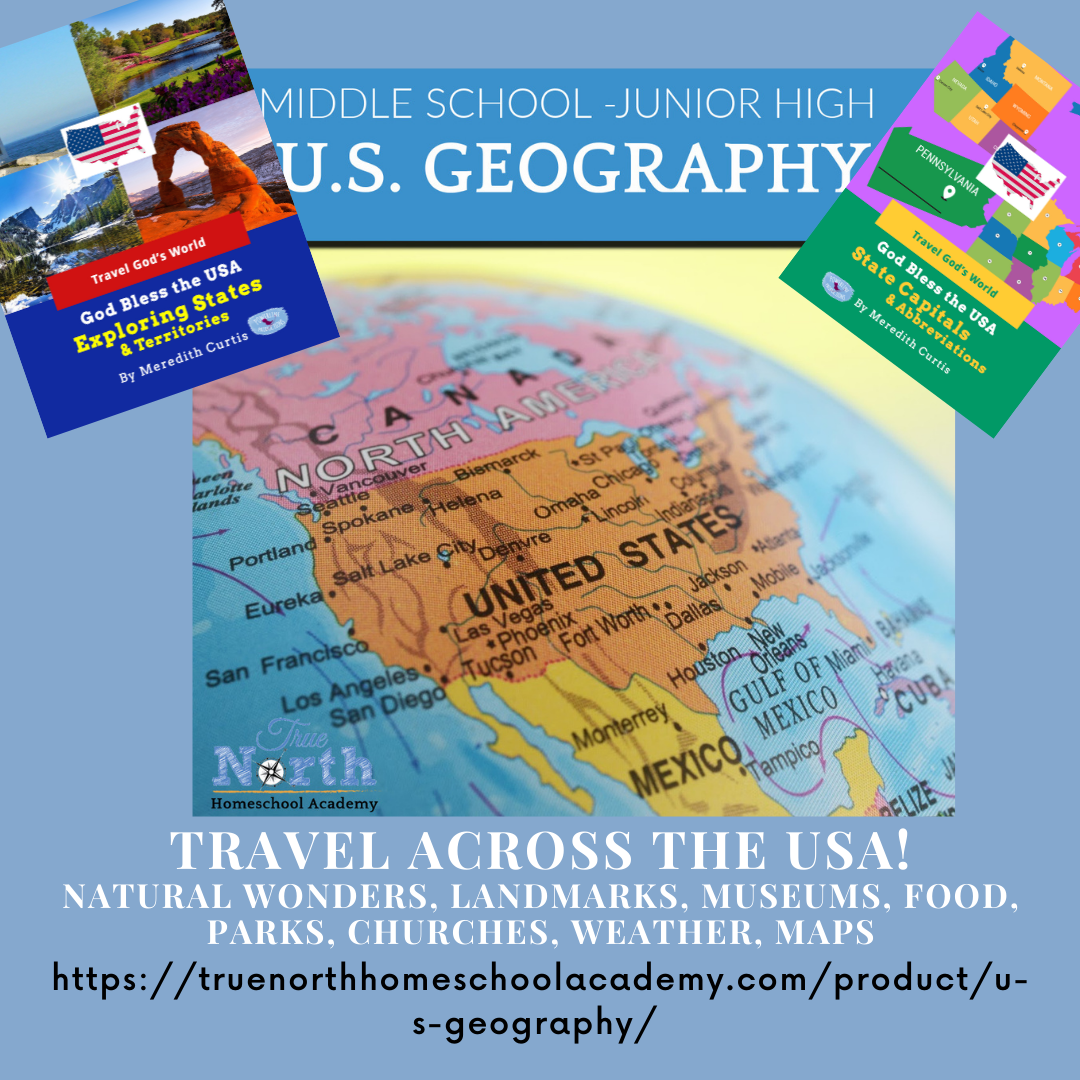 We'll be using God Bless the USA Exploring States & Territories and God Bless the USA State Capitals & Abbreviations. Purchase them at PowerlineProd.com.
Until next time, Happy Homeschooling!
Warmly,
Meredith Curtis