Disclaimer: I recieved a FREE copy of this product through the HOMESCHOOL REVIEW CREW in exchange for my honest review. I was not required to write a positive review nor was I compensated in any other way. All opinions I have expressed are my own or those of my family. I am disclosing this in accordance with FTC Regulations.
Disclaimer: This post contains affiliate links. I may receive a commission for purchases made though this link at no cost to you.
We have enjoyed our Ultimate PreK-12 Annual Membership from SchoolhouseTeachers.com for 3 years now and find it an invaluable asset to my homeschooling! I've downloaded courses, watched videos, and supplemented courses I'm teaching with materials from the site. With homeschool courses you can download and video courses, the online classes at SchoolhouseTeachers.com are a real answer to prayer. SchoolhouseTeachers.com meets so many needs and saves us so much money!
When you join SchoolhouseTeachers.com, you get access to a complete curriculum from preschool to graduation. It's amazing! There are the basic core classes in history, English, geography, science, math, and Bible, as well as a wealth of enrichment courses, unit studies, and supplemental materials. It's like being a kid in the biggest toy store in the whole world and being told you can get whatever you want! Yes, you can use it ALL for ALL your kids with the Ultimate Pre-K Annual Membership!
Another thing I love is the flexibility. I can use these courses the way I need to use them for our family. Sometimes that might be a few lessons from one course following by a few lessons from another course.
Whenever I get on the website, I get so distracted by all the amazing courses I want to try next.
Let me tell you about a few of my favorite things on the site.
Video Courses
Video courses like Dinosaurs and the Bible are one of my favorite things about my Ultimate PreK-12 Annual Membership.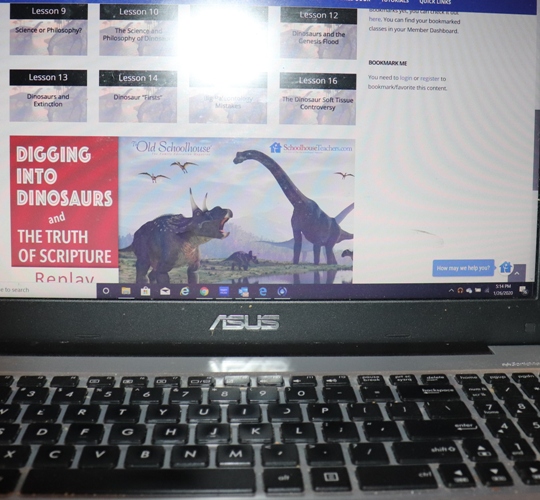 Dinosaurs and the Bible is a fascinating course. I really enjoyed the teaching style of the instructor who shared important information in an interesting and engaging way. We only got through the first two lessons, but are eager to finish. We watched the video Lesson One: Myth or Mystery and completed the worksheet afterwards. It was easy to remember what we learned together. We skipped the quiz and went right on to Lesson Two: Dinosaur Fossils. We paused to check out other things, but plan to come back and finish the course.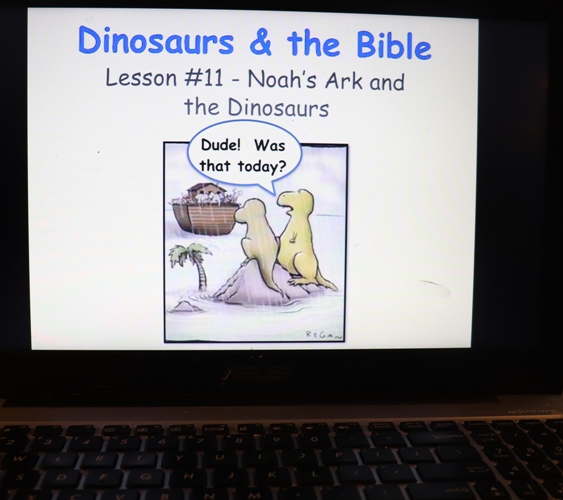 Literacy Center Grade Level Readers & Booklists
This is an amazing section members can use. This area is to help readers grow in reading literacy which is so important for their future. Struggling readers and normal readers will find helpful ways to grow in comprehension at this site.
We used the Raggedy Ann Stories. This downloadable pdf is a classic set of stories 100 years old but still as fresh as ever. A few easy to ask and answer questions are added to the beginning and end of each short story. This is a great way to help students who need to grow in reading comprehension.
We also enjoyed the McGuffy Readers and the Thorton Burgess animal books like Adventures of Buster Bear or Adventures of Sammy Jay. With the Thorton Burgess books, the book and comprehension questions are separate pdfs, but still very easy to use together.
Enrichment Courses
There is such a wide variety of courses on the site. We have enjoyed some of the art courses with video instruction that make teaching art super-easy, even for a non-artist like me.
Recently, we ventured into drum lessons. Yes, you read that correctly.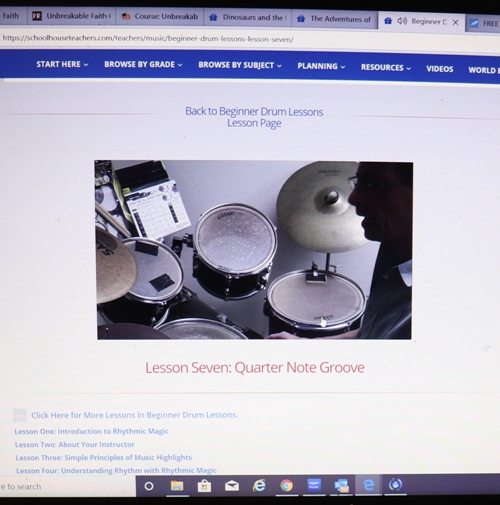 I'm not just a homeschool mom, I'm a worship leader so I 'm personally invested in seeing friends and family members learn new instruments!
This course is perfect for a preteen or teen who wants to learn to drum. My drummer started drumming for me he was 12. (I'm a worship leader) He could hardly see over the top of the cymbals. I've been grateful that he pursued training and poured time into practice.
Here are some highlights from our beginner drum lessons.
In the second lesson, the instructor introduces himself and we was amazed at his vast training and experience. What an amazing addition to this site!
When the instructor introduced us to the music, he made some important points about music that we remembered:
12 Notes then it starts over
Go backward to a flat. Go forward to a sharp.
Only 9 common rhythms.
Rhythm based on tempo.
The major scale only uses 7 notes.
Can call notes do-ri-me or c-d-e.
The elements of melody, harmony, and rhythm.
When performing, never stop if you make a mistake because the listeners ear has already moved on.
Lesson four talks about understanding rhythm which, of course, is critical for learning to be a good drummer.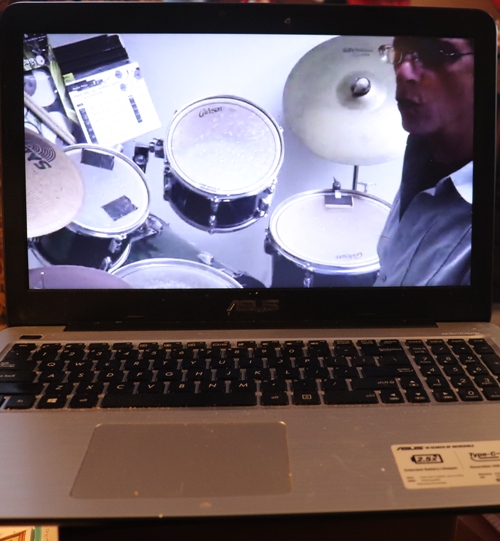 When we learned about tempo (how fast or slow the song goes), we tried using a metronome like the instructor suggested.
My personal favorite lesson lesson was five where the instructor talks about making anything a percussion instrument. A noisy few days followed.
By lesson six the instructor is talking about technique and we are holding our drum sticks! He goes into a lot of helpful instruction about technique.
By lesson seven, we are playing on the drums with a quarter note groove.
Focused Learning Centers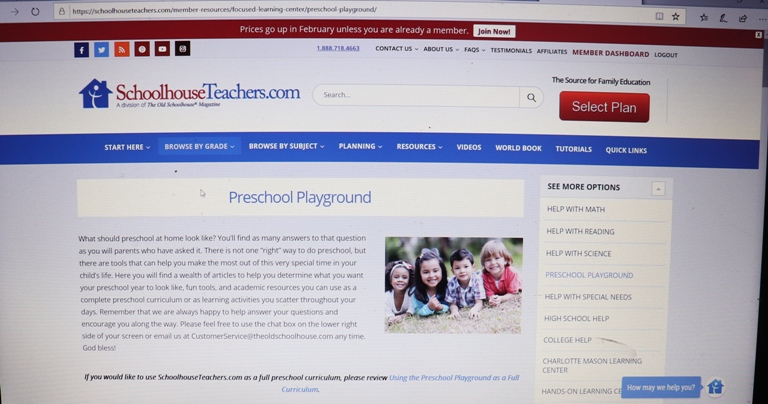 This is a blessing because all of my children had one area that was a bit of a struggle. The Focused Learning Centers direct members to courses, individual lessons, and articles to help in the area of weakness or interest.
Here are just a few of the focus areas:
Reading
Math
Careers
High School
Science
Hands-On Learning
Physical Education
Video Library
The video library is one of our family's favorite things on the site! My grandson's favorite part of the video library is The Adventures of Donkey Ollie, a video series. Ollie is a donkey who lives in Bethany. In episode one, Ollie is chosen by Jesus to carry him into Jerusalem. Of course, there are many adventures and Ollie learns some life lessons in this cartoon. After the cartoon is over, Farmer John appears and talks about art and drawing. Then he shows the audience how to draw a donkey. Of course, that's the perfect time to get out paper and draw a donkey.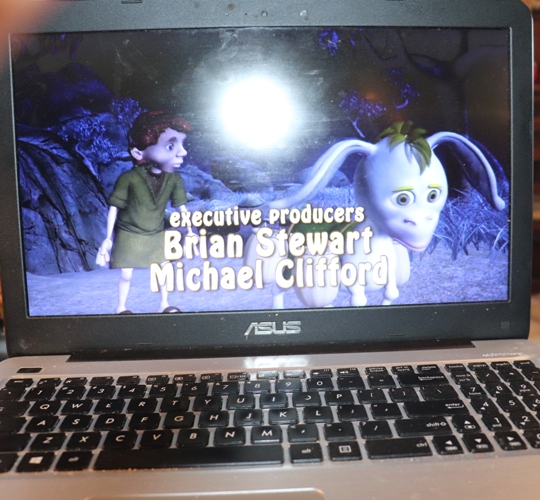 Episode two opens with a very sad Ollie because Jesus has died, but soon he sees the Risen Christ. Ollie is on another important mission. He is carrying his owner's crippled son to Jerusalem to see Stephen. This is a two-part adventure, but at the end of the cartoon, Farmer John appears and talks about maps, showing us an antique map. Then we learn about rose compasses and examine Farmer John's travel bag. We are challenged to make our own travel bag which, of course, the boys want to do.
We are on our way through all the episodes complete with their little lessons at the end.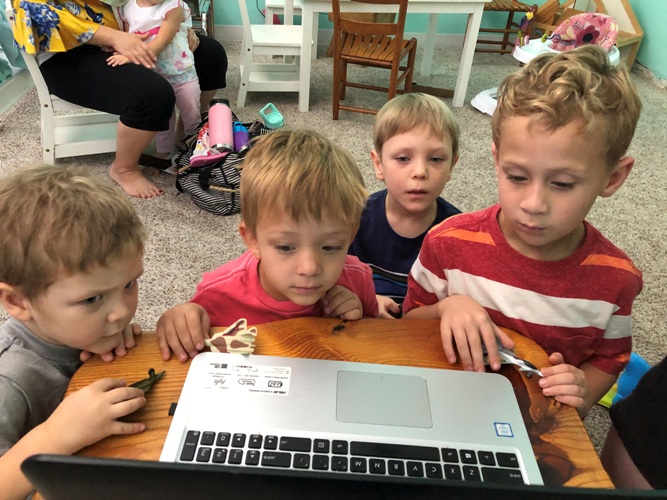 Navigating the Site
I often get lost on websites that are this complex. However, I find my way around SchoolhouseTeachers.com easily because everything is laid out so clearly.
You can find classes in two ways. You can browse by grade or browse by subject. Both lead you to all the different courses.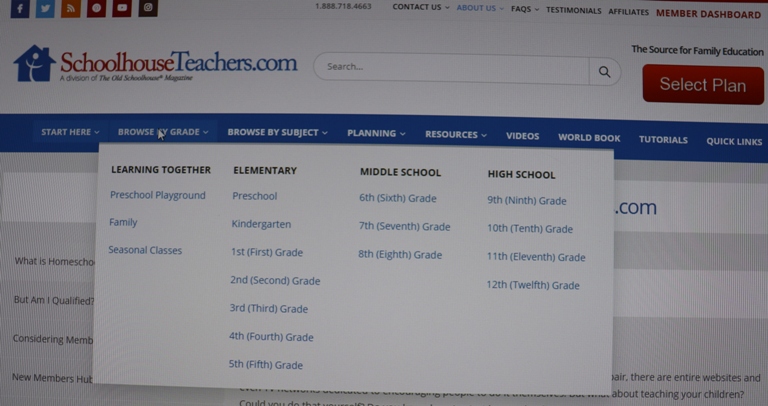 The courses are coded with shapes to indicate if they are audio, video, or interactive.
Once you are using classes, you can bookmark them for easy access when you get back on the site.
You are free to download lessons. I often download all the lessons and print them so everything is ready.
More Extras!
The Ultimate PreK-12 Annual Membership comes with a subscription to World Book Online, an encyclopedia with all kinds of educational handouts, supplements, and resources.
There is a Charlotte Mason Learning Center with courses that fit in with her philosophy of education. Charlotte Mason has a huge influence on my teaching style.
Lesson Plans are included for all courses. This is so helpful for Mom! The courses also come with daily check-off lists. This is so helpful for students.
You can download one or both of the Homeschool Planners. The 2019-2020 Schoolhouse Planner is 750-pages HUGE with every form imaginable. Just print what you need! The High School Schoolhouse Planner is a hefty 400 pages with everything you need to keep track of your high school student.
The Scope and Sequence is another blessing for moms. Yes, every child learns differently, but it's so great to have easy access to what children should know when by grade level and by subject.
I could just go on and on, but I will stop here and let you do some investigating on your own.
Check out SchoolhouseTeachers.com on Facebook, Twitter, and Pinterest.
Would you like to read more reviews about SchoolhouseTeachers.com? Read them on the Homeschool Review Crew Blog!
I hope you will check out SchoolhouseTeachers.com today. It might be a great fit for your family.
Until next time, Happy Homeschooling!
Warmly,
Meredith Curtis