Disclosure: This blog post may contain affiliate links from my participation in the Amazon Service LLC Associates Program. I receive a small commission at no cost to you when you make a purchase using my link.
My ancestors lived in the American colonies, but they stayed loyal to the king of England. How thankful I am for the unique American Revolution that allowed my family to continue to live and prosper in a brand new free nation called the United States of America. We have so much to be thankful for as Americans and it is important to appreciate our heritage!
One way I like to teach my children about the United States of America's beginnings is with good videos and audios. We can sit back and be entertained–not even realize we are learning so much about the American Revolution!
So, pop the popcorn and enjoy some of these family favorites!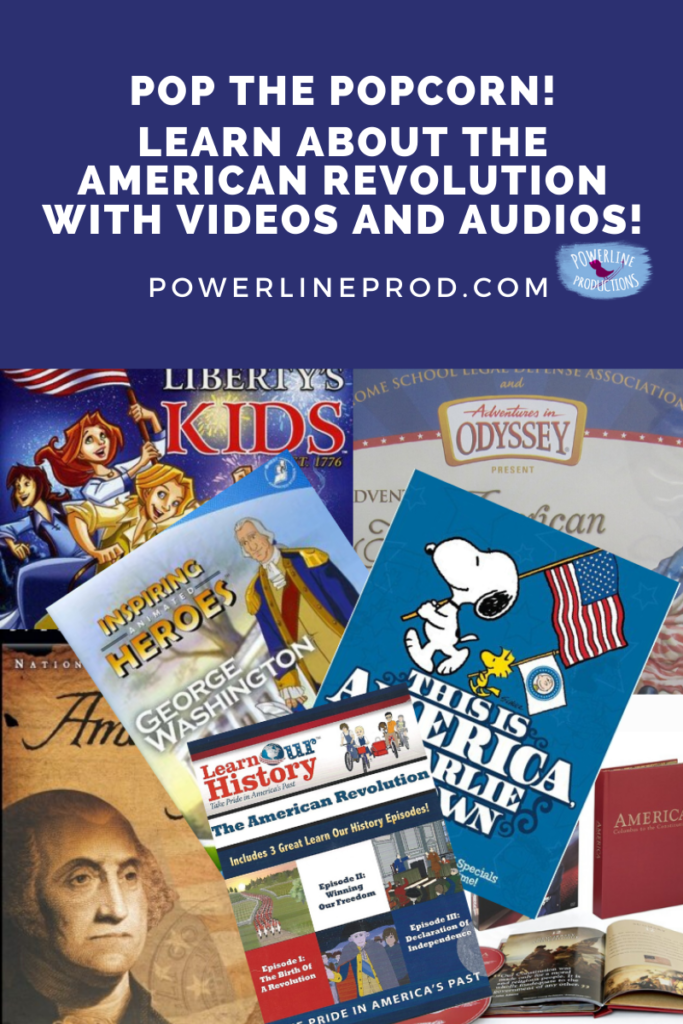 Liberty's Kids is an animated series with 40 episodes that make learning about the American Revolution fun! Liberty's Kids covers the American Revolution in great detail while interweaving all the events with likable characters that take part in each episode. A family favorite! Purchase at AMAZON.
Here are some of the episodes:
THE BOSTON TEA PARTY
THE INTOLERABLE ACTS
UNITED WE STAND
LIBERTY OR DEATH!
MIDNIGHT RIDE
THE SHOT HEARD 'ROUND THE WORLD
GREEN MOUNTAIN BOYS
THE SECOND CONTINENTAL CONGRESS
BUNKER HILL
POSTMASTER GENERAL FRANKLIN
WASHINGTON TAKES COMMAND
COMMON SENSE
THE FIRST FOURTH OF JULY
NEW YORK, NEW YORK
THE TURTLE
ONE LIFE TO LOSE
"CAPTAIN MOLLY"
AMERICAN CRISIS
ACROSS THE DELAWARE
AN AMERICAN IN PARIS
SYBIL LUDINGTON
LAFAYETTE ARRIVES
THE HESSIANS ARE COMING
VALLEY FORGE
ALLIES AT LAST
HONOR AND COMPROMISE
THE NEW FRONTIER 1779
NOT YET BEGUN TO FIGHT
THE GREAT GALVEZ
IN PRAISE OF BEN
BOSTONIANS
BENEDICT ARNOLD
CONFLICT IN THE SOUTH
DEBORAH SAMSON — SOLDIER OF THE REVOLUTION
JAMES ARMISTEAD
YORKTOWN
BORN FREE AND EQUAL 1781 – 1783
THE MAN WHO WOULDN'T BE KING
GOING HOME 1786
"WE THE PEOPLE"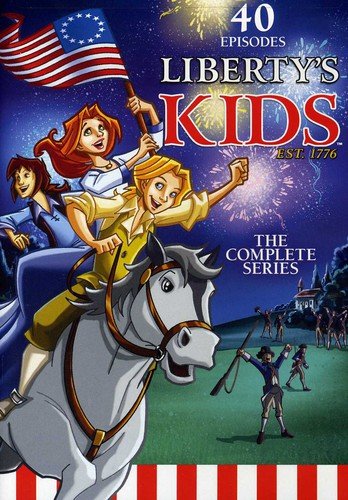 From Mike Huckabee, Learn Our History series is a fun collection of cartoons where kids from TimeCycle Academy travel back in time. The American Revolution includes 3 episodes: The Birth of a Revolution, Winning Our Freedom, and Declaration of Independence. Purchase Dvd at AMAZON.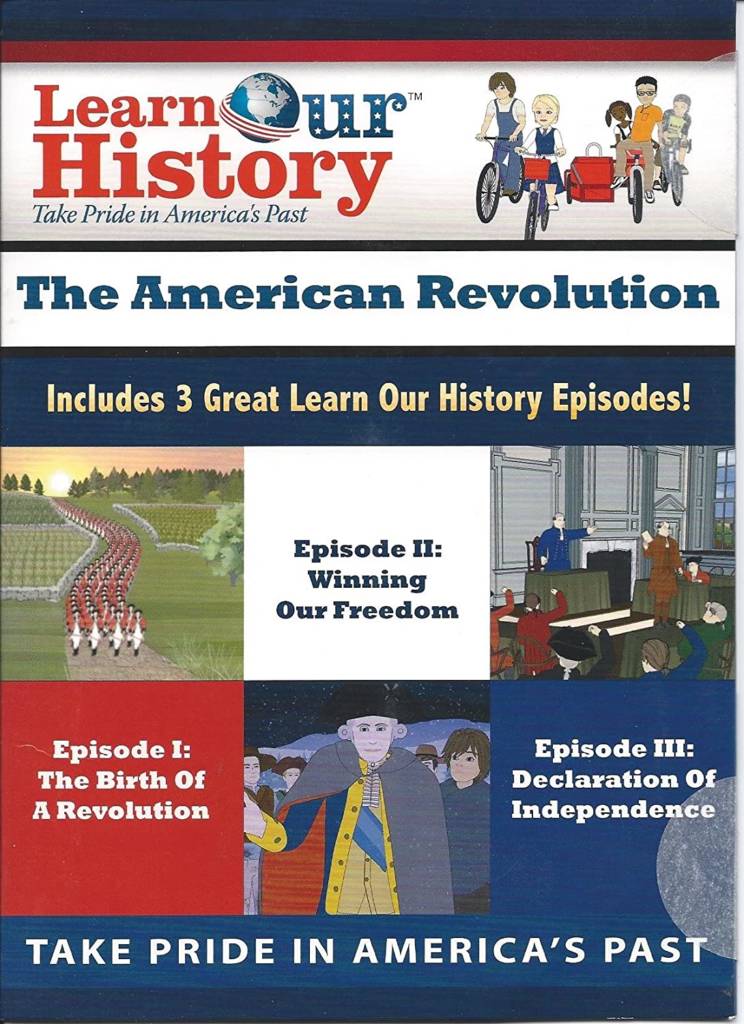 I was overjoyed the first time I saw This is America Charlie Brown because there was so much depth to this cartoon. With the simplicity and comedy of all Peanuts cartoons, several historical events are included in the set of episodes. I recommend the episode on the Constitution, but definitely watch all the episodes! It's a great series! Purchase on AMAZON.
George Washington was a man of humility, faith, and trust in God with a strong sense of duty. Inspiring Animated Hero George Washington will introduce your family to the remarkable George Washington, a hero for all times for all people. From NEST Family Entertainment. Purchase from AMAZON!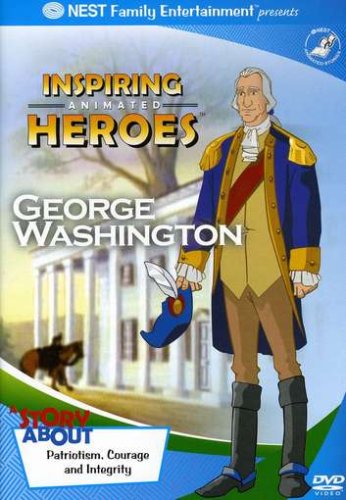 Adventures in Odyssey For God & Country 12 Stories of Faith and American History is the perfect set of audios for a road trip! Adventure in Odyssey audios are so fun to listen to and kids love them! Listen to For God & Country 12 Stories of Faith and American History–if you enjoy them as much as I do, there are tons more from Focus on the Family! Purchase at AMAZON.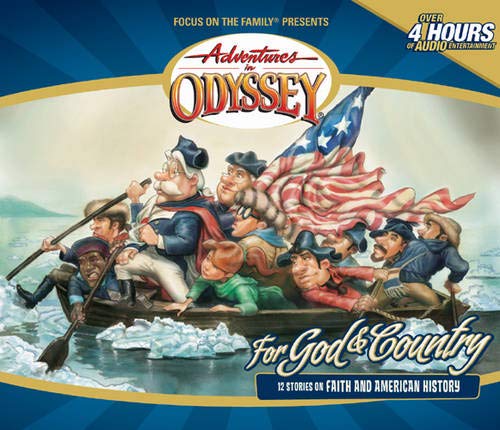 Drive Thru History: America Columbus to Constitution is a 12-part video series from my favorite historian Dave Stotts. Dave Stotts makes it clear that learning history should be fun! I love this series! There is not a better way to learn about the American Revolution than this. Purchase it at AMAZON.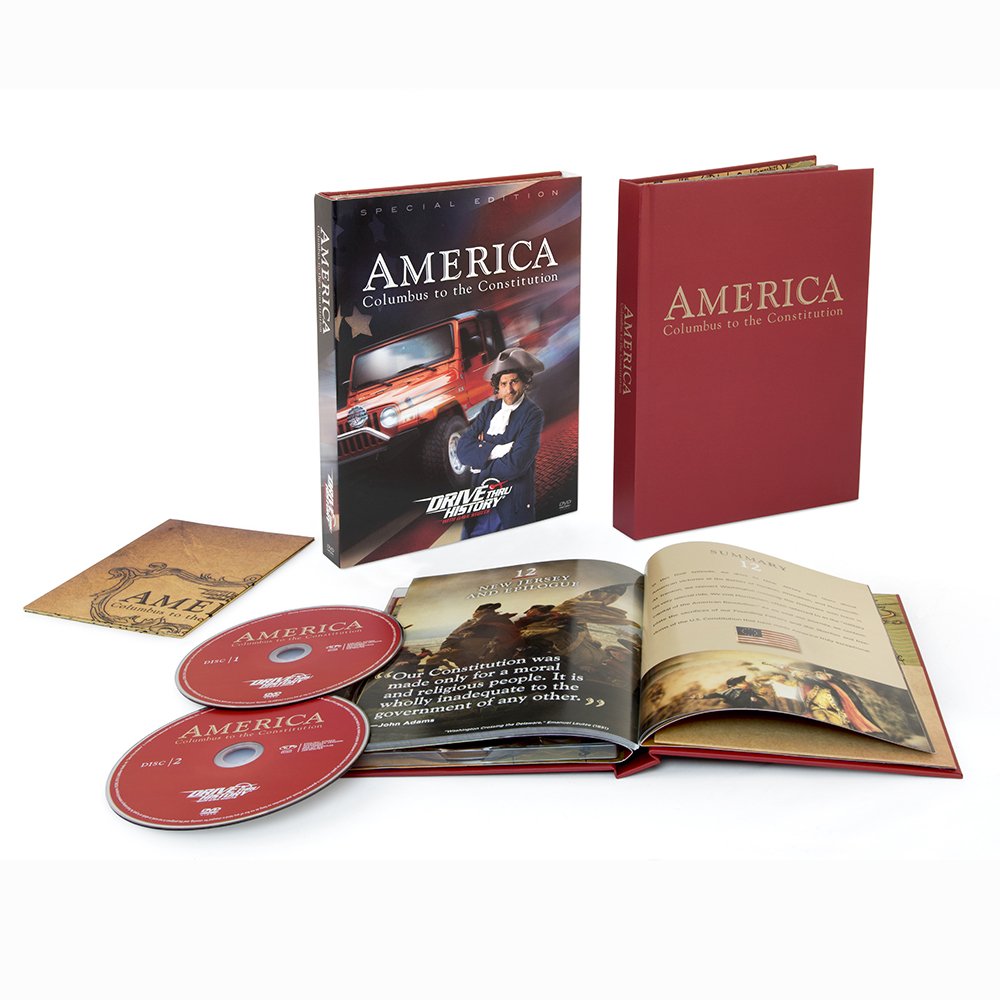 Dave Barton is a historian. He is also hilarious! My kids are always up for watching a Drive Thru History video. You and your kids can meet Ben Franklin, John Adams, Abigail Adams, Haym Salomon, George Washington, and Noah Webster in Discovering America's Founding Fathers. You will find yourself laughing and learning at the same time! Purchase at AMAZON!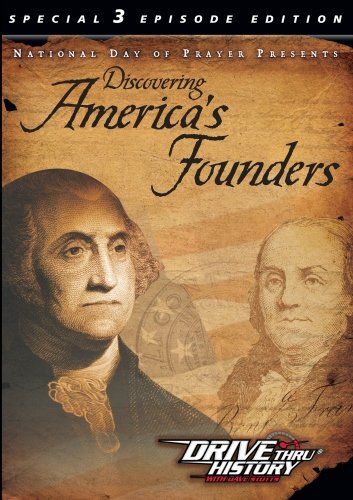 We have an amazing heritage as Americans and it is so important to pass that appreciation of the ideals and heroes of the American Revolution on to the next generation. With all its flaws, there is no country like America that has honored liberty and was founded as one nation under God.
Until next time, Happy Homeschooling!
Warmly,
Meredith Curtis