Disclaimer- I received this complimentary product through the Homeschool Review Crew.
What a blessing to receive The Bible Memory App and the Bible Memory PRO membership to review from BibleMemory.com to help me memorize Bible verses. It's was a God moment. You see, my daughter and I were talking about reviewing our memory work and memorizing new verses and passages the day before I was given the opportunity to review the Bible Memory App–what perfect timing!
After choosing Ephesians 1:18-22. I decided to memorize my verses in the NASB. I have always loved these verses but found them difficult to memorize word for word. So I had given up.
Now I would see if The Bible Memory App would work for me.
What's Included with the Product
After creating my account at BibleMemory.com, I activated my PRO membership. What I love about the PRO membership is that it is once paid (though mine was free), it is a lifetime membership. Nice!
The one-time PRO purchase also includes as many additional family members as I want to add. They must each have a unique email address.
I created my account on my desktop and downloaded the app onto my phone, but to tell the truth, I used it on my desktop each morning after I checked my email. My daughter used it on her phone exclusively.
This is a complete Bible Memory program. It helped me memorize, organize, and review my memory verses all online. I love that it appealed to all kinds of learners.
Visual learners can draw pictures and use flashcards. Animated Word Emphasis feature accentuates each word to ingrain it into your memory.
Auditory leaners can record the verse and play it back.
For Kinesthetic learners, the Type it-Memorize it-Master it format is perfect!
How We Used the Bible Memory App-Bible Memory PRO
First I chose my verses and the website made me a list of each verse under "My Verses."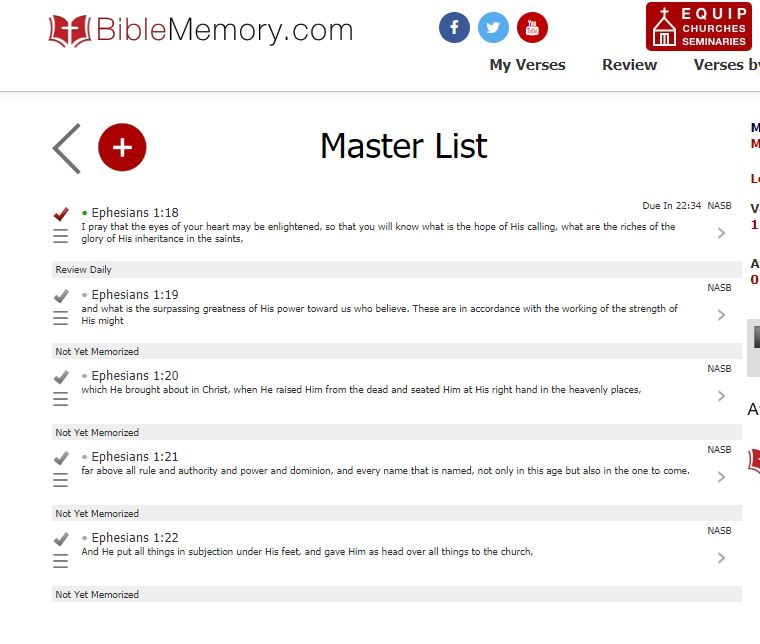 I worked a verse at a time. First I typed it out by just typing the first letter of each word.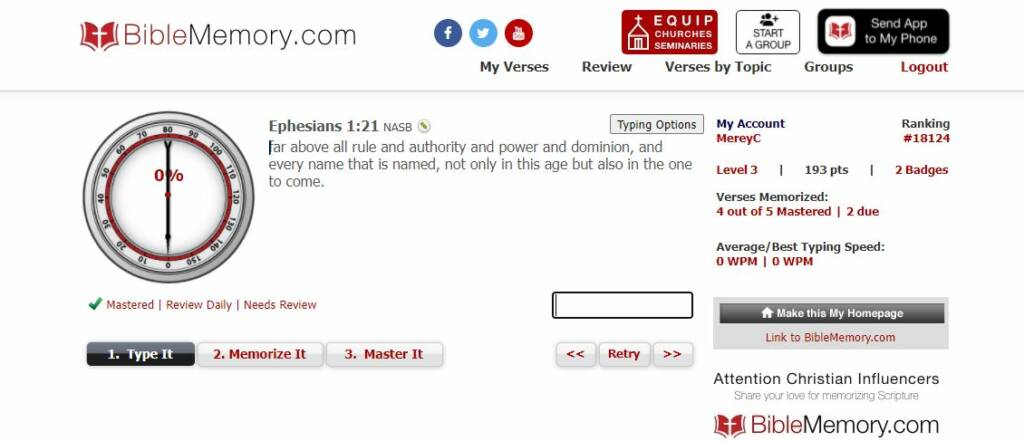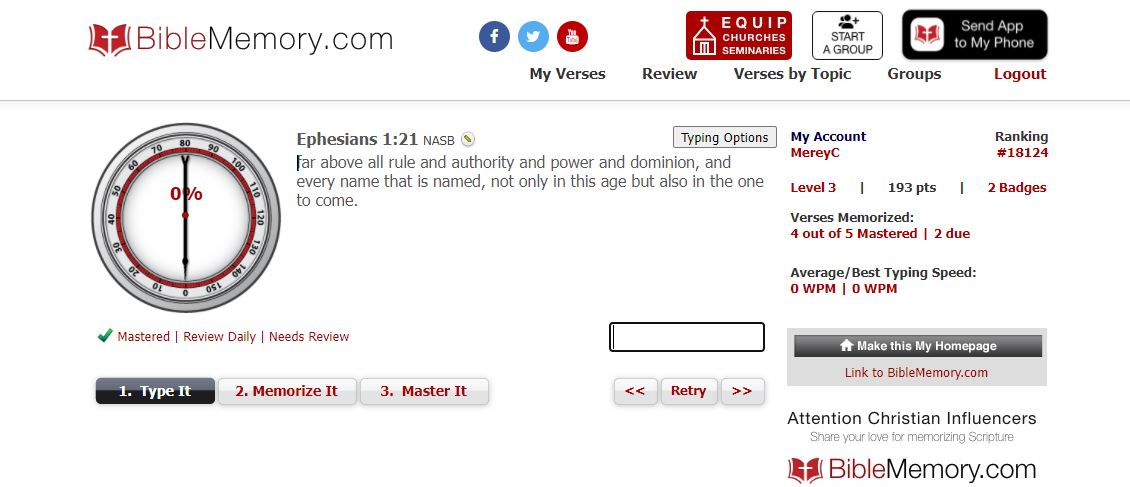 After typing it out perfectly, I moved to the Memorize It section where words were missing. I typed the beginning letter of each word for the words that were there and the words that were missing. Each time I redid it, different words were missing–this really helped with the memorizing.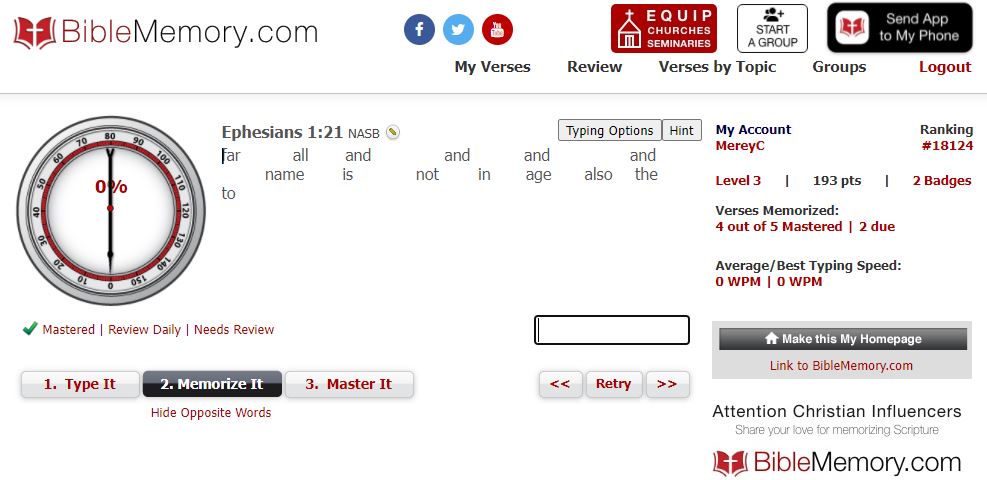 For Master It, the screen was blank I typed the first letter of each word in the verse. This was sometimes hard for me! Eventually I really liked this part.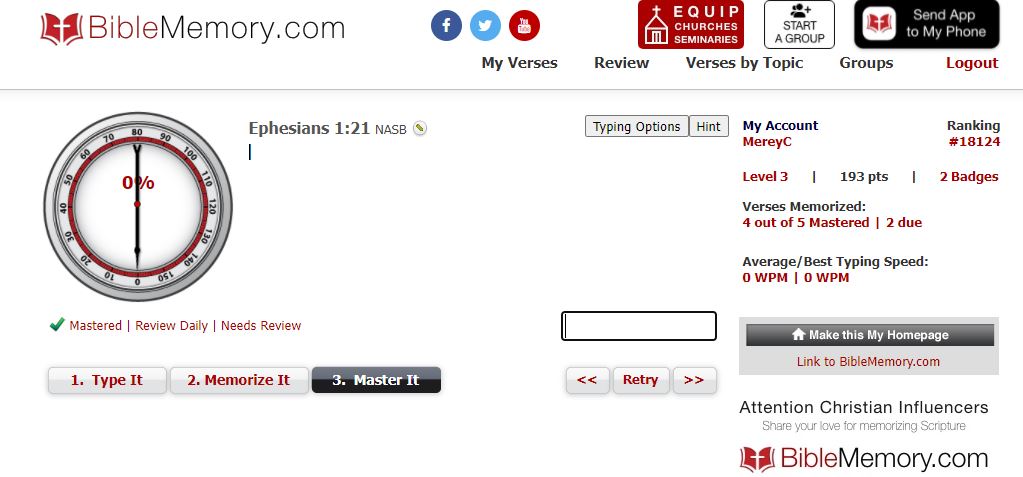 How the Product Worked for Us
I was apprehensive when I found out it was online. "Oh, dear," I thought, "I am so out of my comfort zone."
Then the typing was difficult for me because I'm used to typing whole words, not just the beginning of words. I kept making mistakes and getting bad scores. I even wondered if this would help me memorize my chosen verses.
As I went through my day though I found these verses coming to mind and I could quote them word for word! Wow! I couldn't believe it. It was easiest way I've ever memorized verses!
You can create groups with other members and I would like to do that. I think it would be fun to learn verses together!
I'm also going to tell my married daughter about Bible Memory Kids to help children memorize Scripture. I think my grandchildren would enjoy the beautiful illustrations, exciting music, and simplified typing.
Bible Memory Verses by Topic
Another thing I forgot to mention was the Bible Memory Verses by Topic. There were collections of verses to help you choose what to memorize. "Top 100 Verses," "Creation," "Eternal Life," and "Faith" were just a few of the collections. You can also memorize the books of the Bible, the Lord's Prayer, and the Ten Commandments. I like being able to find verses on a topic that I am struggling with or need to grow in. This was one of my favorite features.
Check out BibleMemory.com on Facebook and Twitter.
Read More Reviews about The Bible Memory App-Bible Memory PRO
You can read more reviews about the The Bible Memory App-Bible Memory PRO HERE from other Homeschool Review Crew bloggers.
Check Out TOS Homeschool Review Crew Blog!
I also want to encourage you to check out The Old Schoolhouse's Review Crew Blog. You can read reviews on all kinds of homeschooling products for all ages.
Until next time, Happy Homeschooling!
Warmly,
Meredith Curtis