Disclosure: I received this complimentary product through the Homeschool Review Crew.
We love a good audio drama, so I was excited to receive Jonathan Park's The Adventure Begins, Series 1. This faith-based audio drama is fun for the whole family. Pop some popcorn, gather round, and spend time together! Or pop a CD in during a vacation van ride.
Our Experience with Jonathan Park's The Adventure Begins Series 1
We rediscovered Jonathan Park audios with our grandchildren who loved them as much as our children had. As believers in the truth of the Bible, we appreciate audio dramas that reinforce our beliefs and values.
In addition, we love a good adventure story at our house. And Jonathan Park delivers! Each story is exciting and full of action.
We started with the 2-part audio, The Secret of the Hidden Cave where 2 families meet by accident when a flash flood in Santa Fe causes them both to seek shelter in an underground cavern. The children find some dinosaur bones that give credibility to the theory of a worldwide flood. But things get complicated with thieves, money problems, and more! I won't give it away, but let's just say, we loved the story.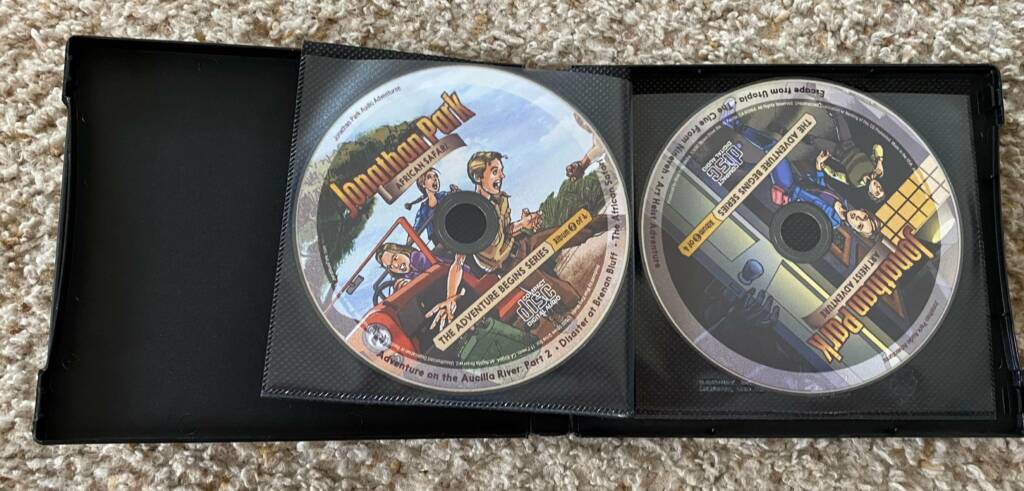 What We Learned from Jonathan Park's The Adventure Begins Series 1
We love to study Creation science, especially about our young earth and the worldwide Flood. Even though the Jonathan Park's The Adventure Begins Series I is an entertaining story, there is good information contained within about science and how to have a relationship with Jesus.
Sprinkled throughout the audios are some great information about science, evidence for a worldwide flood, evidence of a young earth, and more. That was so cool!
How Jonathan Park's The Adventure Begins Series 1 Fits Into a School Day
In our home school, we do a lot of driving. Listening to a Jonathan Park audio is perfect for our drives to homeschool co-op, field trips, or travels to visit family. Vacation car trips are another time with love to listen to these audios.
We also use these videos in our ancient history and earth science studies.
What We Liked about Jonathan Park's The Adventure Begins Series 1
There are so many things we liked about this audio set. Here are a few of them:
Wholesome
Entertaining
Funny
Action-Packed
Adventure
Christian Values
Christian Morality
Christian Worldview
Young-Earth Creation Science Worldview
Science Information in Story
Christian Truths in Story
Good Family Relationships
Healthy Communication
Wholesome, Healthy Friendship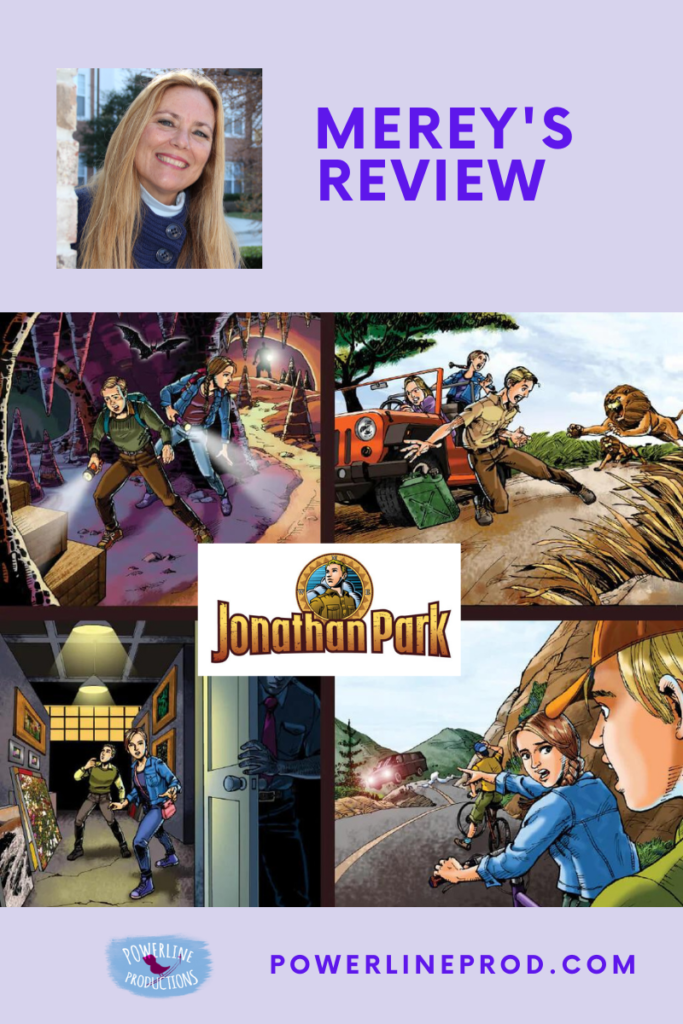 Who Will Enjoy Jonathan Park's The Adventure Begins Series 1?
All ages will enjoy Jonathan Park! Young adults, parents, and grandparents (us!) enjoy listening to these stories even though they were created for teens and children. These stories were kid-tested and teen-tested from ages 4-22. They were adult tested up to age 68.
So, when I say all ages; I mean all ages.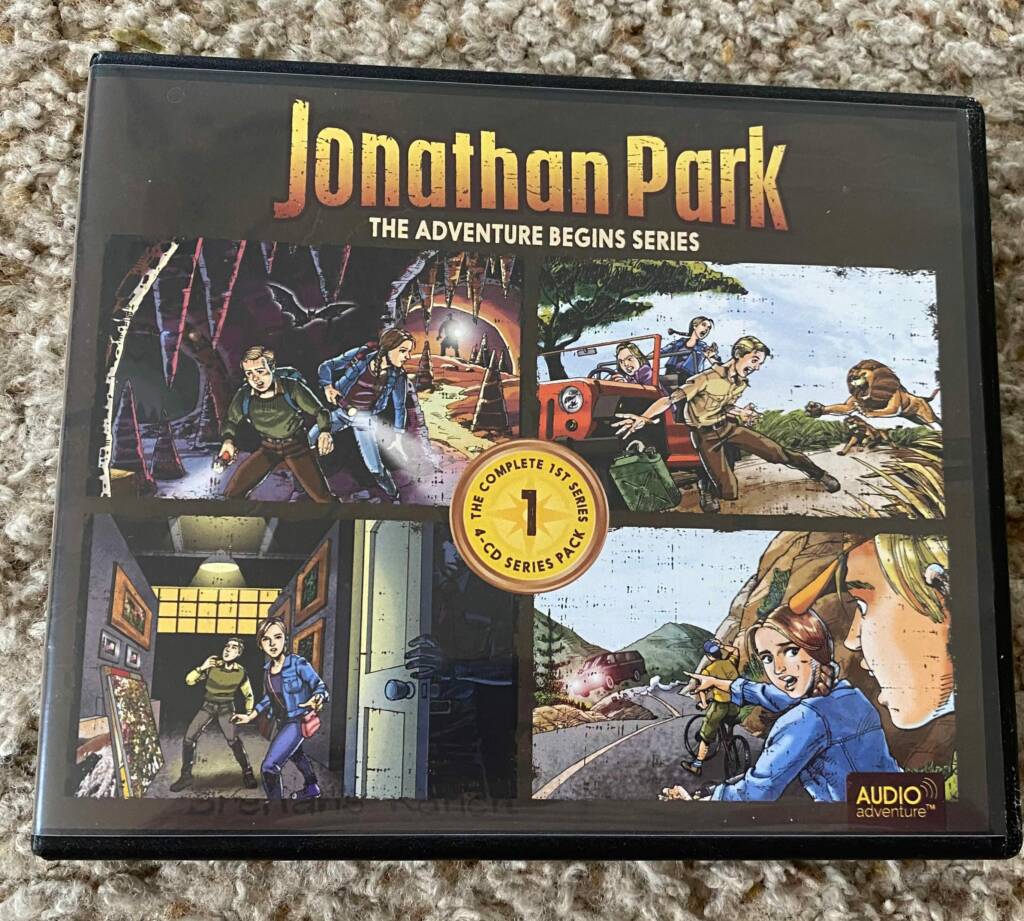 More About Jonathan Park?
I really Like Jonathan Park.
Jonathan Park was created by Christian parents with a heart for Biblical Creation and Christian values for families like mine who want to be encouraged in their faith.
Find Jonathan Park on Facebook.
Read More Jonathan Park Reviews
You can read more reviews from the Review Crew HERE of Jonathan Park's The Adventure Begins, Series 1.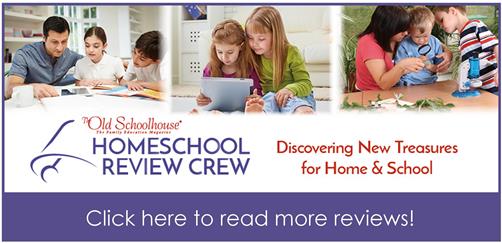 Check Out TOS Homeschool Review Crew Blog!
I also want to encourage you to check out The Old Schoolhouse's Review Crew Blog. You can read reviews on all kinds of homeschooling products for all ages.
Until next time, Happy Homeschooling!
Warmly,
Meredith Curtis