Disclaimer: I recieved a FREE copy of this product through the HOMESCHOOL REVIEW CREW in exchange for my honest review. I was not required to write a positive review nor was I compensated in any other way. All opinions I have expressed are my own or those of my family. I am disclosing this in accordance with FTC Regulations.
Continent Race arrived from Byron's Games and I couldn't wait to bring it to homeschool co-op. As soon as I opened in prayer, I pulled out the Continent Race game.
Does anyone want to play this during lunch?
I didn't have to remind them. They reminded me. Soon, a group of kids all ages was playing Continent Race together.
This went on for several weeks. Nine-year-old Mercy confided in me that she was learning where all the countries were through the game. It helped her that the continents and countries were the same color on the cards to make learning simple! Eleven-year-old Grace loved the fun of the game!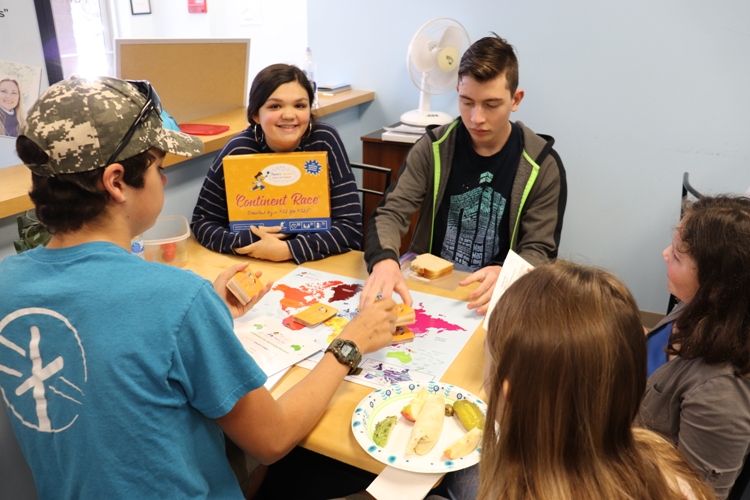 When I finally got it home, I was excited to look through all the maps, cards, and game board.
First of all, I love the quality workmanship of the game. The boards, maps, and cards were sturdy, as well as bright and cheery! The gameboard itself is a world map.
There are large continent cards with a map on the front and countries listed on the back.
There are also country cards with the flag of the country. You have to collect countries from all the continents and locate each country you collect on the map.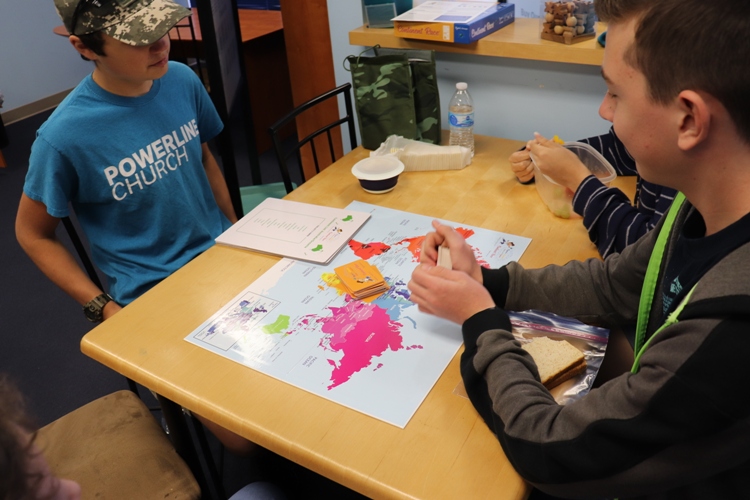 Antarctica Wild Cards can be used to complete a continent set of cards.
There are also mystery cards that are harder to figure out which continent they are on.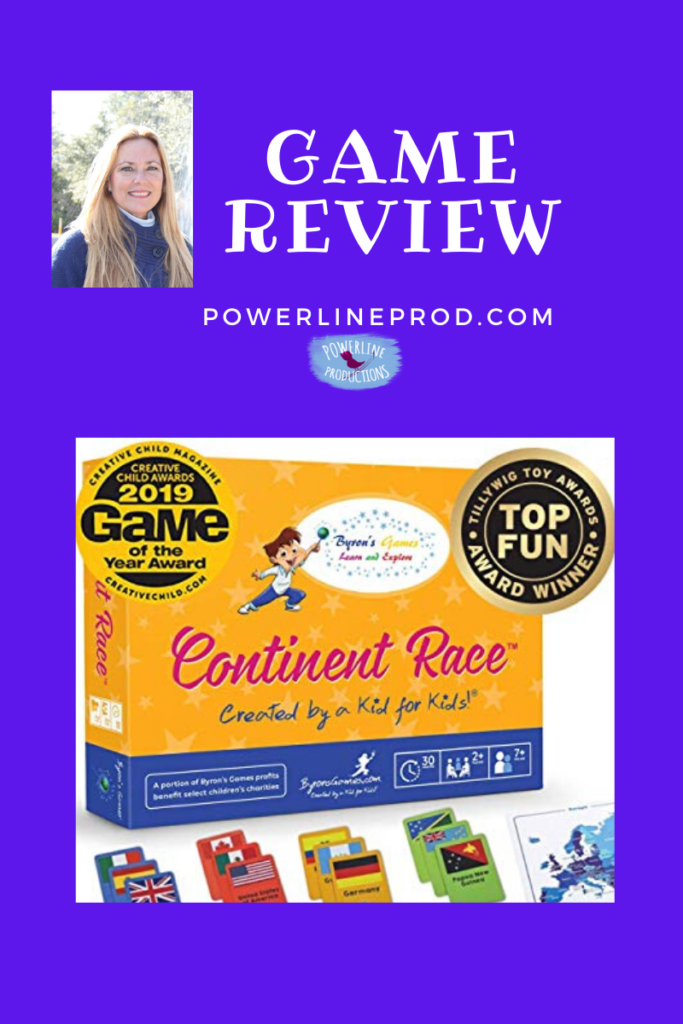 As a homeschool mom and grandmom, I am thrilled with Continent Race! It is a great family time game for all ages! It's educational for little ones and a refresher for those who've already memorized the world map–which changes as years go by. When my older children were learning world geography, there was no South Sudan.
I also love that it feature the national flags of countries all around the world!
Byron's Games is a special company because the games were created by a kid for other kids. 
Who says God doesn't bring good out of tragedy? Byron was six years old when he found himself hospitalized. That time in the hospital inspired him to create something fun and educational for kids to do during their hospital stay. And, oh yeah, why not bring more fun to learning for all kids!
I love that story!
Learn more about Byron's Games on Facebook, Instagram, and Twitter. Oh, and I almost forgot to mention the awards. Byron's Games has been the recipient of 3 awards. 
Creative Child Magazines Game of the Year Award
Tillywigs Top Fun Award
Moms Choice Gold Award
Would you like to read more reviews on Byron's Games? You can read more reviews of Byron's Games from other Homeschool Review Crew Bloggers here.
I also want to encourage you to check out The Old Schoolhouse's Review Crew Blog. You can read reviews on all kinds of homeschooling products for all ages.
Until next time, Happy Homeschooling!
Meredith Curtis