Exploring our national parks is a great way to learn US geography. Even if we just visit their websites, we can learn about landforms, animals, and plants. Better still to visit in person and see God's beautiful creation up close! 
Here are some things you may not know about our National Parks:
On March 1, 1872, President Ulysses S. Grant designated Yellowstone as the first national park in the USA, and the world. Yellowstone is home to the famous geyser Old Faithful.
On August 16, 1916, President Woodrow Wilson signed the act that created the National Park Service.
New River Gorge National Park in West Virginia is the USA's newest park, designated in December 2020. Each October, West Virginia celebrates an annual event called Bridge Day that allows jumpers to parachute the 876-foot distance from the New River Gorge Bridge down to the river.
Gateway Arch National Park in St. Louis is the smallest national park at just 90 acres.
The largest national park is Wrangell-St. Elias National Park & Preserve in Alaska at 13.2 million acres. This park is bigger than Switzerland and some other countries in the world!
The most visited national park is Shenandoah National Park because of the Blue Ridge Parkway.
10 national parks have volcanoes (Mt. Rainier, Crater Lake, Lassen Volcanic, Death Valley, Hawai'i Volcanoes, Haleakala, Katmai, Lake Clark, Wrangell-St. Elias, Yellowstone)
Three of the 10 highest waterfalls in the world are located in Yosemite National Park in California.
The Grand Canyon, in Grand Canyon National Park in Arizona, is known as one of the Seven Natural Wonders of the World.
California and Alaska have 8 national parks each.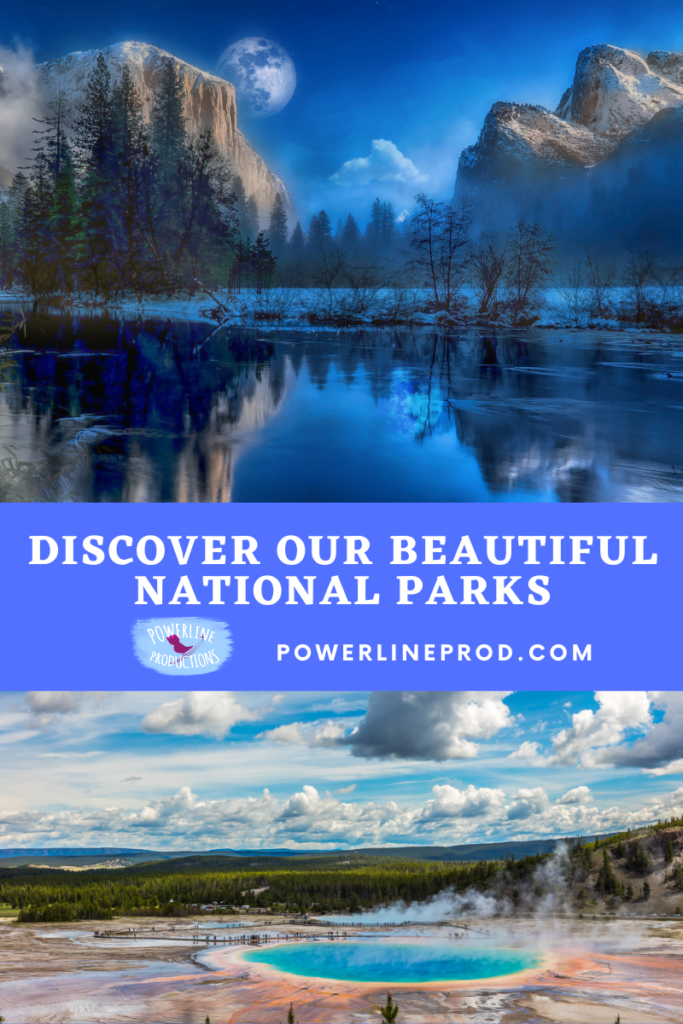 National Parks Week
Every April, during National Park Week, the US National Parks celebrate America's treasures: our 63 national parks. National Park Week is a time to explore amazing places, discover stories of history and culture, help out at a park, and/or visit a national park near you. 

Celebrate National Park Week 2022 from April 16 to 24! Parks across the country will host a variety of special programs, events, and digital experiences. Entrance fees are waived on April 16 to kick off National Park Week–that's right! entrance is FREE so that everyone is motivated to visit their national parks.

April 16 is not the only FREE Entrance Day. Check out the 4 other times the parks are free HERE.

In addition to national parks, there are national monuments, national historic parks, national battlefields, national seashores, and more. For a full listing of all the parks managed by the National Park Service, read HERE.
National Parks Resources
We are doing our part to celebrate National Park Week all month long (April 2022) with a super-sale: 50% off our 2 books to help kids learn more about national parks. These books are on sale for the month of April to celebrate our national parks!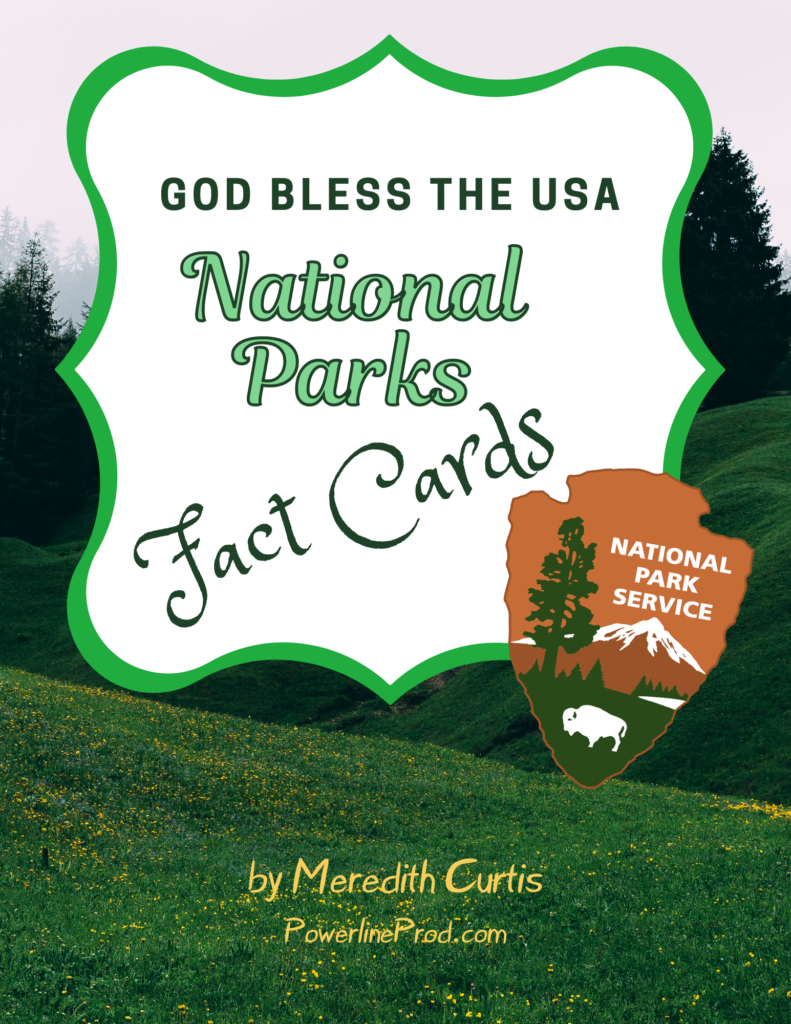 Add the fun factor to US geography studies with our beautiful God Bless the USA National Park Fact Cards. Children can learn about each park's landforms, animals, plants, and location. Plus the cards list all the fun things they could do if they visit! The fact cards can be a springboard for digging deeper and researching on their own to learn more or plan the next family vacation. They are a great way to stir up curiosity!
Or play a memory game with your kids using God Bless the USA National Park Memory Card Game.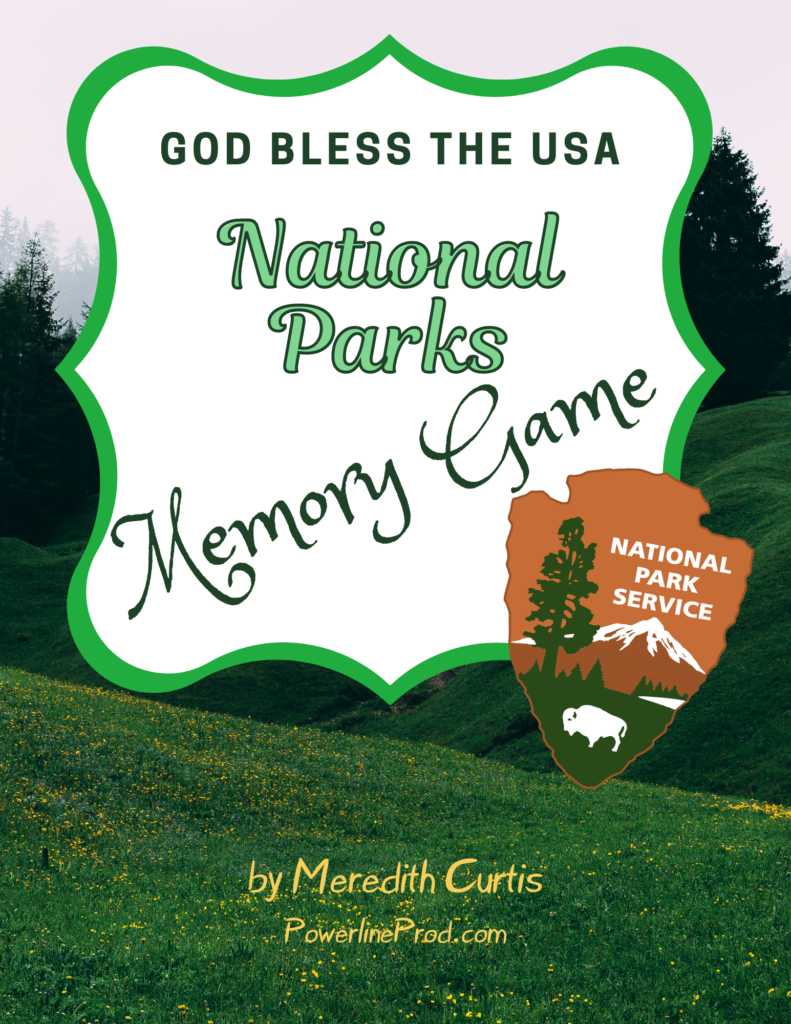 Let me know if you take some time this month to explore our national parks. I'd love to hear about your adventures. 
Until next time, Happy Homeschooling!
Warmly,
Meredith Curtis