Disclosure: This blog post may contain affiliate links from my participation in the Amazon Service LLC Associates Program. I receive a small commission at no cost to you when you make a purchase using my link.
I love giving Christmas presents each year! I love to choose gifts that I think the person will enjoy. In recent years, I've found myself wanting to give gifts that are useful, that keep giving to my beloveds during the year or even for years to come. I want to invest in people!
Here are some gifts that I have given and received that keep on giving, impacting lives for at least a season if not a lifetime.
1. Bible
The gift of a Bible is the best gift of all! After all, a Bible is the Word of God that is living and active, sharper than any 2-edged sword. It cuts through to the intentions of the heart, flooding the soul with living water. The Bible changes lives!
Here is the Classic NASB Reference Bible –a great translation! Includes maps, charts, and concordance. Purchase the Classic NASB Reference Bible at Amazon.
Another great version is the ESV! Purchase the ESV Large Print Thinline Reference Bible at Amazon.
Of course, we can't forget little children! This is my favorite children's Bible: The Jesus Storybook Bible! Each story points the young reader to Jesus! Purchase The Jesus Storybook Bible at Amazon.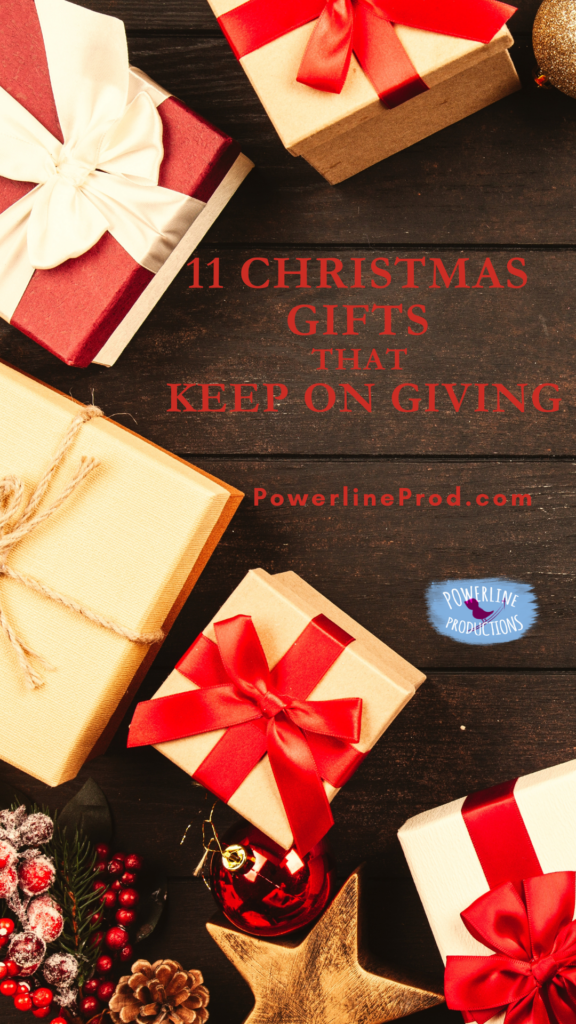 2. Calendar
A calendar looks pretty hanging on the wall and brings order into our chaotic lives for an entire year. This calendar is awesome! Not only is it pretty enough to hang on the while; each month has pockets. That means you can write your doctors appointment on the calendar and put the lab results in the pockets so you don't forget them. I put appointment cards, coupons, and notes in these pockets. Purchase Pockets Plus Wall Calendar at Amazon. This is definitely a gift you will use all year long!
3. Camera
Cameras are always a gift that keeps on giving. Cameras preserve memories. You don't realize how much you appreciate photographs until decades later. If you have a loved one on your gift list who is a photographer or wants to be a photographer, a good camera is a great investment in their future, too! I love taking photos and have gone through a million different cameras. Right now, I've found the perfect one!
This is the camera I have and I love it! From Canon, it's a super camera to start a lifelong photography adventure. This set has it all: lens, lens covers, camera case, flash, tripod, charger, SD card, and more! Your favorite photographer will love this set! Purchase the Canon 800D Rebel T7i DSLR Kit at Amazon.
I remember when Daddy got his first instant Polaroid camera in the 1970s. He was constantly taking photos with it! It was super-fun then and is still a blast to see your photo developed right away. This camera comes with film! You can purchase Polaroid Original Instant Camera with Film at Amazon.
4. Inspirational Books
A good book that has endured the test of time and is beloved for centuries always makes a precious gift that will be read again and again. When books inspire you to draw closer to God and make your life count for eternity, you've got a great gift idea. Here are 3 amazing books.
Written in the late 1600s from a prison cell, this is the story of all of us who follow Christ. A beautiful picture of the life of a Christian, an allegory that is timeless. Purchase Pilgrim's Progress at Amazon.
A modern classic, Don Richardson shows genuine proof of God's love for the entire world. Read how he prepared cultures to receive the Gospel. I love this book and have read it over and over again. A gift sure to please and inspire! Purchase Eternity in their Hearts at Amazon.
This classic was written at the end of the 1800s. Hannah shares the secret of a joyous life in Christ! I think we all want this, but few pursue it. This is a book to read over and over again. Purchase The Christian's Secret of a Happy Life at Amazon.
5. Cookbooks
We all have to eat, but delicious food shared with those you love is a precious joy in this life. Give others the gift of preparing food that looks and tastes delicious! You are not only giving to the recipients, but to all those they cook for.
I love to give this classic cookbook at wedding showers because the recipes are easy-to-understand and delicious. Purchase Better Homes & Gardens Cookbook at Amazon.
If you love American history, travel through time with American History Cookbook from Powerline Productions. With short history blurbs and foodie history at the beginning of each chapter, you can cook and bake your way from Colonial Times to Modern America. Purchase American History Cookbook at Amazon.
If you want to travel the world without ever leaving the comfort of your house, grab Travel God's World Cookbook and wrap it up. Continent by continent, you will discover countries with their flags, must-see-sights, and must-taste-foods. Recipes are simplified so you can make things like Puff Puff from Nigeria, Salty Tea from Mongolia, Chicken Fafa from Tahiti, Lomo Saltado from Peru, Bobo tea from Taiwan, and Kiwi Dip from New Zealand. This is fun for the entire family. Purchase Travel God's World Cookbook at Amazon.
Give the gift of step-by-step instructions to throw an awesome party with recipes to make and serve at the luau and on ordinary days. Purchase Let's Have Our Own Luau at Amazon.
6. Travel Guides
If travel is in your future, this is a super-fun gift! I love travel guides, especially these bright, cheery, easy-to-read DK travel guides. I studied and daydreamed over the DK Eyewitness Travel Guide Germany for 3 years before I finally got to travel to Germany! I brought it with me on my trip and still love to pull it out–I'm planning another trip! This is a perfect gift for your beloveds who want to see the world. You can purchase DK Eyewitness Travel Guide Germany at Amazon.
Here's another travel guide from Great Britain. You can purchase DK Eyewitness Travel Guide at Amazon.
7. Christmas Movies
As a family, we watch Christmas movies over again each year. They never grow old! You can give the magical gift of a Christmas movie and start a family tradition for years to come.
It's a Wonderful Life never grows old. It is the timeless story of a man who feels like a failure, but is actually a true success! Step back in time and watch George go through high school, college, the Great Depression, World War II, and finally come to a breaking point on Christmas Eve. But, the love of family, friends, and an angel named Clarence pulls him though. I laugh and cry every time I watch this movie. Purchase It's a Wonderful Life at Amazon.
I grew up on Peanuts cartoons and always felt so sorry for Charlie Brown. In A Charlie Brown Christmas, though, Charlie Brown nails it at the end of the movie when he reads the Christmas story from the Bible. A very sweet movie for all ages! Purchase A Charlie Brown Christmas at Amazon.
8. Christmas Picture Books
No one is ever too old for a well-written, beautifully-illustrated picture book, especially at Christmas. Here are 3 of our favorites.
Humphrey's First Christmas by Carol Heyer is a delightful tale about the camels who carried the wise men to visit Baby Jesus.
Jack is so excited when he smells Christmas cookies baking, but terribly disappointed to learn they are for needy folks at church. Children will learn about generosity in this delightful picture book, The Gift of the Christmas Cookie by Dandi Daley Mackel.
Mortimer the Mouse is uncomfortable in his big lofty hole, but then he finds a cute little house with some figures in it, including a little baby. This delightful tale has a spiritual message for all ages. Mortimer's Christmas Manger by Jane Chapman is a story your family will treasure for years to come.
9. Board Games
Family game nights are such fun! Give the gift that keeps on giving with a board game. These games can be pulled out over and over for years!
Which member of your family can create the funniest meme? This game is hilarious fun! You can purchase What Do You Meme? Family Edition at Amazon.
This is super easy: build lines of tiles by shape or color. Fun for the whole family! Everyone will love this game! You can purchase Quirkle at Amazon.
Match your pictures with the judge's caption and wait til you hear all the laughter in the room! This is a great family game! You can purchase PicWits! at Amazon.
10. Journal
Journals help you process your thoughts, emotions, and choices through writing. Nothing is more helpful than to go back through your journals and read them again. For Christians, journals can be a place to record insights into God's Word, prayers, and blessings. This is a great gift for men and women of all ages.
Purchase this Man's Inspirational Journal at Amazon.
Purchase Ladies Journal at Amazon.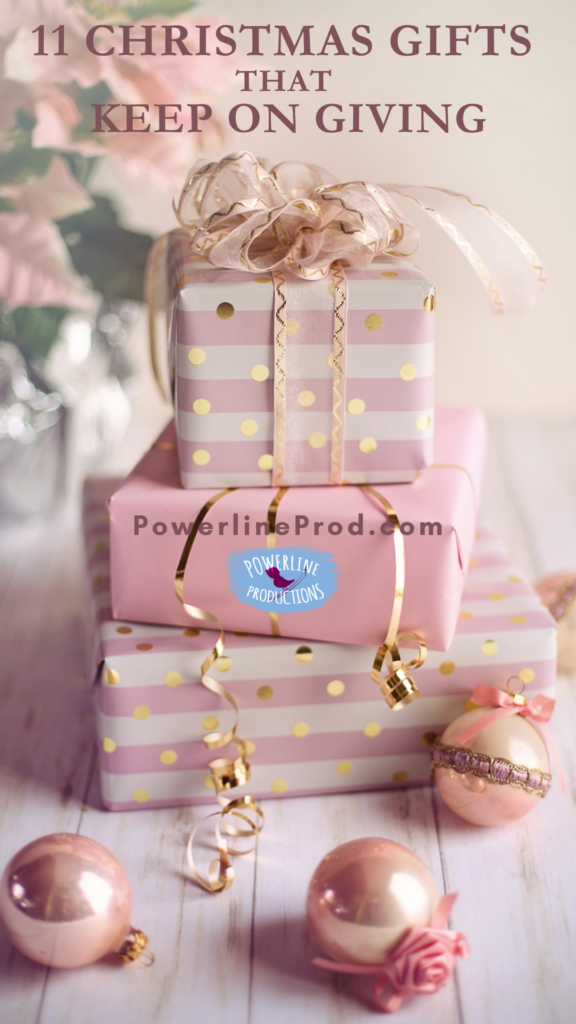 11. Bible Studies
I started with God's Word and end with Bible studies because the greatest gift of all is to know Jesus and God's Word. Jesus changes everything and in God's Word, we discover Him and His plan for our lives!
Let's start with a Bible study for teens and young women: God's Girls Beauty Secrets Bible Study. Every woman wants to be beautiful and this Bible study will help young women be lovely inside and out! Purchase God's Girls Beauty Secrets Bible Study at Amazon.
Created by a father to mentor his son, The Making of Real Men tackles challenging issues that young men face and can overcome in Christ! Purchase The Making of Real Men: A Discipleship Manual at Amazon.
Do you want to change the world for the glory of God starting with your children? A Wise Woman Builds Bible Study has 25 lessons with biblical insights, principles, and practical application. Purchase A Wise Woman Builds Bible Study at Amazon.
When a homemaker makes herself at home in Jesus, she can bring His glorious Presence into her home! From abiding to organization and prayer to interior decorating, the Bible study on homemaking inspires and equips! Purchase Jesus Fill My Heart & Home Bible Study at Amazon.
There you have it! 11 different ideas to give gifts that will impact the lives of those you give them to. Happy shopping and wrapping.
Have a blessed Merry Christmas!
Love,
Meredith Curtis