Have you ever considered taking a road trip to learn geography? You can learn US geography the fun way—on a road trip! So, pack your suitcase, grab your gear, and head for the open road!
On our whirlwind tour of the Mid-Atlantic States and New England, you'll experience the hustle and bustle of the most populated and historic part of the USA. You could take a year to explore the beautiful northeast, but if you hit these highlights, you'll learn a lot. Don't forget your jacket. It can get chilly. Why not start your trip with Maryland?
Maryland
A sailboat is the perfect way to see the Chesapeake Bay which divides most of Maryland from her Eastern Shore. The Chesapeake Bay is largest estuary on the continent, the 64,000 square-feet Chesapeake Bay watershed includes more than 150 rivers and streams. More than 300 species of fish, shellfish and crab, and a wide array of other wildlife call the bay home and support a thriving fishing industry. We'll sail past Annapolis (MD capital) and Baltimore with their amazing natural harbors. Look at them on a map and then explore by boat.
Chesapeake Bay also creates the Delmarva Peninsula (Del (Delaware) Mar (Maryland), VA (Virginia). Delmarva has a culture all its own of fishermen and farmers whose families go back a couple hundred years. You can sail, kayak, boat, or fish in the bay. Tie a chicken neck to a string and go crabbing the Delmarva way.
Geography Concepts: estuary, watershed, fishing industry, farming, crabbing, boating, sailing, natural harbor, shipping ports, port cities
Delaware
Dover Air Force Base is located in Dover, the capital of Delaware where they fix and fly aircraft, prepare and deploy airmen, move cargo, and return fallen heroes with dignity and honor. President Trump often when to meet fallen heroes at Dover Air Force Base when he was in office. You can spend the night on base if you are visiting a family member stationed at Dover.
Dover is a bustling city between government and military. Designed in the Colonial Revival style, the capitol is a beautiful building. The original capitol, the Old State House, is now a museum. The Delaware General Assembly and the Old State House sit across from each other on The Green in Dover.
Geography Concepts: military, bases, capital, capitol, village green, fallen heroes, flight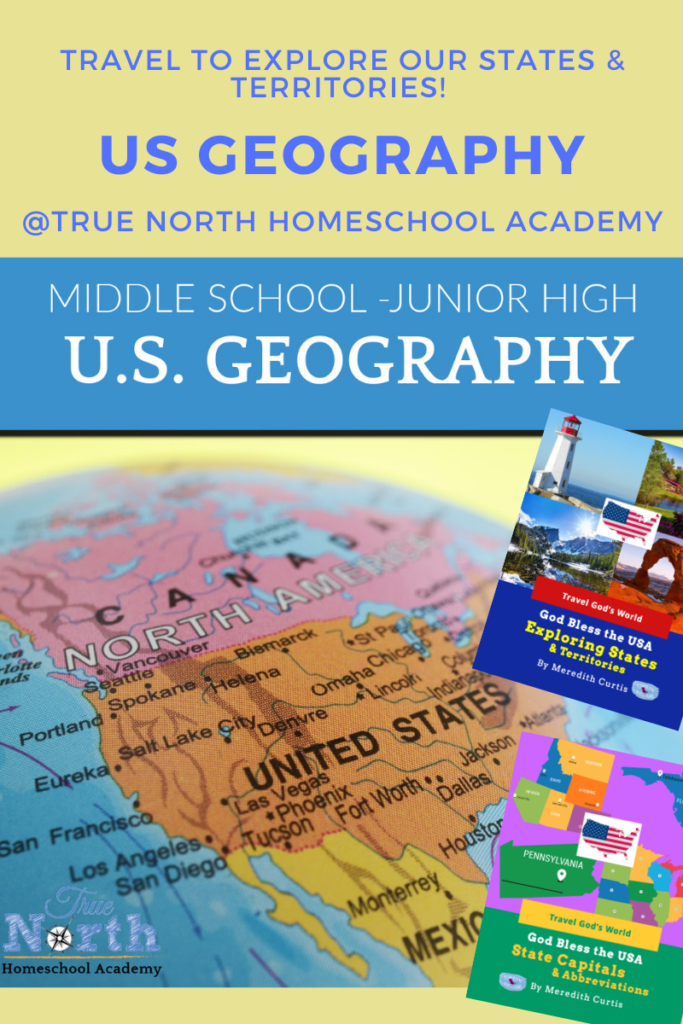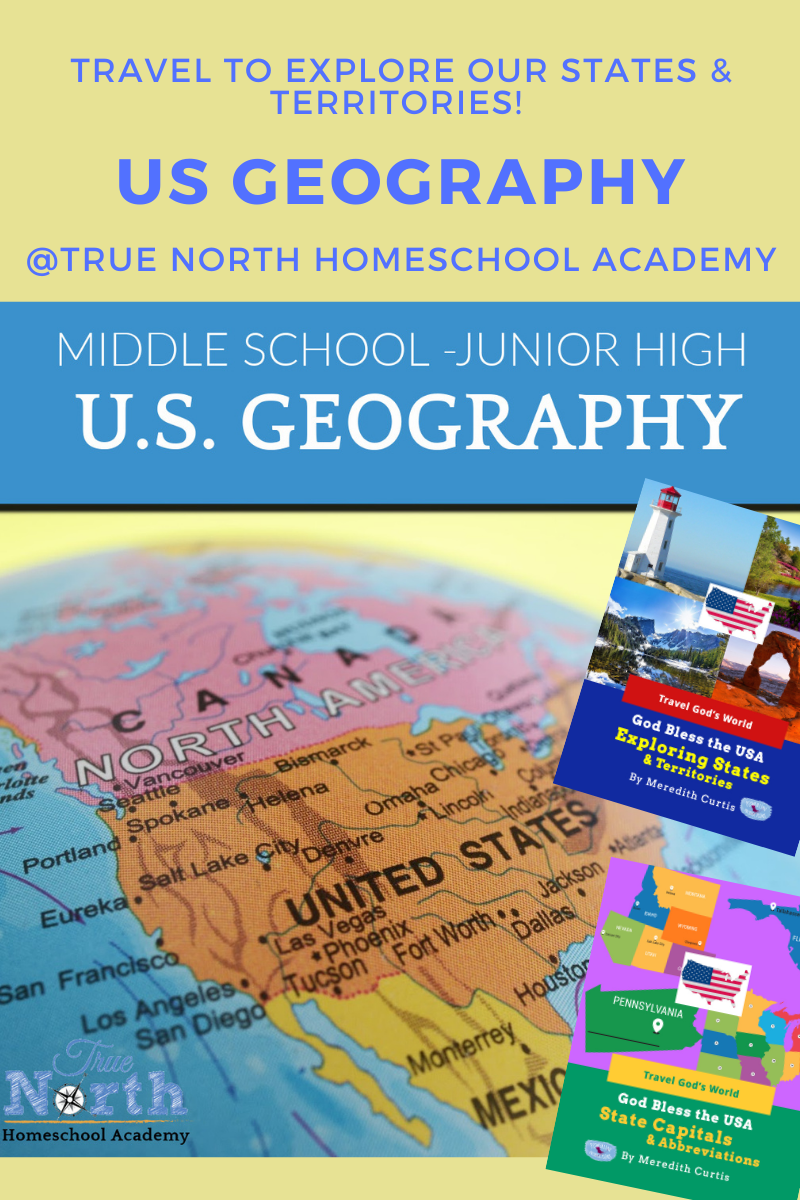 You can learn a lot about geography when you travel! You might want to take this trip with your family. OR join us at True North Homeschool Academy this fall and travel to every state and inhabited territory in our US Geography class (Jr. High but open to high school students). Purchase online class HERE.
New Jersey
Dover is close to the Delaware Bay and across the bay to the northeast is Cape May, NJ, one of many seaside towns along the Mid-Atlantic Coastline. Cape May is on the southern tip of Cape May Peninsula in Cape May County, NJ right where the Delaware Bay meets the Atlantic Ocean. It is one of the oldest vacation resort destinations—around since the late 1600s and home to vacationers as early as the mid-1700s. When fire destroyed most of the town in 1878, the new homes were built in the Victorian style making Cape May the second largest collection of Victorian homes in the USA.
Geography Concepts: cape, peninsula, bay, Victorian architecture, town history
Pennsylvania
Travel up the Delaware Bay which becomes the Delaware River. Pass Smyrna, Middletown, and New Castle on the Delaware side and Bridgeton, Salem, Pennsville on the NJ side. The Delaware River creates the boundary line between NJ and DE. It also gives Pennsylvania access to the Atlantic Ocean. Continuing upriver, you pass the ports of Wilmington, Claymont, and Chester along with factories and refineries. The Delaware River flows on passing the Port of Philadelphia and the Naval Shipyard on the PA side and the Port of Camden on the NJ side. As you pass Philadelphia, dock the boat and get off to visit some historic sights: Independence Hall where they signed the Declaration of Independence, the liberty bell, Bishop White's House, Todd House, Betsey Ross House, Franklin Court, and the President's House. While George Washington was President the US capital was in Philadelphia.
Geography Concepts: boundary lines, state borders, river ports, river, upriver, downriver, shipyards, airport, flight, colonial history, early American history
Niagara Falls
You're close to the Philly International Airport, so grab a Philly Cheesesteak and take a flight up to Buffalo, New York to see Niagara Falls. Niagara Falls is a group of three waterfalls at the southern end of Niagara Gorge, spanning the border between the province of Ontario in Canada and the state of New York. The largest of the three, Horseshoe Falls, straddles the international border of the two countries.
Buffalo is close to the Great Lakes with Lake Erie to the south and Lake Ontario to the north. Canada is right over the Falls. Let's get in a vehicle and head east on I-90. We can jump off on I-91 to get to Hartford, CT, our first stop in New England.
Geography Concepts: airports, Great Lakes, rivers, waterfalls, international borders, interstate highways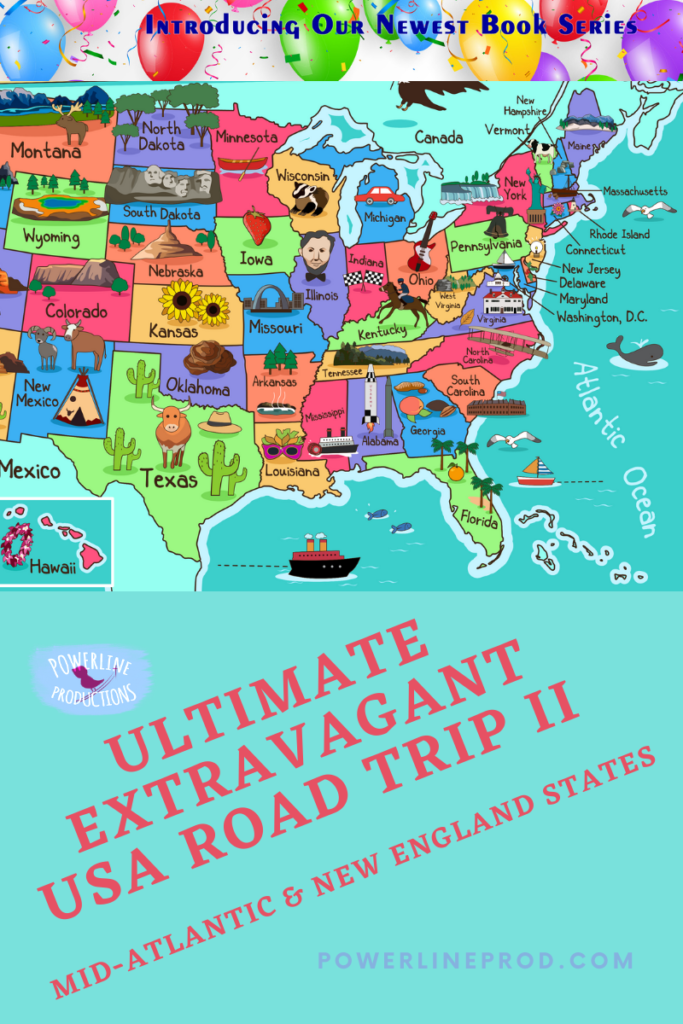 Connecticut
Hartford is the capital of Connecticut and home to the beautiful Connecticut State Capitol. Hartford has always been Connecticut's capital, but did you know that for many years Connecticut had two capitals at the same time? New Haven, founded by Rev. John Davenport, and Hartford, founded by Rev. Thomas Hooker, were separate settlements. When they came together as Connecticut, there was a rivalry that persisted so from 1701-1874 there were two capitals and two copies of all legal documents. Finally, they decided that one capital city would be better than two! You can also see the unusual remains of the Charter Oak, a huge white oak tree that fell during a storm in 1856. Tradition says that the Connecticut's Royal Charter of 1662 was hidden in the hallow of the Charter Oak so that the English governor-general would not confiscate the document. The oak was a living symbol of the American Revolution and is commemorated on the Connecticut State Quarter. After the storm downed the oak tree, folks turned it into timber and fittingly built a desk for the governor and chairs for the President of the Senate and Speaker of the House of Representatives of CT.
Geography Concepts: capital, capitol, colonial history, symbols, landmarks, resourcesfulness, oak trees, state quarters, storms
Rhode Island
Next stop: Newport, Rhode Island. Providence is home to the first Baptist Church in American and the capital, but Newport is home to the Breakers, a lavish Gilded Age mansion built by the Vanderbilt family in the 1890s with14 acres, 70 rooms, library, billiard room, marble pillars, decorative ceilings and walls, artwork, and gorgeous gardens. Until 2018, the great-grandchildren of the original owners of The Breakers lived on the third floor. Afterward, meander down Ocean Drive, a 10-mile scenic view of the coastline of Aquidneck Island, the ocean, and some gorgeous "summer cottages" that simply take your breath away.
Geography Concepts: Island towns, seaside cottages, seaside vacations, Gilded Age history, scenic drives, Newport architecture, Rhode Island families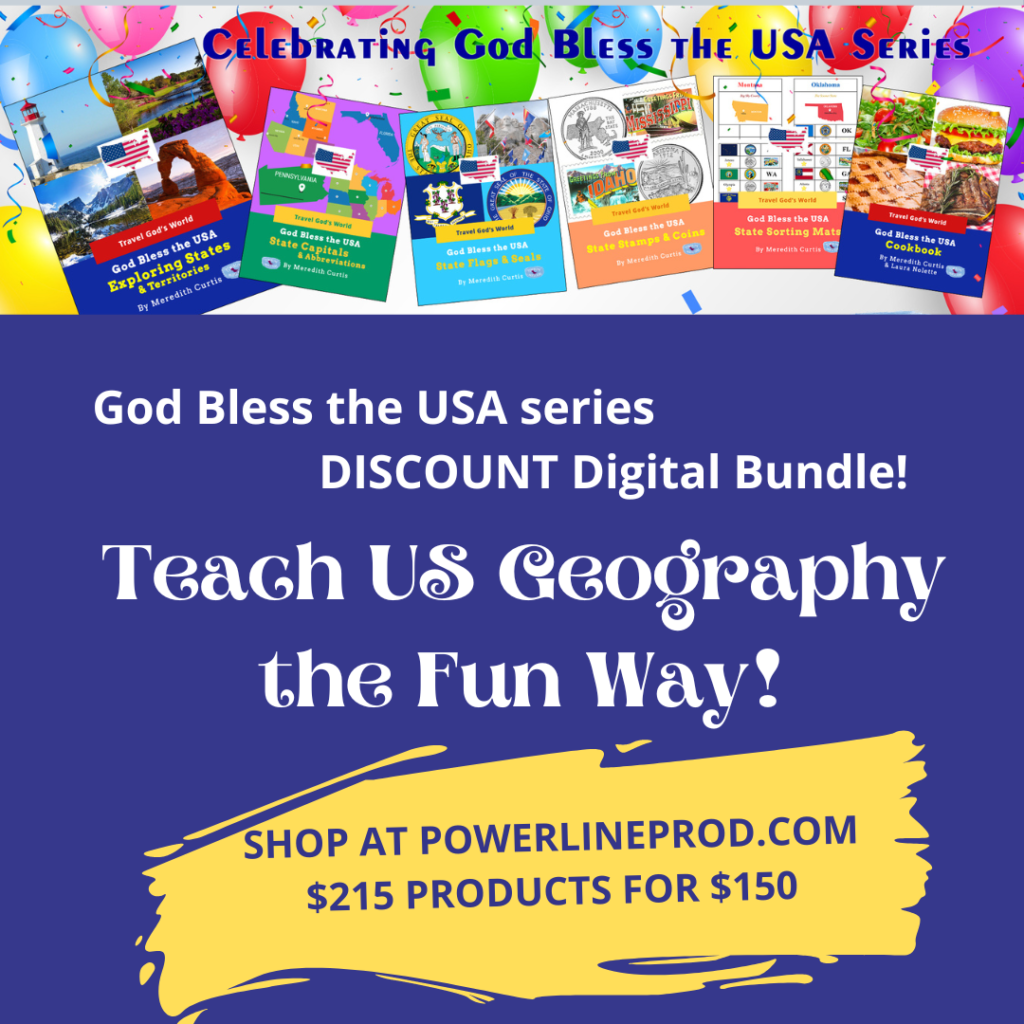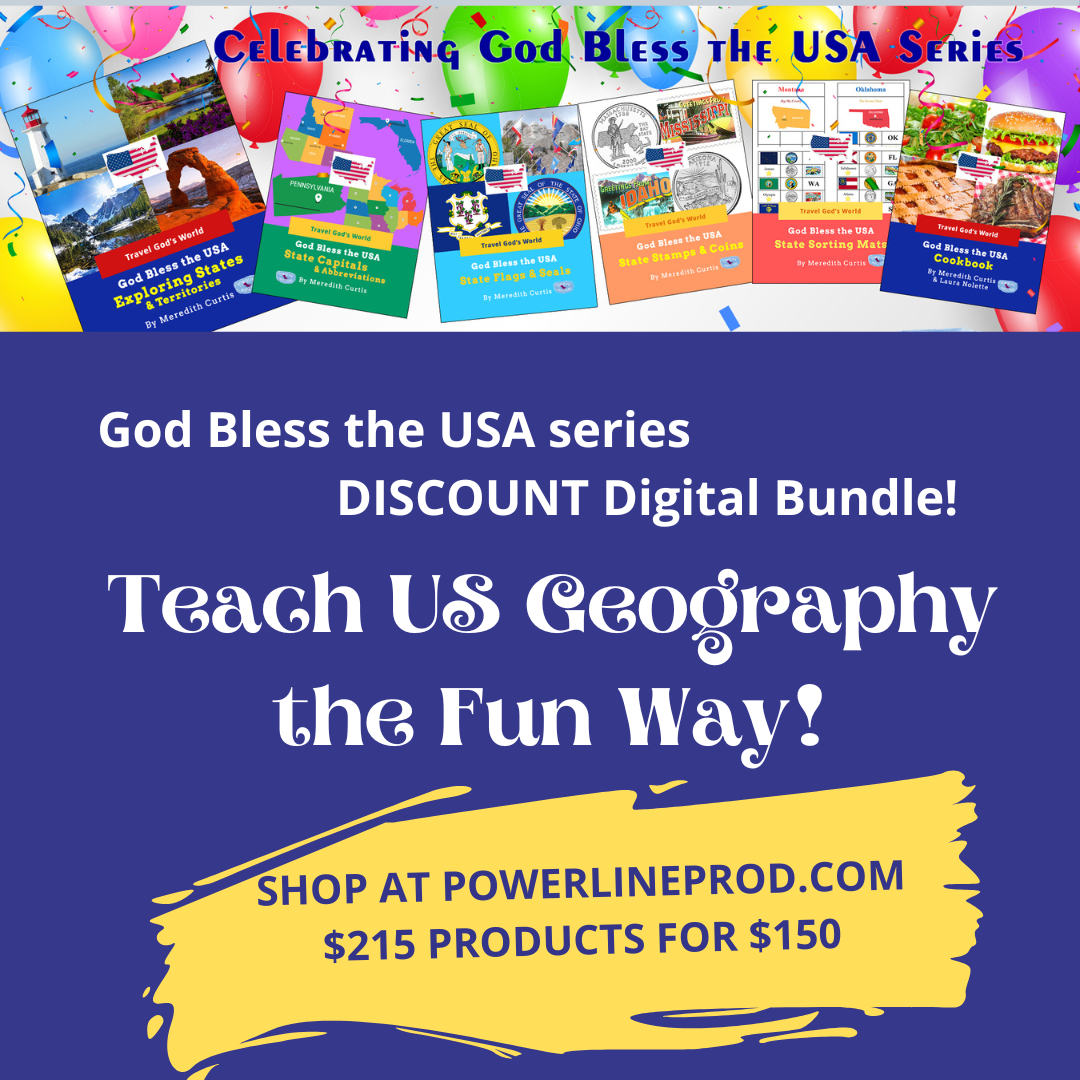 Our digital bundle: all 8 digital products totaling $215. value at the low price of $150. Plus, you can use the 40% off coupon (CELEBRATE40) to make the total price $90 for $215 worth of US geography digital resources! That's a deal!
Massachusetts
As homeschoolers, you have to see the Freedom Trail in Boston with 16 stops at historically significant sites like Old South Meeting House, Old North Church, MA State House, Boston Massacre site, monuments, more churches, and burying grounds. Boston Tea Party Ships Museum is close by where you can relive the Boston Tea Party with live actors, and replica ships. What fun! Boston Harbor was a perfect place for the early colonists to enjoy a thriving shipping business.
Geography Concepts: Freedom trail, historic sites, monuments, landmarks, living history, museums, harbor, American Revolution history, shipping industry
New Hampshire
Many people visit New Hampshire and Vermont in the fall to see the brilliant colors of the sugar maples, but these states are beautiful year-round with farms, villages, and gorgeous mountains. Head north on I-95 into New Hampshire and take country roads to the foothills of the beautiful White Mountains. You can visit Lake Winnipesaukee, the largest lake in New Hampshire where you can snorkel or take a boat tour of the little islands, bays, and inlets. The lake is surrounded by magnificent mountains and lush forest with all kinds of trails for hiking and spotting wildlife. Nearby ride the old-fashioned Conway Scenic Railroad for scenic vistas. A little north of Conway is Story Land where Humpty Dumpty, Goldilocks, and the Three Little Pigs come to life. Delighting children since 1954, Story Land has rides, shows, performances, and characters.
Geography Concepts: mountains, valleys, lakes, forest, islands, bays, inlets, scenic railroad, theme park
Vermont
After a full day of fun, visit Stowe, Vermont. It's a straight shot across I-91. Have you ever seen The Sound of Music? It is based on a true story about the Von Trapp Family who escaped Austria from the Nazis, settling in Stowe, Vermont, a winter resort town. Eventually, they let guests visit them on their farm in Stowe. When a fire burned their first home/lodge in 1980, they rebuilt a 96-room alpine lodge with lovely mountain views. Visit the Von Trapp Family Lodge to ski, get a massage, swim in the heated pool, or go hiking. Going to Stowe in the winter is like stepping into a Hallmark Christmas movie. The town is adorable with white church steeple, weathered barns, a covered bridge, colonial homes, and majestic mountains laden with ski trails.
It's a long drive to the coast of Maine so l suggest a flight.
Geography Concepts: mountain ranges, skiing, winter resort towns, villages, covered bridges, colonial homes, transportation choices
Maine
Did you know the only place to see Atlantic puffins nesting in the USA is on islands off the coast of Maine? Watch these adorable birds bring food from the water to the nest or relax on the rocks with their puffin friends. Summer is the best time of year for puffin sighting and whale watching. Explore Maine's craggy coast and rocky islands than from a lobster boat and help haul traps. You could go deep-sea fishing or take a windjammer cruise. Out in the open sea watch the world's largest living creatures gracefully move through the water and come up for air. What a sight!
Geography Concepts: puffins, whales, lobster fishing, rocky coastline, fishing, boating, ocean, marine life
We started our adventure in the largest estuary of North America, the Chesapeake Bay and we're ending it in the Atlantic Ocean. Except for Vermont, all of these states were part of the original 13 colonies. We've seen how important the rivers, bays, and ocean played a role in their livelihoods. There is so much history left to explore. So many natural wonders to see and famous companies to explore. But that's for another time.
You can learn a lot about geography when you travel! You might want to take this trip with your family. OR join us at True North Homeschool Academy this fall and travel to every state and inhabited territory in our US Geography class (Jr. High but open to high school students). Purchase online class HERE.
We'll be using God Bless the USA Exploring States & Territories and God Bless the USA State Capitals & Abbreviations. Purchase them at PowerlineProd.com.
Until next time, Happy Homeschooling!
Warmly,
Meredith Curtis