Have you ever considered taking a road trip to learn geography? You can learn US geography the fun way—on a road trip! So, pack your suitcase, grab your gear, and head for the open road!
On our whirlwind tour of the Southern States, you'll experience the warmth of Southern Hospitality along with some hot sticky weather. Don't forget your suntan lotion and a hat. Oh, and grab some bug spray, too. You could take a year to explore the beautiful Southern States, but if you hit these highlights, you'll learn a lot. Why not start your trip with Florida?
Florida
You notice it's a long way from Jacksonville to Key West. A peninsula, Florida is surrounded by water on 3 sides. Start in the Everglades, that river of grass that flows very slowly from Lake Okeechobee to Miami Bay, leaving behind fertile soil for farming. The Everglades itself is an amazing ecosystem! The largest subtropical wilderness in the USA, these slow-moving wetlands cover most of South Florida. You can see wide variety of birds, inserts, reptiles, amphibians, bears, panthers, and more!
Next stop: St. Augustine-oldest continuously inhabited city in the USA. Spanish settlement now a living museum. Must sees: Fort, oldest schoolhouse, Old Town, cathedral, Lightener Museum.
Geography learning: peninsula, swamp, marsh, hammock, estuary, national park, farms, crops, flora (plants), fauna (animals), explorers, colonization, fort, culture, settlement, city, road maps.
Georgia
On our way to Savannah, stop at one of Georgia's many barrier islands. Cumberland Island, the largest barrier island, has wild horses on it. Savannah, right up I-95 from St. Augustine, was an important colonial port town. Laid out in squares with greens in the center of homes, business buildings, churches. Now it's a tourist attraction with its old buildings and brick roads. Folks love to walk along the Savannah Riverfront. The Savannah River creates the boundary between GA and SC. From Savannah, it's time to get on a boat and travel up the Intercoastal Waterway. You can see the mouth of Savannah River where it empties into the sea as we enter the Intercoastal Waterway, a 3,000 mile inland waterway system along the Atlantic and Gulf of Mexico coasts. The waterway consists of natural inlets, saltwater rivers, bays, sounds, and artificial canals..
Geography concepts: port cities, colonial cities, city planning/layout, barrier islands, wild horses, boundary, river, river's mouth, Intercoastal Waterway, boating as transportation, inlets, bays, sounds, canals.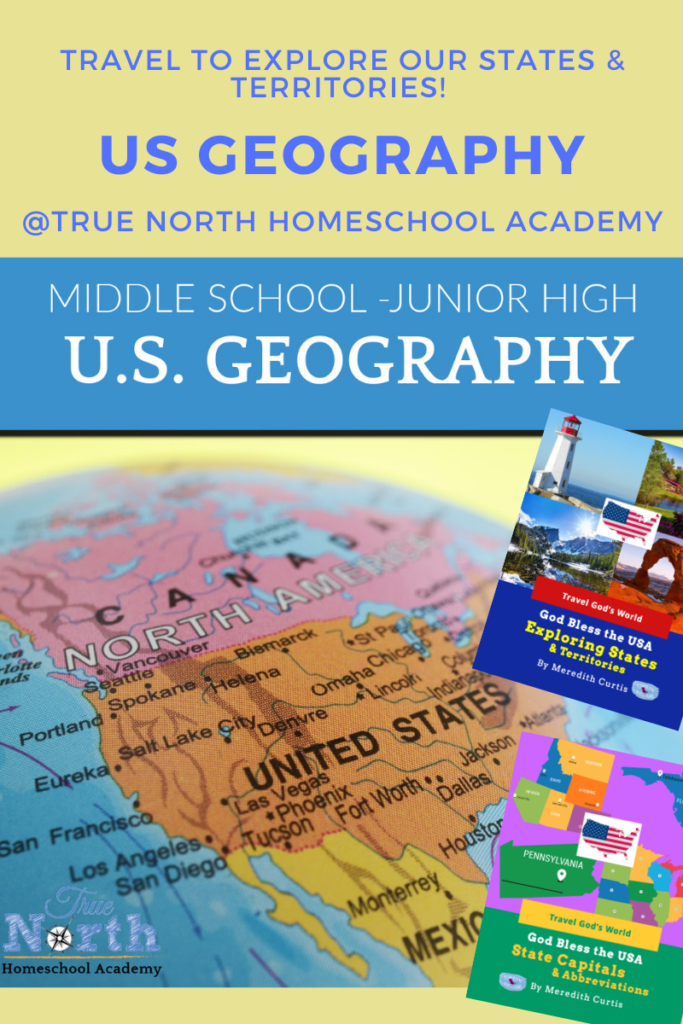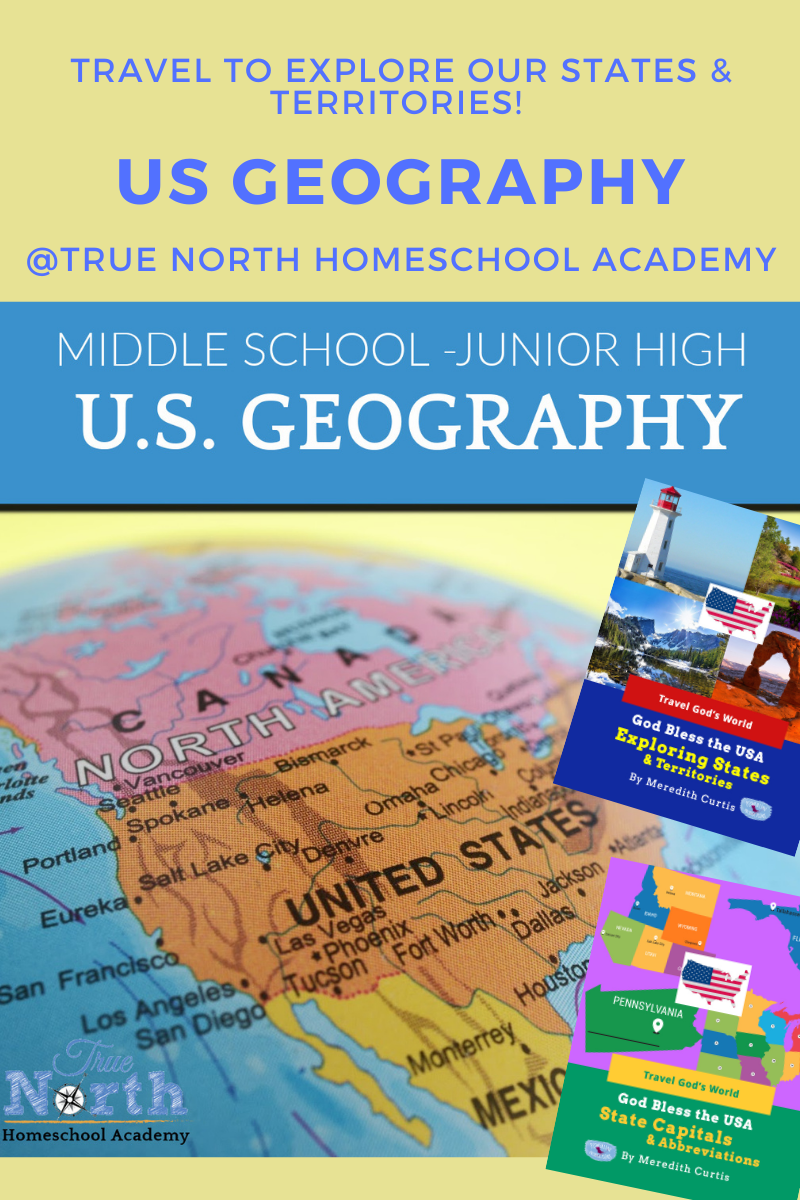 You can learn a lot about geography when you travel! You might want to take this trip with your family. OR join us at True North Homeschool Academy this fall and travel to every state and inhabited territory in our US Geography class (Jr. High but open to high school students). Purchase online class HERE.
South Carolina
The Gullah live on these barrier islands along the Intercoastal Waterway, keeping their West African culture alive for centuries first as slaves and later as free men. Gullah cooking is delicious. They speak in a Creole language called Gullah Geechee. The next stop is Charleston, one of the largest British colonial cities. The port remains busy to this day. Charleston is a charming town with beautiful old homes, museums, and art galleries. One thing I love in Charleston is the Huguenot Church in the French Quarter. The Huguenots were persecuted in France for their Protestant faith, so they escaped overseas, settling in Charleston during colonial times. The original church they built remains.
Geography concepts: Gullah culture, language, cooking. French Huguenot culture, religion, food.
North Carolina
Like Georgia and South Carolina, you will notice numerous barrier islands as you continue up the Intercoastal Waterway. The destination is Kitty Hawk, close to Kill Devils Hills and Nags Head. Wilbur and Orville Wright left their bicycle shop in OH for NC because of its wind, weather, sand. They worked hard, continued on after failures, and were the first to fly a plane, changing the world. The brothers opened a training school for pilots, as well as a business selling airplanes. Inventors and entrepeneurs.
Geography Concepts: flight, planes, business, climate, weather, wind, sandy beaches,
Virginia
Continue up the Intercoastal Waterway to Norfolk, slip into the James River to stop at Jamestown, the first British settlement. Switch our the boat for a minivan now and visit 3 historic sites: Jamestown, Williamsburg, an amazing living museum, and Yorktown, where British General Cornwallis surrendered to General George Washington in a decisive battle in the Revolutionary War.
Head west on I-64 to Skyline Drive. Once you get to Waynesboro, choice your direction: south to Blue Ridge Parkway (free and runs 400 miles through the Blue Ridge Mountains to Smokey National Park) or north to Skyline Drive (100 miles, a toll, but with the Appalachian Trail).
Geography Concepts: Jamestown settlement, marsh, mosquitos, historical buildings, colonial trades, colonial food culture, state capital, battlefield, battles, war, mountains, valleys, ridges, scenic views, Appalachian Mountains, Smokey Mountains, flora (plants), fauna (animals), hiking, mountain trails
West Virginia
Get back on I-64 and head west. In West Virginia, you can detour for a day up US-19 to Glen Jean, WV for rafting on the New River in New River Gorge National Park & Preserve.
Geography Concepts: River rapids, gorges, bridges, river rafting, rocking climbing, ziplining, national parks, national preserves.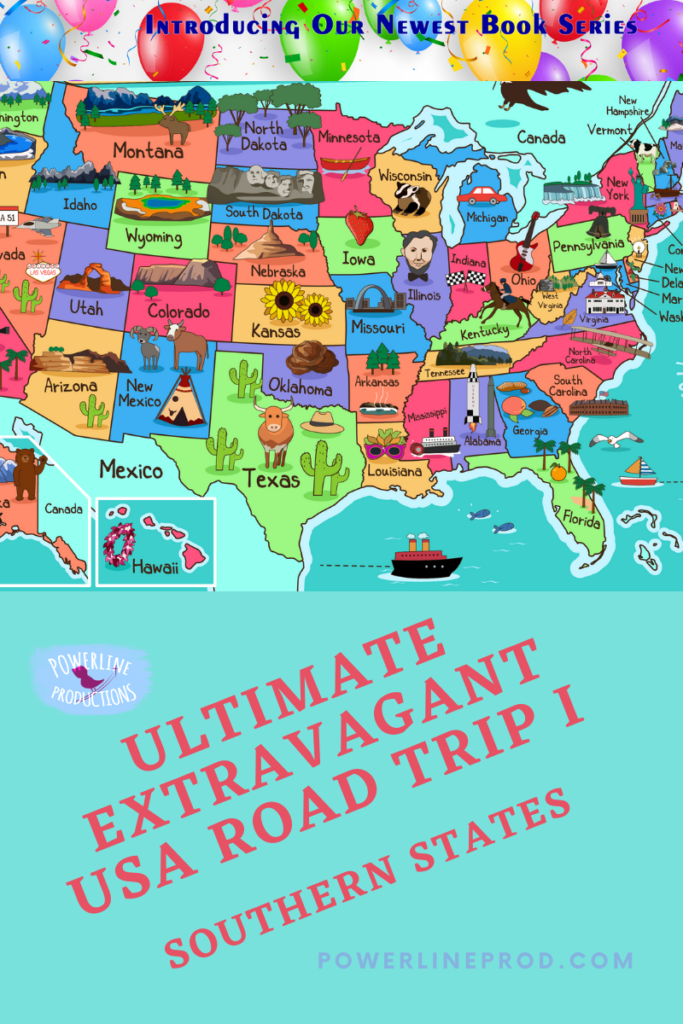 Kentucky
I-64 and I-75 will take you to the Ark Encounter in Williamstown, KY. Experience history at the life-size Noah's Ark and meet Noah, his family, and the animals on the Ark at another living museum. Based on the Genesis flood account in Scripture, the ark is 510 feet long, 85 feet wide, and 51 feet high. This family-friendly Ark Encounter theme park near Cincinnati also features a zoo, zip lines, and timber-frame restaurant. An hour south is the Creation Science Museum if you want to stop on the way to Mammoth Cave, the largest cave system in the world. Start with a tour of the caves and then maybe hiking, kayaking, canoe, fish, or horseback riding. There are 400 miles of caves in this system and some scientists think there are 600 miles yet to be discovered. I love the stalactites and stalagmites. The stalactites form when water dissolves overlying limestone then re-deposits calcium carbonate along the ceilings. When they are actually forming, water drips and this causes stalagmites to form on the floor growing upward. They look like icicles! When a Stalactite and a stalagmite meet, they form a column.
Geography Concepts: Genesis worldwide flood, catastrophic changes from the Flood, caves, cave systems, stalactites, stalagmites, columns, limestone, recreation.
Tennessee
Next stop: TN. Meander around Nashville and eat some Nashville hot Fried Chicken. Yes, it's super spicy! Then grab a concert at the Grand Ole Opry. Head east out of Nashville on I-40 to 66 south to Pigeon Forge and the beautiful Smokey Mountains. Hike or tour of the "Titanic" replica and museum where you can put your hand in 28 degree salt water to see what the survivors had to endure. Eat dinner at the famous Old Mill Restaurant and visit the Island enjoying the rides.
Geography Concepts: southern food, regional culture, country music, gospel music, mountain resort towns, Smokey mountain culture.
Alabama
It's four hours to Huntsville, AL from Pigeon Forge. Huntsville is home to the largest Space Museum in the world. The space industry was birthed in Huntsville at NASA's Marshall Space Flight Center. Next stop: Tuskegee Institute. Booker T. Washington founded Tuskegee Institute as a Christian college for freed Black slaves in 1881. Students learned a trade along with their academic studies to ensure success in the world. Booker's friend George Washington Carver found so many uses for the peanut as a scientist and professor. Washington's successor founded the Tuskegee V.A. Hospital and the famous Tuskegee Airmen flight training program. The first African American fighter pilots fought bravely in World War II. We can visit the Tuskegee Airmen National Historic Site at Morton Field and the George Washington Carver Museum.
Geography Concepts: space, space race, flight, history of flight, history of space, famous African Americans, freedom for southern slaves, Christ-centered education, scientific research, Tuskegee airmen, World War II,
Mississippi
Gulf Shores National Seashore spans three states (FL, AL, MI), but is only made up of barrier islands in the Gulf Coast from MI and FL. Stretching from Santa Rosa Island, FL to Cat Island, MI. The islands have natural beaches, marshes, and bayous with plenty of fun like sailing, swimming, diving, snorkeling, and hiking. We'll also pass Mobile Bay on our way to Cat Island. Mobile Bay's water basin has four habitats: river delta (swamp, marsh), bay, barrier islands, and Gulf of Mexico.
Geography Concepts: national seashore, natural beaches, marsh, swamp, bayou, water recreation, river delta, bay, gulf, Gulf of Mexico.
Louisiana
Next stop is New Orleans, a port city on the Mississippi River close to the Gulf of Mexico. Surrounded by swamp and not far from the LA Bayou, New Orleans is built below sea level, making flooding a constant danger. New Orleans is a multilingual, multicultural city and we'll have to try some Cajun and Creole food while we're here. Then it's time for a steamboat ride up the Mississippi River. We'll pass Baton Rogue, LA, Vicksburg, MS, Memphis TN, and finally reach our destination in AR.
Steamboats carried the crops to market and brought supplies to the farms. The waterways were the roads of yesterday in the South, which is why most plantation homes face the river. Steam power moves steamboats forward by causing the paddlewheels or propellers to turn. Today, trains and trucks carry crops away, but steamboats still travel the Mississippi River.
Geography Concepts: French New Orleans culture, Spanish New Orleans culture, Cajun (from Acadia) food/culture, Creole food/culture, river watersheds, river source, tributaries, steamboats, river transportation, river port cities.
Arkansas
Hop off at Helena, AR and catch a bus to Hot Springs. During the ride, enjoy the beautiful mountains, hills, and farmland in the Natural State. Hot springs are naturally heated from underground. In the 1800s, folks visited Hot Springs, a resort town in the Ouachita Mountains, to bathe in the therapeutic waters. Bathe in one of the numerous hot springs to feel refreshed! You can also swim in the pools, lakes, and waterfalls nearby. It is truly a beautiful state. Before we leave, we have to try fried pickles and possum pie.
Geography Concepts: hot springs, Ouachita Mountains, pools, lakes, waterfalls.
So, you see, you can learn a lot about geography when you travel! You might want to take this trip with your family. OR join us at True North Homeschool Academy this fall and travel to every state and inhabited territory in our US Geography class (Jr. High but open to high school students). Purchase online class HERE.
We'll be using God Bless the USA Exploring States & Territories and God Bless the USA State Capitals & Abbreviations. Purchase them at PowerlineProd.com.
Until next time, Happy Homeschooling!
Warmly,
Meredith Curtis