Disclosure: I received this complimentary product through the Homeschool Review Crew.
What a creative idea! I thought as I started reading Blue Skies West by Mattie Richardson from Appaloosy Books. Blue, the horse narrates the book for us so that we see life along the Oregon Trail through a horse's perspective. Very cool!
With a beautiful family and loving owner named Charlie, the story begins with Charlie's dad wanting to travel to Oregon and his mom not wanting to make the trip. Each character is protrayed beautifully as a real person with hopes, dreams, strengths, and flaws.
Set in the 1850s on the Oregon Trail, the main character is Blue, a beautiful horse. While he goes through his own trials like going days without water and meeting a bison face-to-face, he focuses mainly on the family.
Paring down possessions to make the trip was hard for all the other families, but that was just the beginning of the hardships.
Our Experience with Blue Skies West
The author Mattie Richardson does a great job of taking us back in time with the character's speech, actions, attitudes, and ideas. I really felt like I was back in time along the Oregon Trail. You can tell she has researched the book thoroughly. As a history buff, I really appreciated it.
I hate historical fiction that weaves today's ideals and values into the story. It feels like I'm caught between two time periods. That was not the case with Blue Skies West because she truly made the story authentic to the time period.
The book made us cry when two of another family's boys drown and bite our nails when Charlie's younger sister just would not recover from her illness. I felt the boredom of the slow progress and the fright when the bison stampeded.
We definitely traveled back in time!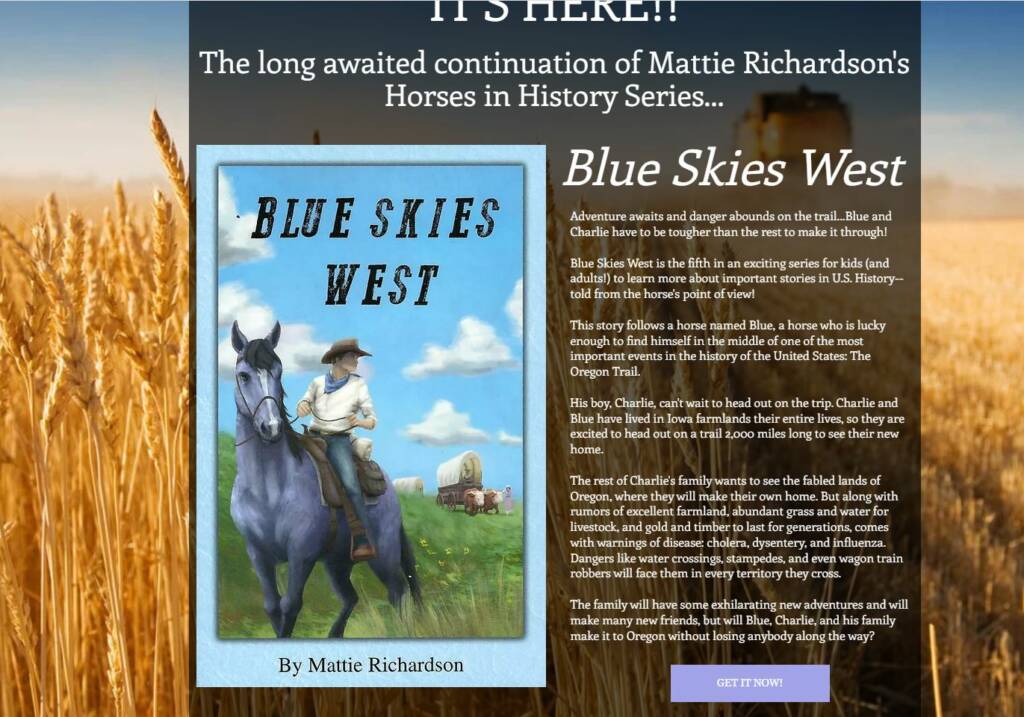 How Blue Skies West Fits Into a School Day
This is a great read aloud. Or children and teens will enjoy reading this book for fun or as historical fiction in an American history class.
Blue Skies West would make a great "main read" in a unit study on pioneers or the Oregon trail. I'm definitely adding it to my book list collections.
What We Liked About Blue Skies West
We loved so much about this book. Here are the 7 top reasons we enjoyed the book
Loveable/Likeable Characters
Creativity of the Horse Narrating the Story
Accurate Historically
Adventure
Family that Loved One Another
Wholesome
A Great Story with a Great Plot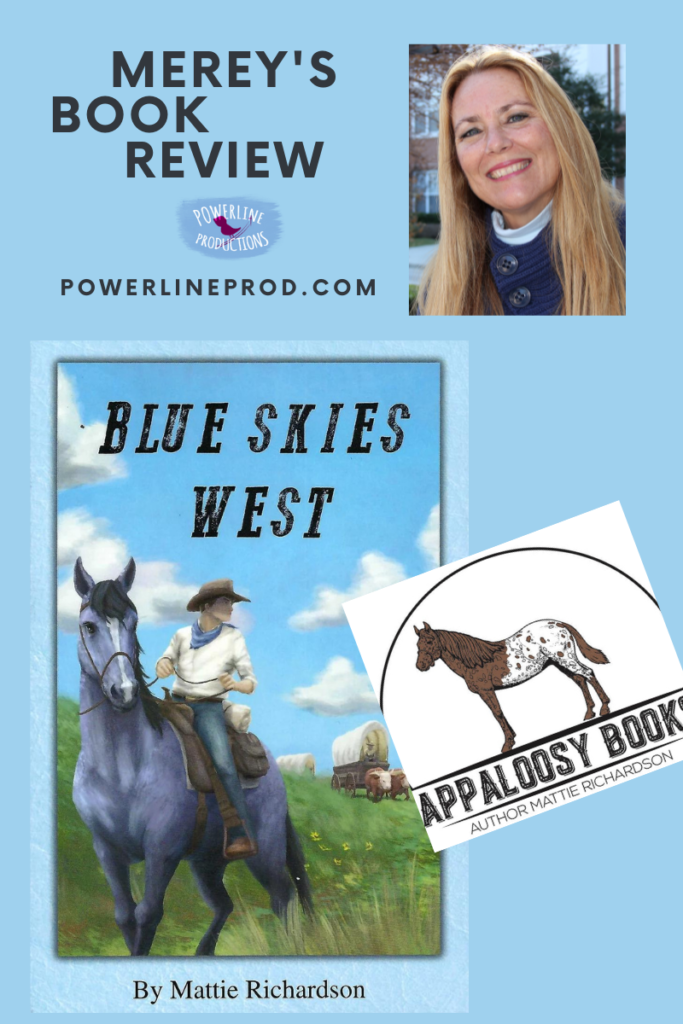 Who Will Enjoy Blue Skies West?
Anyone who loves history will enjoy the meticulous research that went on before writing this story. Children will love riding along the trail with Blue and Charlie.
Horse lovers will especially appreciate this book and worry when Blue's leg is wounded by a ferocious dog. My sister was and still is a avid fan of fiction with horses. She would have loved this book as a child.
More About Appaloosy Press
Learn more about Appaloosy Press on Facebook, Twitter, and Instagram.
Read or Listen to More Review on Blue Skies West
You can learn more and read more reviews about Blue Skies West from the Review Crew HERE.
Check Out TOS Homeschool Review Crew Blog!
I also want to encourage you to check out The Old Schoolhouse's Review Crew Blog. You can read reviews on all kinds of homeschooling products for all ages.
Until next time, Happy Homeschooling!
Warmly,
Meredith Curtis