Hot Cross buns are a special treat enjoyed on Good Friday during Holy Week. Cross buns are small fruit cakes decorated with a white cross. The white cross symbolizes the crucifixion of Jesus Christ that we celebrate on Good Friday. They are served with butter.
Brother Thomas Rodcliffe, a monk from St. Albans in England created the first hot cross buns. He added spices in the dough to represent the spices used to embalm Jesus' body for burial and a frosted cross atop the bun to represent the crucifixion. He served them on Good Friday. Soon, they became a Good Friday tradition.

During the 1800's street vendors would sell them, walking up and down the street crying out, "Hot Cross Buns!" You can see this demonstrated in the movie, Oliver! based on the Charles Dicken's novel, Oliver Twist. You might know the nursery rhyme about them.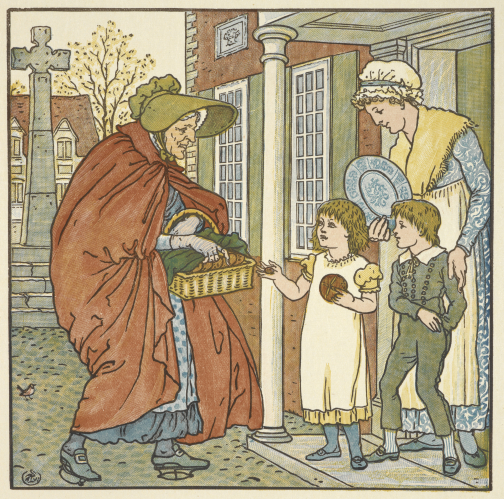 Hot Cross Buns Nursery Rhyme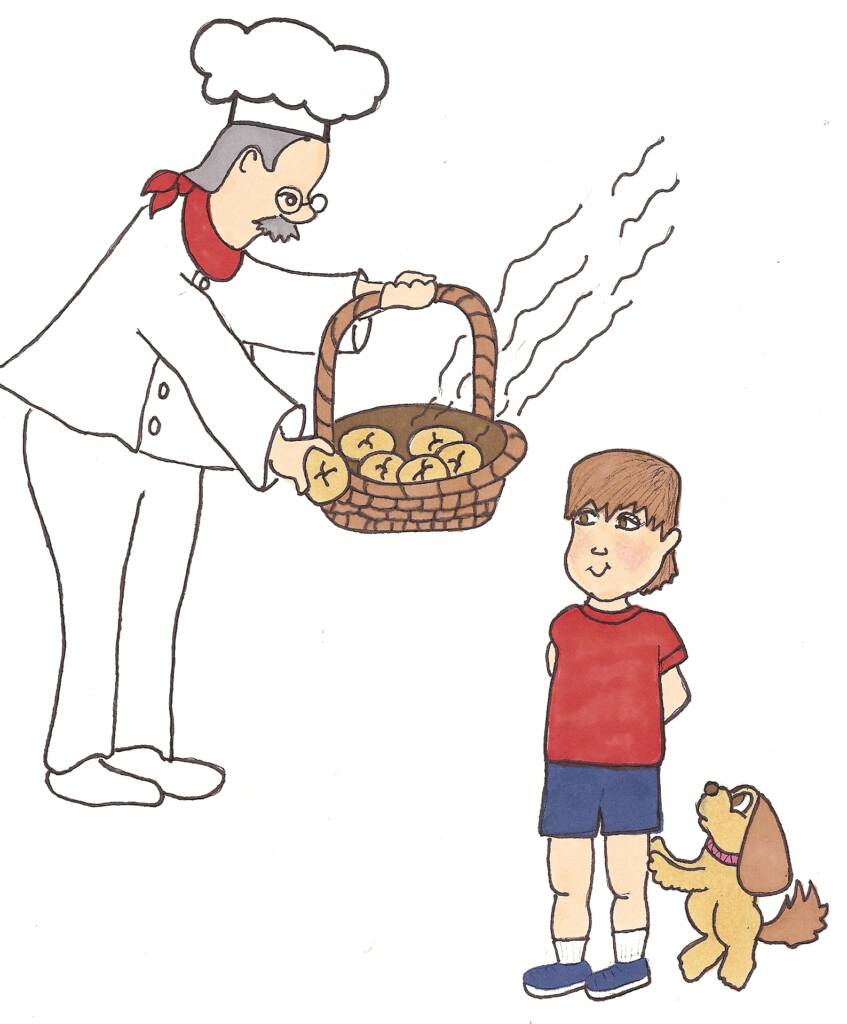 Hot cross buns! Hot cross buns!
One a penny two a penny—Hot cross buns
If you have no daughters, give them to your sons
One a penny two a penny—Hot cross buns
Recipe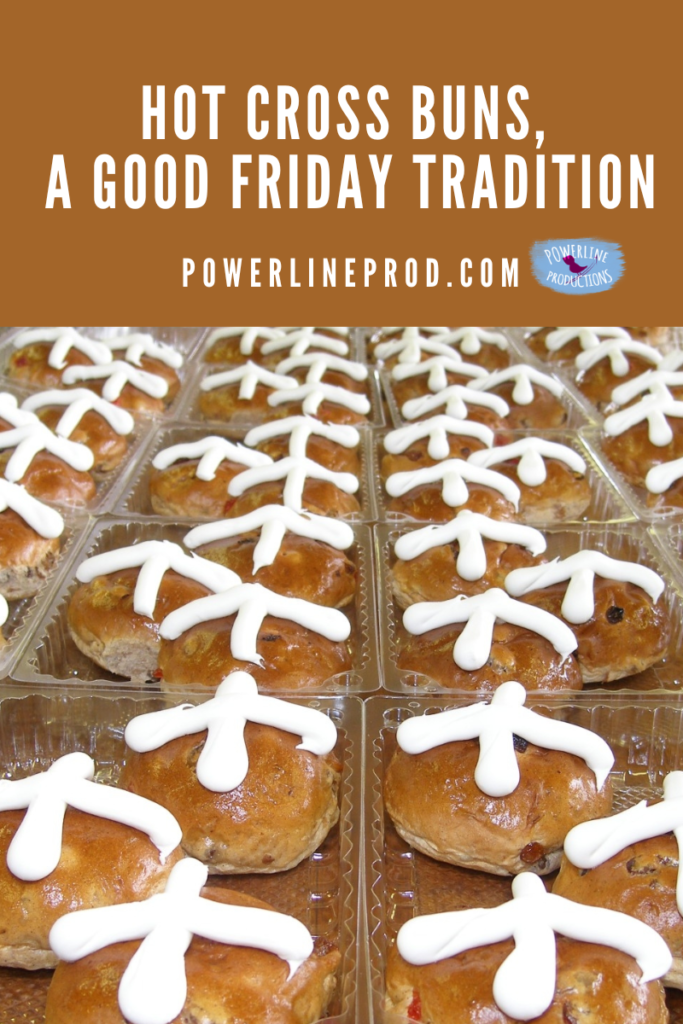 1 Cups Milk
2 Tbsp. Yeast
½ Cup Sugar
2 tsp. Salt
1/3 Cup Butter
1 ½ tsp. Nutmeg
4 Eggs
5 Cups Flour
1 1/3 Cup Raisins (or Currents or Candied Fruit)
1 Egg White

Glaze
1 1/3 Cup Powered (XXX) Sugar
1 ½ tsp. Lemon Peel, finely chopped
½ tsp. Lemon Extract
1-2 Tbsp. Milk
Heat milk in a small pan to warm it up (do not bring it to a boil). Pour warm milk into a bowl. Sprinkle yeast over milk and stir to dissolve. Add sugar, salt, butter, cinnamon, nutmeg, and eggs, stirring constantly with each addition.

Gradually mix in flour. Dough will be wet and sticky. Knead until dough is smooth. Cover bowl with a dish towel and let dough rest for 45 minutes.

Knead dough again until smooth and elastic. Stir in raisins (or currants or candied fruit) and knead until well mixed in. Shape dough into a large ball. Butter a large heavy bowl and place dough ball inside. Cover with a dish towel or plastic wrap and let rise overnight in the refrigerator.

The next morning, remove dough from the refrigerator and let it sit at room temperature for an hour. Grease a baking sheet. Divide dough into small balls and place on greased baking sheet. Cover with a clean dish towel and let the dough rise until each ball doubles in size.

Preheat oven to 400̊F. After the dough has risen, make a cross on the top of each bun with a knife. Brush the tops of the buns with beaten egg whites, using a pastry brush. Bake at 400̊F for 10 minutes. After 10 minutes reduce the heat to 350F and bake for approximately 15 minutes more, or until golden brown. While buns are cooling a bit, make the glaze and spoon over each bun. Serve warm.
Enjoy bringing back a very old tradition.
Happy Celebrating!
Merey (Meredith Ludwig Curtis)