Disclosure: This blog post may contain affiliate links from my participation in the Amazon Service LLC Associates Program. I receive a small commission at no cost to you when you make a purchase using my link.
File folders make a perfect place for all of my piles of paper mess.
C'mon, I know you have these piles, too.
All of us homeschool moms look around our house and they are everywhere. There are piles of papers on the dining room table, piles of papers on your desk, piles of papers on that side table. It's not your fault. It's just something that happens to us poor homeschool moms.
That's where file folders come in.
File folders are neat and tidy. Plus they come in handy-dandy colors.
You can use one color for each child and mark "To Grade" on the front. In goes writing papers, books reviews, and math problems.
You can save papers in file folders Use the same color for the child you used before. Only  this time, write on the cover "Writing Papers Grade 4" or whatever grade your son or daughter is in. 
I also use these folders for little games I download online. Or worksheets. I'm able to browse through my file cabinet to find "rhyming worksheets, animals-babies worksheets, telling time worksheets, and multiplication worksheets.
Other homeschooling files in my file cabinet:
Math
Learning Styles
Science
Health
Unit Study Ideas
Field Trip Ideas
Living Books & Classic Literature
Art/Artists
Evaluations
Transcripts
File Folders for Lapbooks
I love using cheery file folders for lapbooks!
In the picture below you can see I used 2 folders together. I spread each one out and folded the outsides toward the center. Then I glued the folders together. This lapbook is from our Travel the World Country Report Lapbook. Learn more HERE!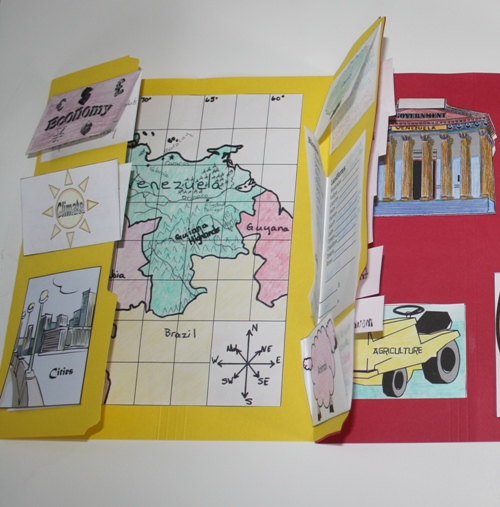 File Folders Manage Household Paperwork
File folders also work well for managing my household and my life.
File folders are perfect for organizing important household and financial paperwork. Here are some suggestions:
Retirement Account Information
Bank Accounts
Deeds
Warranties
Instructions
Home Insurance & Claims
Health Insurance & Claims
Taxes 20__
Will
Adoption Papers
Social Security Cards/Marriage License/Passports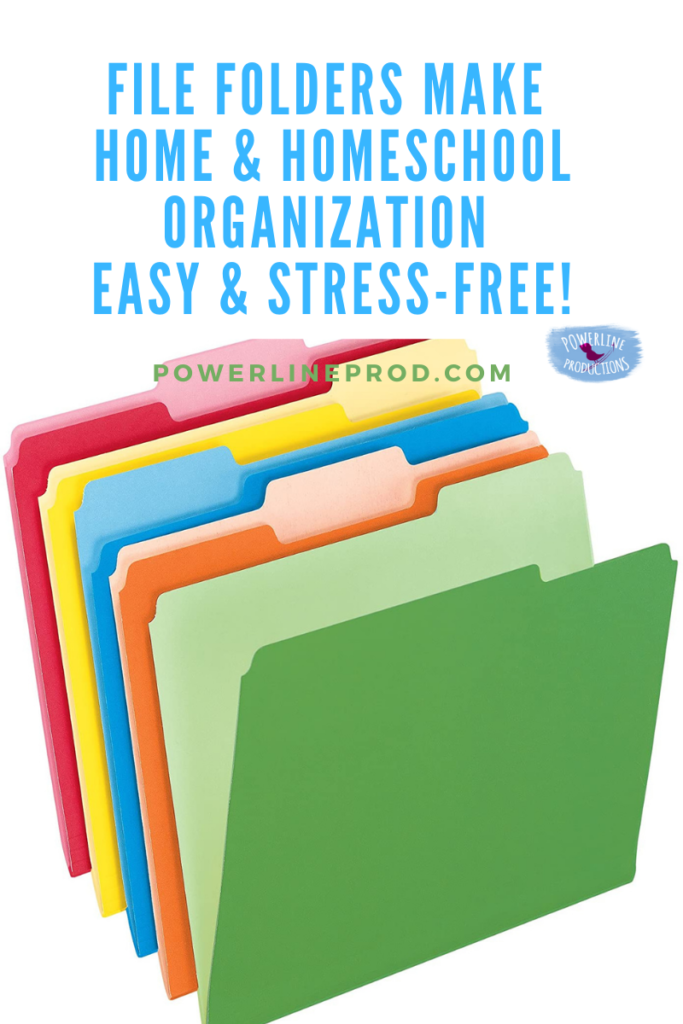 I also put personal plans & ideas in file folders. Here are some file folders in my personal drawer:
Special Momentoes
Encouraging Notes
Housekeeping Ideas
Nutrition/Menus
Photography
Health
Traditions
Christmas
Holidays
Ladies Ministry
Articles–finished
Article Ideas
Old-Fashioned Folders
I use the classic beige file folders for all the household folders. They're super inexpensive to buy a box of 100.
Where Should I Store Those Files?
There are several ways to store file folders. The most common is a sturdy metal file cabinet. I paint mine bright colors for the school room!
Banker's boxes are great for storing old files or files you don't use too often. They can go up in the attic or in the back of a storage closet.
Finally I love these small portable storage totes! You can take them with you! When I was taking care of my dad, I put all his medical files in one and took them to his doctor appointments.
Well, I hope you enjoy file folders as much as I do. They get rid of paper piles and give me easy access to everything I need.
Enjoy!
Until next time, Happy Homeschooling!
Warmly,
Meredith Curtis