Pretend it's a rainy day. There's only one thing to do! Make some hot chocolate and curl up with a cozy little murder mystery. Match your wits against the detective and see if you can discover who did it.
Does that sound fun to your high school student?
Have they dreamed of writing their own mystery?
Write a Novel in High School
It is such a blessing for a high school student to get to write a novel sometimes during their high school years. It's a valuable learning experience and most students end up enjoying the process and the finished product (your very own book!) Along the way, vague ideas such as plot, setting, theme, characterization, tone, mood, and worldview become cemented for life in students' brains.
In our house, since we love cozy mysteries, we decided to write our own "Who Dun It" in the pattern of the "Golden Age of Mystery."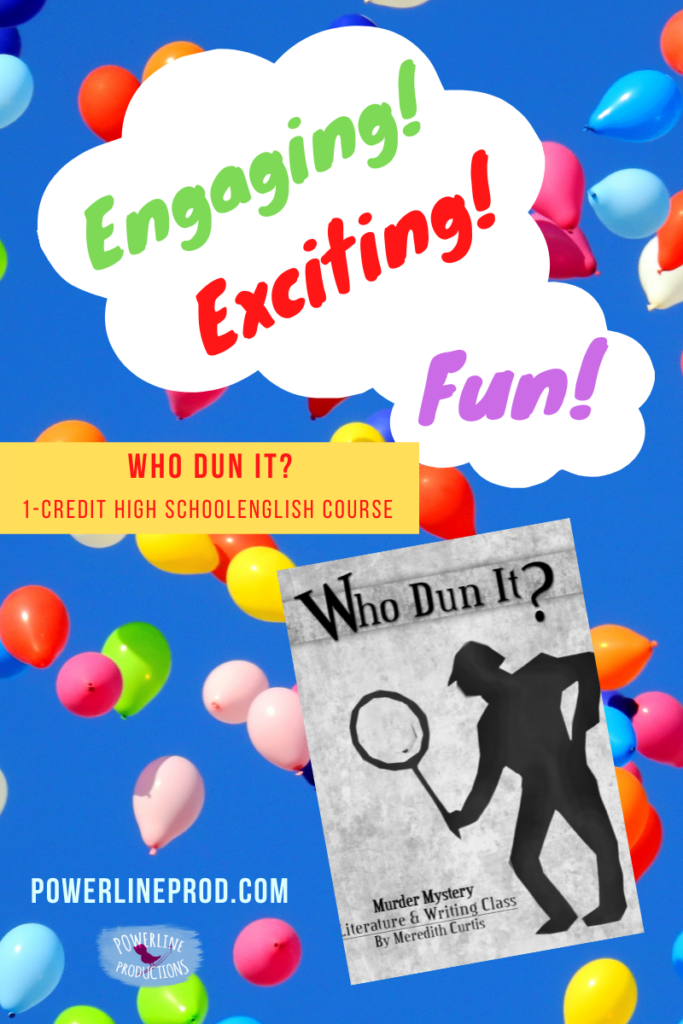 Cozy Mystery Course
With examples like Hercule Poirot, Miss Jane Marple, Sherlock Holmes, Father Brown, and Lord Peter Wimsey, we created our own detective.
By reading Agatha Christie, Dorothy Sayers, Mary Higgins Clark, G.K. Chesterton, Sir Conan Doyle, and other classic mystery authors, we learned from them how to create suspense, how to "show" the reader characters, how to misdirect the reader with red herrings, and how to unravel everything at the end!
Who Dun It? Murder Mystery Literature & Writing, a one credit high school English course, teaches literature and writing with the murder mystery/crime fiction drama genre.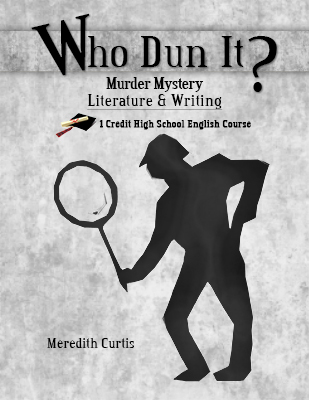 Literature
Teens read classic golden age mysteries and discuss them (while learning the elements of literature!) in a group setting in Who Dun It? English course.
"The Murders at Rue Morgue" (in the back of your book)
The Red House Mystery
Six Great Sherlock Holmes Stories
Favorite Father Brown Stories
Murder on the Orient Express
And Then There Were None
Children's Mystery of choice
Whose Body?
Where Are You Now?
The Roman Hat Mystery
"The Ordinary Hairpins" (in the back of your book)
"The Archduke's Tea" (in the back of your book)
"A Singular Abduction" (in the back of your book)
Writing
The first half of the year, students create their detectives, assistants, suspects, plot, setting, theme, clues, red herrings, and murderer in Who Dun It? English course. Putting it all together, they write a murder mystery short story.
Then, the second half of the year, they write their own murder mystery.
Would you like to focus one year of high school English on reading and writing mysteries? Then, take Who Dun It? Murder Mystery 1-credit English course this year at home with your family or with some homeschooling friends!
TV Shows
Students will watch Classic Who-Dun-It type mystery shows 1-4 times/month in Who Dun It? English course. This helps their writing tremendously because a mystery is written with "scenes" like a TV show.
When they tell you they are doing school—they really are!
In Who Dun It? Students Will:
•Participate in 1 or more Book Club discussions per month
•Read stories and assignments aloud
•Evaluate other students writing
•Create 1 story with a group of friends or family members
•Make a comic strip
•Write a Short Story
•Write a Novel
In Who Dun It? Students will learn about
•History of murder mysteries & Golden Age murder mysteries
•Sleuths
•Baffled Friends/Assistants, Family
•Plot, Setting, Characterization, Point of View, Theme, Tone, Mood, World View
•Detective reveals & explains
•Children's detective stories
•Tools, Disguises, Clues, Red Herrings
•Locked room plots
•How to write a short story
•Outlines
•Hooks/Opening paragraphs
•Creating scenes
•Editing, Crafting, & Publishing

Who Dun It? Murder Mystery Literature & Writing is a 1-Credit High School English course. This is one of my favorite courses to teach! Students have a blast! I have a blast!
Yes, this is an out-of-the-box English course, but I love that homeschooling allows us to do something unique and fun!
Until next time, Happy Homeschoolng!
Warmly,
Meredith Curtis