Disclosure: This blog post may contain affiliate links from my participation in the Amazon Service LLC Associates Program. I receive a small commission at no cost to you when you make a purchase using my link.
It's back to school time you realize as you head through the grocery stores and see all the bins filled with school supplies on sale. Homeschooling moms need a cheat sheet to remember what they need for back-to-school in their own home school this year.
Some things I only purchase every other year. Others every ten or so years. Many things I purchase every August/September. At least I check on my supply and the functioning of my machines at the end of every summer.
Here is my list for the beginning of each year:
Pencils
Erasers
Pens
Crayons
Black & White Laser Toner Cartridges (and possibly BW Laser Printer)
Color Laser Toner Cartridges (and possibly Color Laser Printer)
Laminator Paper (and possibly Laminator)
Sharpies
Washable Markers
Tape
Scissors
Glue Sticks
Stapler
Staples
Colored Pencils
Electric Pencil Sharpeners (someone always sticks a crayon in during the summer)
Notebook Paper
Folders (in different colors)
Notebooks
Graph Paper
Construction Paper
Hi-LIghters
Globe (one time purchase for the most part)
USA Map
World Map
Index Cards
3-Hole Punch
1-Hold Punch
Ruler
Tape Measure
White Board (one time purchase usually)
Dry Erase Markers (Stock up!)
Dry Erase Eraser
Dry Erase Sleeves
Calculator
Protractor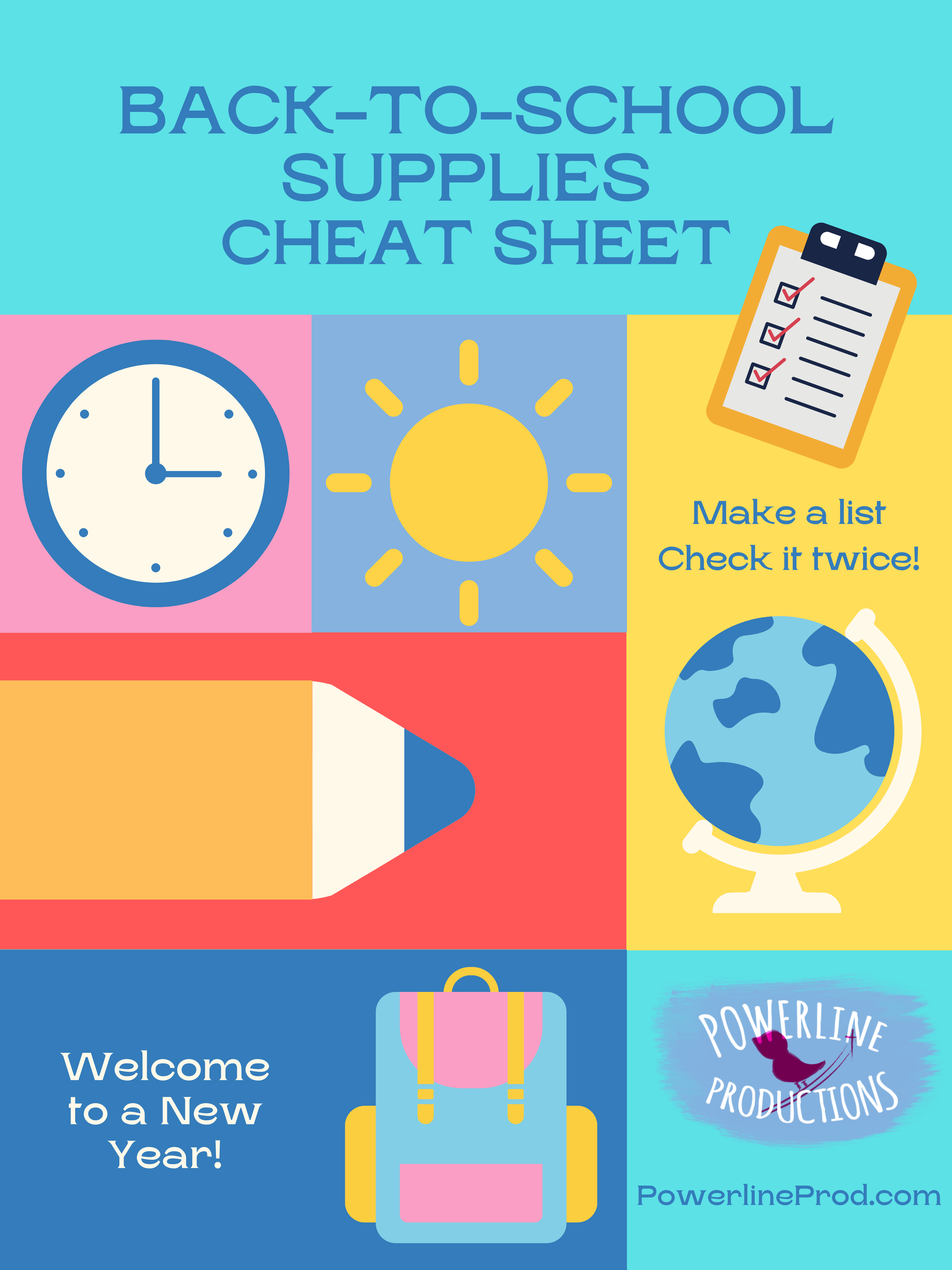 Pencils
Every home school needs pencils and this inexpensive box of 150 pencils should last a couple of years! Purchase Pre-Sharpened #2 Pencils at Amazon.
Erasers
Mr. Pen Set of 12 Pink Erasers lasts a whole year at our house, even with all math mistakes! Purchase Mr. Pen Pink Erasers Set of 12 at Amazon.
Pens
The Zebra Ballpoint Pens are my favorite! The rubberized grip keeps my fingers from hurting when I'm doing a lot of writing. I buy a few packs at the beginning of the year. Purchase 18 Pack Zebra Ballpoint Pens at Amazon.
My kids love the gel pens so I have to stock up on those, too! I like the Paper Mate Gel Pens best! You can purchase a Set of 14 Paper Mate Gel Pens at Amazon.
Crayons
We love to color through all the grades. Younger grades mean color page and Middle/High school means Anatomy & Physiology coloring or Fine Art Masterpieces coloring books. Either way–crayola is my favorite and I love the big boxes. Guess what? Now they are washable! Wow! Purchase the 2-pack Crayola 64-count Washable Crayons at Amazon.
I buy the jumbo crayons for my littles. Purchase Crayola Jumbo Crayons 8-count package at Amazon.
Black & White Laser Printer
I find laser printers invaluable. I have two laser printers because color cartridges are so expensive, so I only use the color printer when I have to.
Now I have a HP Laser Jet that I purchased almost 20 years ago at a Black Friday Sale. It still works great! However, I know I will have to replace it soon. This is the new black and white laser printer I'm looking at: Canon Imageclass All In One, Wireless, Mobile Ready Duplex Laser Printer. You can purchase the Canon Imageclass All In One, Wireless, Mobile Ready Duplex Laser Printer at Amazon.
Laser Printer Toner
Grab Toner cartridges for your printer at Amazon, too.
Color Laser Printer
It is so much cheaper to print in color with a laser printer! And all of those adorable eBooks just have to be printed in color, right? Purchase this Canon All-in-One Wireless Color Laser Printer at Amazon.
Color Toner Cartridges
Purchase Toner Kingdom Compatible Toner Cartridge for Canon at Amazon.
Printer Paper
We use tons of printer paper for the laser printer, especially with all the eBooks I purchase! I like to stock up in August.
I use high-quality paper to print things in color and special pages from eBooks. I also use them when we make cards, print craft templates, or other special things. Other than that I use copy paper. So, I keep copy paper in my BW Laser Printer, but nice paper in the color printer because I'm very careful how much I use it! (color cartridges are expensive!)
This paper is awesome! It's what I keep in my color printer and use for special BW printing projects. Purchase Hammermill Premium Laser Printer Paper at Amazon.
For the ordinary daily myriad of copies I make, I just use Amazon Basics copy paper. It's not fancy, but works great! Purchase Amazon Basics 10-Ream Box Multipurpose Copy Paper at Amazon.
Laminator
This laminator is perfect for the homeschool mom! The Lamtetur Laminator Machine has a quick 2-3 minute warm up with ready indicator light and set up to avoid paper jam. Fast laminating speed to boost your efficiency. Protect and Preserve valued keepsakes or use them to make printables last longer. Comes with a pack of 70 laminator sheets.
Purchase this 7 in 1 Laminator Machine (13 inches) at Amazon.
Laminator Pouches
I like to have extra laminating pouches on hand. Grab a laminating pouch kit with a variety of sizes at Amazon.
Sharpies
I love sharpies for labeling folders and notebooks, but I have to keep them out of reach of little ones. My children always seemed to want to suck on them. Yuck!
This is my favorite set with all the bright colors. Purchase this 24-Count Color Burst Sharpies at Amazon.
Washable Markers
Children love markers, especially to use them on things like couches, clothing, and their skins. So, I love WASHABLE markers. Purchase Crayola Washable Markers at Amazon.
Tape
Scotch tape is good for wrapping presents and fixing ripped pages in a book. I always keep a supply. Purchase this 6-Pack of Scotch Magic Tape at Amazon.
Scissors
I like these kids craft scissors for 2 reasons. 1. They have a rounded edge (safer) and 2. the little covers. Purchase Kids Craft Scissors Set at Amazon.
Glue Sticks
We go through glue sticks at the speed of light so I buy them in bulk of at least 12. Purchase Elmer's Glue Sticks 12-Pack at Amazon.
Stapler & Staples
This set has a stapler, staples, and a staple remover. I use paper clips more than staples for papers–easier to grade, but I use staples for little booklets the kids make. Purchase this Stapler Set at Amazon.
Colored Pencils
These are a bit nicer than department store colored pencils but I think they are worth paying a little bit more. Purchase Prismacolor Colored Pencils at Amazon.
Electric Pencil Sharpener
My children use pencils for math and other subjects and are always needing a good pencil sharpener. We like this one! It's heavy-duty! Purchase AFMAT Electric Sharpener at Amazon.
Notebook Paper
Everyone needs notebook paper and look for sales to find it cheap! If you can't find it on sale, grab this Oxford Notebook Paper 500-pack at Amazon.
Folders
I always buy the folders with prongs and pockets. For each class I put their assignments in the prongs and they leave writing papers inside the pocket for me to grade. You can use different colors for each child or different colors for each subject. I write the name of child and subject on the front of each folder. Purchase this Oxford Folder Set of Assorted Colors at Amazon.
Notebooks
I like these notebooks better than the wire-bound–it avoids all those small pieces of paper when they tear pages out. These lined notebooks are also fun to decorate with doodling. Purchase this 12-Pack Composition Notebook at Amazon.
Graph Paper
Graph paper is not just for math class. If your child likes to design things, he will appreciate using graph paper. I keep a small supply on hand. Purchase Five Star Graph Paper at Amazon.
Hi-Lighters
These Amazon Basic highlighters are perfect for Bible study and reading textbooks. Purchase Highlights 12-Pack at Amazon.
Globe
I like this globe. It is sturdy and colorful–easy to read. It's also colorful. Purchase the World Globe at Amazon.
USA Map
This is a cute, colorful wall map of the USA. It has the state name and capital for the whole country. Purchase the USA Wall Map at Amazon.
World Map
Another colorful map for the wall of your family room or homeschool room. This is also easy-to-read and cheery! Purchase this Wall Map at Amazon.
Index Cards
Index cards are great for note-taking during research but I use them all the time for games. The kids also write memory verses on them. Purchase Colored Index Cards at Amazon.
3-Hole Punch
I like to use a 3-Hole Punch with a handle. It's just so much easier on my hands. With this hole punch, you can make up to 7 holes. Purchase this 3-Hole Punch at Amazon.
1-Hole Punch
I use my 3-hole punch for papers and my 1-hole punch for crafts. This is an old-fashioned one like the one I grew up with. You can also get 1-hole punches that make heart or star holes. Super cute! I like this old-fashioned one, though, and it's cheap! Purchase this 1-Hole Punch at Amazon.
Ruler
This set of 6 rulers is bright and cheery with inches on one side and centimeters on the other side. Purchase this Ruler Set at Amazon.
Tape Measure
This is an easy tape measure to use and it retracts smoothly. Kids also love to measure with a tape measure more than a ruler–Why? I don't know. 🙂 You can purchase this Tape Measure at Amazon.
White Board
I have white boards in several sizes. Some stay on my wall while others are mobile. I like this size because you can put it on the wall or carry it around. Purchase this White Board at Amazon.
Dry Erase Markers
Dry erase markers are super fun for kids! Be sure to keep the lids on when you are not using them or they will dry out. Here are the ones I use! Purchase Expo Low-Oder Dry Erase Marker Set at Amazon.
Dry Erase Eraser
Dry erasers last forever, but we often lose them, so I like this set of 4. Purchase these Amazon Basic White Board Erasers at Amazon.
Dry-Erase Sleeve
This are so nifty! You put a worksheet inside the sleeve and let the kids use a dry-erase marker to do the worksheet. Clean it off when you are done and you can use the worksheet (and the sleeve) over and over again. Purchase Dry-Erase Sleeve at Amazon.
Calculator
Grab a cheapie calculator for younger kids. This is a scientific graphic calculator for high-level high school and college math. Purchase Texas Instrument Graphing Calculator at Amazon.
Protractor
I like to purchase a pack of 3 protractors because we often lose them. Kids use protractors for geometry and trig. You can purchase this set of 3 Mr. Pen Protractors at Amazon.
Balance Scale
This precision balance scales works great for science labs, but it's also bright and cheery! Purchase the Precision Balance Scale at Amazon.
Themometer
This liquid in glass thermometer works great for science experiments. Just be careful so it doesn't break. Purchase this Glass Thermometer for science class at Amazon.
Compass
I have some fun memories of homeschooling with a compass–especially when we were studying Lewis and Clark's Expedition and how they used dead reckoning and their dependable compass. Not a "must-have" but certainly a fun addition to homeschooling! Purchase this Compass at Amazon.
Magnifying Glass
Not only does this compass magnify 30X but it has an LED light. If you only get one scientific "tool", get a magnifying glass. It is so fun to look at bugs, leaves, and dirt through a magnifying glass and of course, you can burn paper! 🙂 Purchase this Magnifying Glass at Amazon.
Binoculars
Great for bird watching, hunting, sightseeing, and more! My favorite thing is that they are waterproof. Purchase these Compact Binoculars at Amazon.
Timer
I love this visual timer! It answers the question, "How Long Until…..?" You can purchase this 120-minute Timer at Amazon.
Tracing Paper
I always forget about tracing paper. But my kids love it! It's a great way to spend an hour or two on a rainy day. Purchase UCreate Tracing Paper Pad at Amazon.
Cardstock
Cardstock is great for cardmaking and rubber stamping, but I use it most to print out memory cards or matching cards. It's so much sturdier than paper. Purchase Neenah Card Stock Package at Amazon.
Construction Paper
We always seem to need construction paper so I keep a huge supply. Purchase Bright Construction Paper Smart Pack Multi Colors Variety Pack at Amazon.
Stickers
Stickers are always fun! Art projects, reward charts, and scrapbooking are just a few of the ways you'll end up using stickers in your home school. Purchase this Set of Stickers for Kids at Amazon.
Rubber Bands
Rubber bands are great for keeping rolled art projects in place and tying together a package of anything opened in the wrong place. You know what I mean! Purchase Rubber Bands in Assorted Sizes at Amazon.
Paper Clips
I love this paper clip set that includes different sizes, clips, and rubber bands–all in cheery colors! If you buy this set, you don't need to purchase the rubber bands above. Purchase the Colored Office Clip Set at Amazon.
Brads
Brads are needed sometimes for some really cute and fun art projects. I keep a store of them. Purchase these Brads at Amazon.
Paintbrushes
This is a nice set of brushes with all kinds of sizes for all kinds of art projects. Purchase this Paintbrush collection at Amazon.
Watercolor Paints
If you want to graduate from the little kiddie trays to paint tubes and trays like real artists use, this is a perfect start. Purchase AEM Watercolor Paint Set at Amazon.
Washable Paint
My favorite thing about this paint is that it is washable. Children love to paint and get messy. I'm fine with that as long as I can clean up afterward. Purchase Washable Tempera Paint at Amazon.
Pastels
I like this set of pastels, especially the wrapping which keeps little hands cleaner. Purchase the Oil Pastel Set at Amazon.
Charcoal
These are less messy than normal charcoal which coats your hands with smudge. Purchase charcoal drawing pencils at Amazon.
Backpack
This is the backpack I use to travel (as my carry-on) and I love it! It's also great for attending homeschool co-ops or for the children to use. I love that it has wheels! Children may want cuter ones, so look around, but you may want your own backpack, too! Purchase the Holly Home 19″ Laptop Backpack at Amazon.
Family Calendar
I used an old-fashioned calendar back in the day, but I love the way my friend Patties uses a dry-erase calendar. This is one of my favorites! Purchase this Dry-Erase Magnetic 3 in1 Calendar Set at Amazon.
I hope this helps you in your back-to-school shopping! Until next time, Happy Homeschooling
Warmly,
Meredith Curtis