I was gathering economic essays from my homeschool co-op students in my Economics, Finances, & Business class, a 1-credit high school course. "I can't wait to move out and live on my own. I'll eat out every day, play my music loud, and keep my apartment as cold as I want to," teenager Tyler declared.
While I laughed as i overheard a group of teens talking about how fun it would be to move out, I wanted to interject: "Don't you realize how expensive it is to live on your own?"
Hmmmm.
Maybe it would be better to show them.
And that is why I added the Apartment Project to my high school economics class.
It is one of the most popular assignments we do!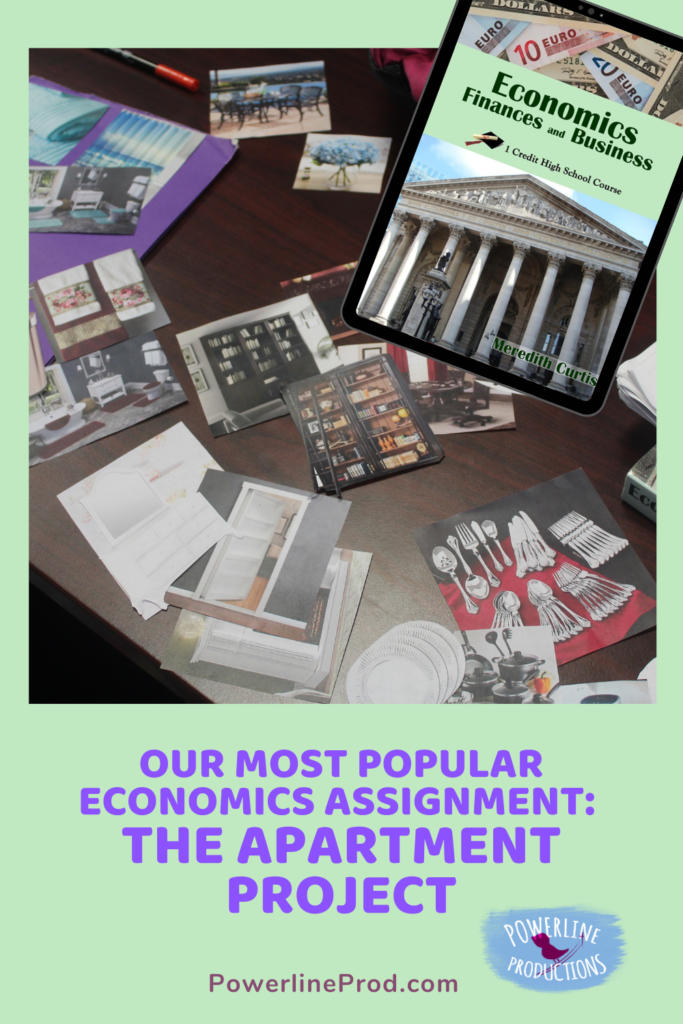 How The Apartment Project Works
Teens have to choose an apartment to move into. They must find out how much rent is and what down payment is required. In addition, students have to figure out the average electricity and water/sewage bills for the average renter. This will require research and phone calls.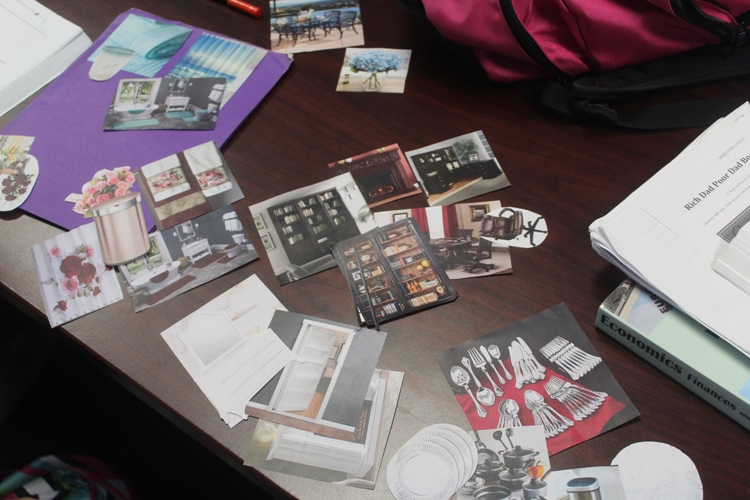 Of course if you move out there are moving expenses. Oh, and you must furnish your new place. The sky of course, is the limit! Buy whatever you want. Just keep track of everything you spend.
My students loved shopping online or in store, taking photos or downloading pictures to print.
Each apartment was furnished and decorated just the way the students liked.
In addition, they made a monthly budget and from that budget, figured out how much money they would have to make each month to pay for their dream apartment.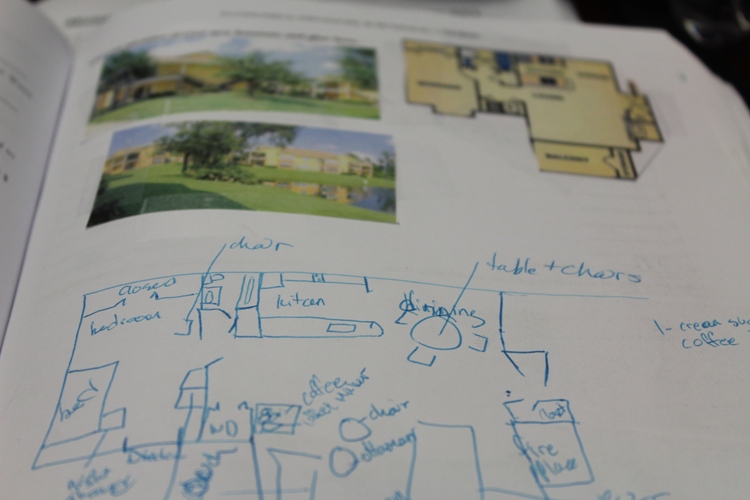 It was so fun to see how everyone decorated. It was more fun to see their faces as they totaled up all their expenses and figured out how much money they would need a month to support their hearts' desires and how much money they would need to move into their dream apartment. No words required on my part about how expensive life is.
Lessons Learned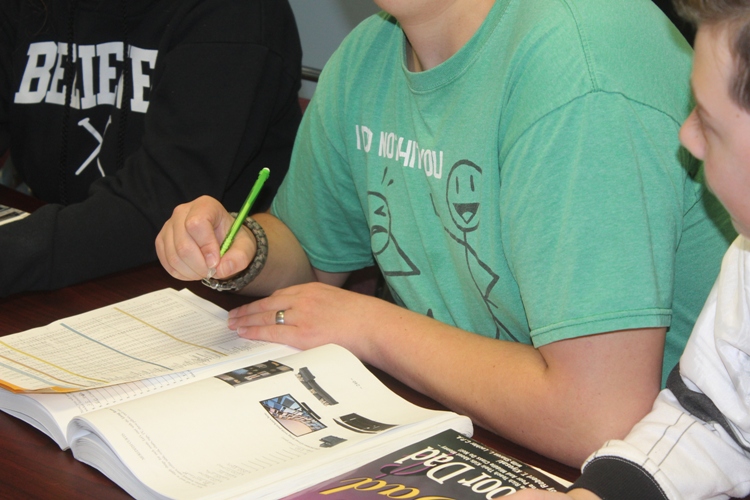 "I think I'll live at home and save up money for a down payment on a house," T.J. declared. "Even if I pay rent to my parents, I'll still be way ahead."
"Wow! I have it good right now," Mae admitted. "I am going to thank my parents for letting me live with them for free."
Ah, the life lessons of economics class. Smile.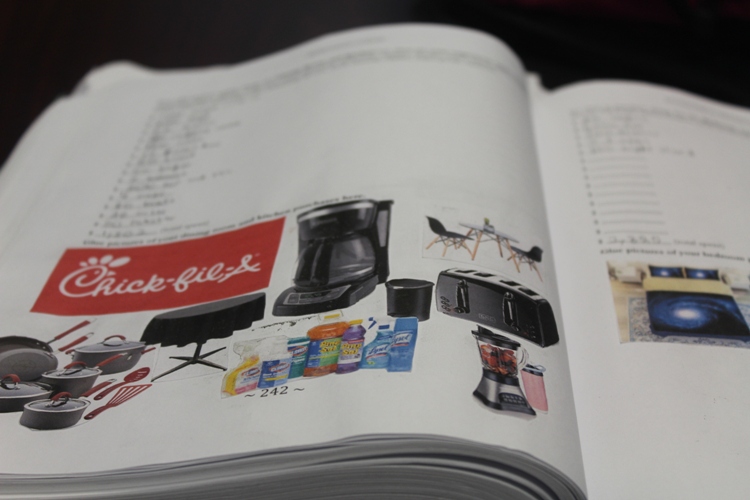 Homeschool High School Economics Resouce
The apartment project is part of my economics course, Economics, Finances, and Business, a 1-credit high school class. I have taught this course several times over the years and many of my students tell me that they dreaded taking economics, but it turned out to be one of their favorite classes in high school.
I also have young adults who took the class come back years later and thank me.
"This was the most practical course I took in high school," Brian said to me one day. "The principles I learned helped me to get started on the right foot in life with no debt. I understand the economy and know how to start a business. Thank you."
I have been so proud of my economics students because they are putting the biblical principles they learned in Economics, Finances, & Business into practice. That gives me so much joy!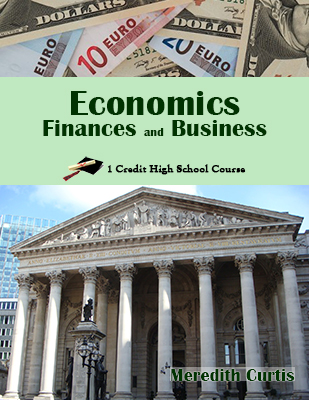 If you are interested in a practical course on economics using living books and practical hands-on assignments, you can learn more about Economics, Finances, and BusinessHERE. You can purchase Economics, Finances, and Businessat Amazon. Purchase the E-book at PowerineProd, PayHip and TeachersPayTeachers.
Set your teens up for success in living with this bibiically-based, Christ-centered course!
Until next time, happy homeschooling!
Warmly,
Meredith Curtis