Disclosure: This blog post may contain affiliate links from my participation in the Amazon Service LLC Associates Program. I receive a small commission at no cost to you when you make a purchase using my link.
Over the years, we have found some excellent novels that make geography come alive! These living books have added life to our studies. We hope they will add joy and fun to your geography studies, too.
Let's move on to our favorite–hands-down– geography series!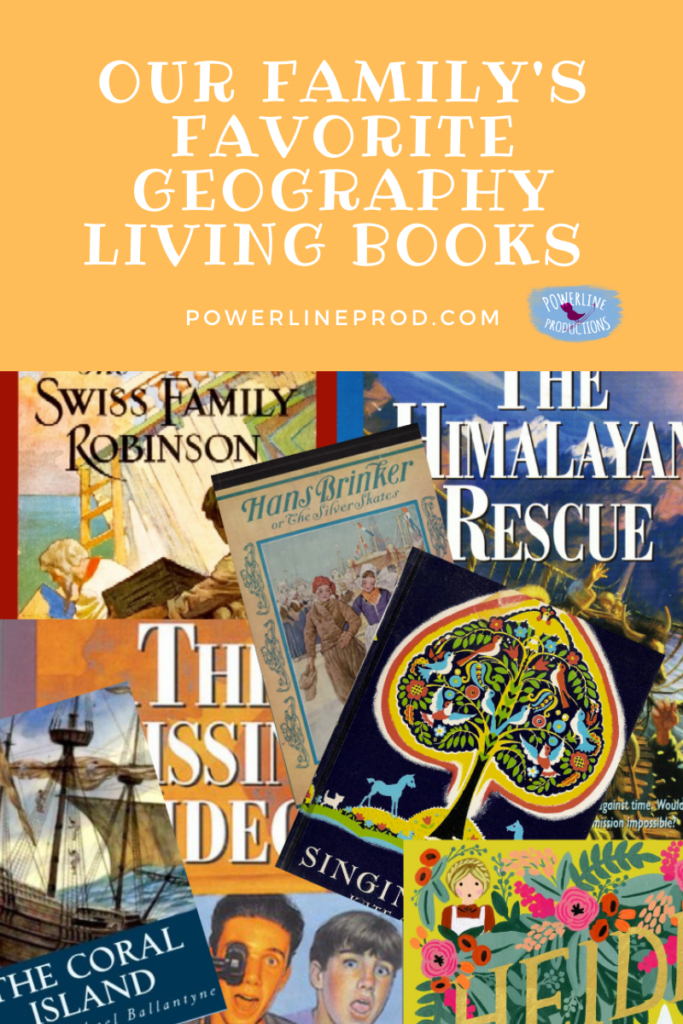 Reel Kids Adventures from YWAM
Our family loves this literature series from YWAM: The Reel Kids Adventures. These Christian kids travel the world to make videos and on their way solves mysteries. Purchase The Amazon Stranger, The Missing Video, The Himalayan Rescue, and Mystery at Smokey Mountain on Amazon.
Look for more titles here.
You can also buy the whole set of 10 books from YWAM here. 
Classic Literature Set in Foreign Countries
We love to read classic literature set in foreign nations like Heidi by Johanna Spyri set in the Swiss Alps. Heidi is delightful story of reconciliation and transformation. In addition, the beauty of Switzerland will come alive to your family as you read it. Purchase Heidi at AMAZON.
Hans Brinker or the Silver Skates by Mary Mapes Dodge is set in Holland, a Province of the Netherlands. This beautiful story will warm your heart. It has been a children's favorite for over 100 yeas. Purchase Hans Brinker at AMAZON.
Rover of the Andes by J.M. Ballantyne is set in the Andes Mountains in Peru. This adventure story will add excitement to the any study of Peru, South America, or mountains. Purchase Rover of the Andes on AMAZON.
The Coral Island by R.M. Ballantyne
Three young boys are shipwrecked on a deserted island. They learn about nature, building forts, and surviving by their wits. The Coral Island by R.M. Ballantyne is a wonderful way to learn about Oceania. Purchase The Coral Island at AMAZON.
The Singing Tree by Kate Seredy
Open the pages of The Singing Tree and travel across the ocean and right back in time to the second decade of the 20th century. A delightful tale set on the Hungarian plains. The farming family will delight you! This is an awesome family read aloud!
Purchase The Singing Tree at Amazon.
Swiss Family Robinson
I can still remember my husband reading Swiss Family Robinson aloud to our children years ago. They were so excited! The Christian Robinson family is so innovative and creative in their survival plans. And such an exciting story!
Purchase Swiss Family Robinson at Amazon.
All of these living books work great in a unit study or for a family read aloud. After you've read each one, you will feel like you've visited a foreign country! Have fun reading!
Until next time, Happy Homeschooling!
Warmly,
Meredith Curtis