Disclosure: This blog post may contain affiliate links from my participation in the Amazon Service LLC Associates Program. I receive a small commission at no cost to you when you make a purchase using my link.
Time began about 6,000 years ago when God spoke the Word and everyone came into existence. Wow! Ancient history, beginning with Creation, is amazing! What a fun epoch in history to investigate!
Ancient history is a favorite in our house! We love to dig in and study Creation and the early years before the flood. We enjoy learning about Sumer, Crete, Minoa, Ancient Israel, Babylon, Assyria, Persia, Ancient Egypt, Ancient Greece, and Ancient Rome.
Over the years, we have discovered some amazing resources that make learning ancient history fun and meaningful.

We've also discovered some amazing, and some very funny, historians like Dave Stotts, Diana Waring, Linda Hobar, and Don Landis. They have enlivened our studies of ancient times. People often ask me for recommendations for history resources so I'm going to share with you our very favorites. We found some incredible books, audios, DVDs, and living textbooks.

We also created some of our own resources slowly over time. We created a timeline, timeline figures, cookbooks, and enjoyed several archaeology digs that we turned into a how-to-do-it-yourself book.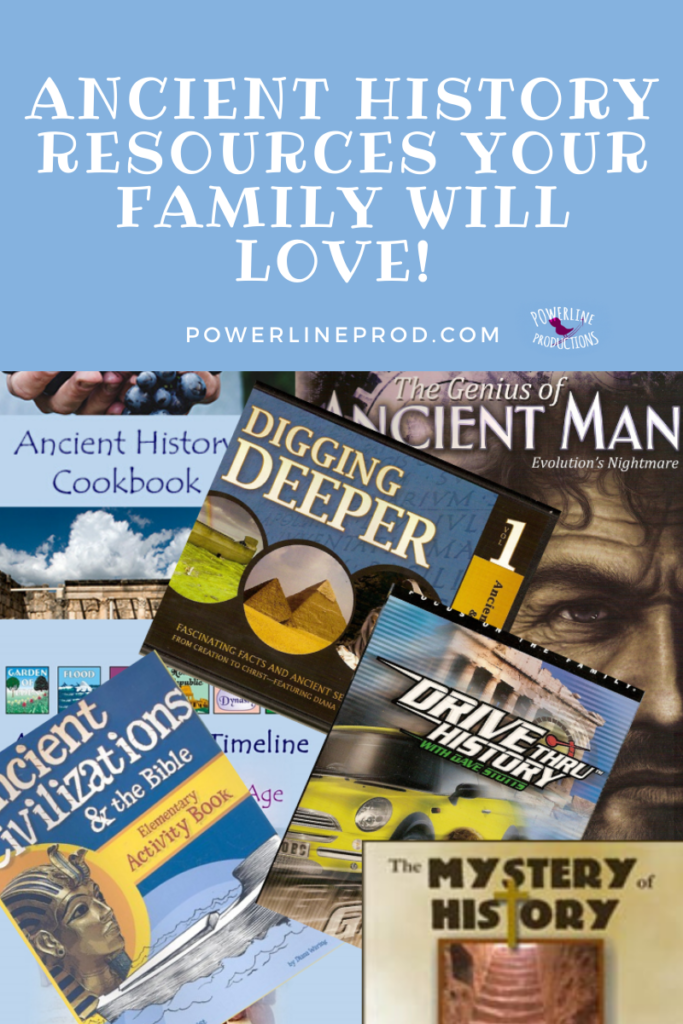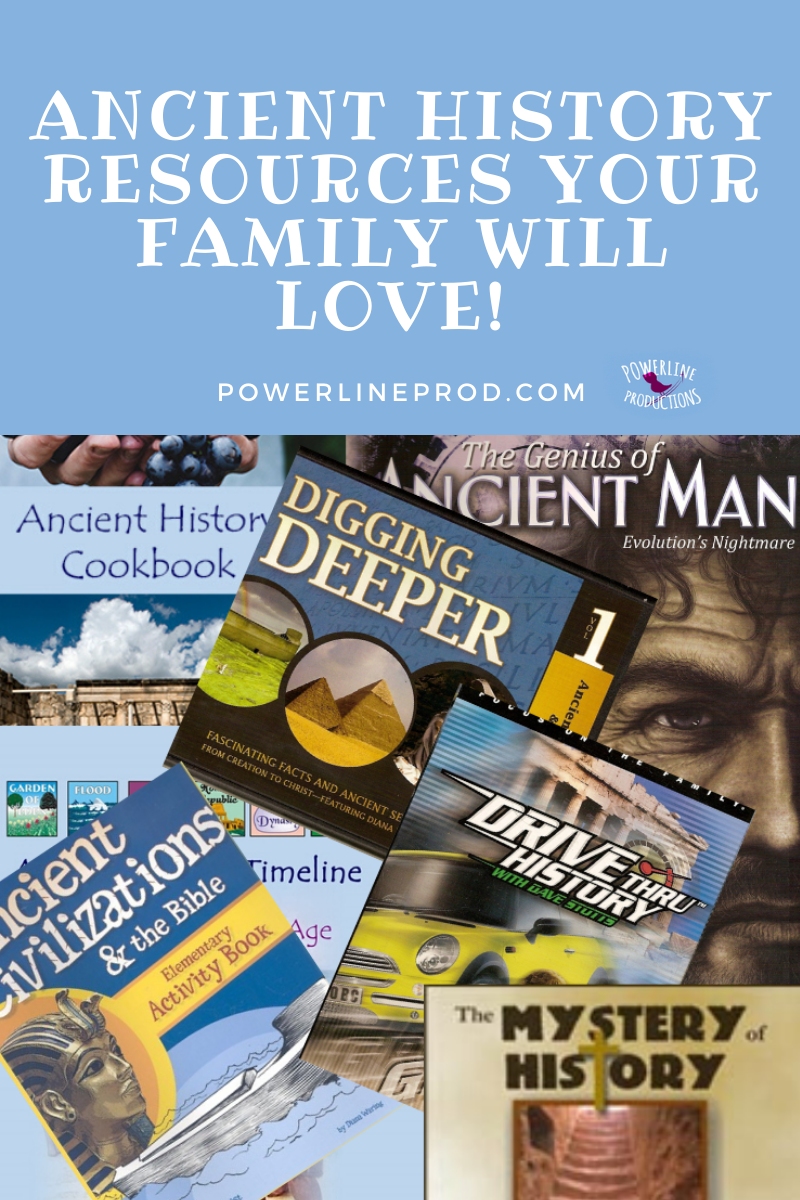 Here are our family's favorite ancient history resources. I highly recommend them! You should check them out!
We started listening to Diana Waring when my oldest children were in elementary. We loved her! She is funny, loves Jesus, and truly makes history come alive. What in the World? I: Ancient Civilizations & The Bible comes with four Audios on CD and takes you from Creation to the time of Jesus. I have listened to these CDs so many times and never grow tired of learning more about world history from someone who truly loves history!
These audios go along with What in the World Volume I: Ancient Civilizations & The Bible, but dig much deeper into things. I love his audio because we explore history that is fascinating and beyond the normal stuff you find in textbooks. I have also listened to Digging Deeper I: Ancient Civilizations & The Bible more times than I can count. It never gets old! The entire family loves her enthusiasm!
The Genius of Ancient of Man by Don Landis is an amazing book. I learned so much from this book about the incredible artifacts, structures, and the historical record that reveals Satan's counterfeit to God's perfection in civilization after civilization. The book also reveals the amazing intelligence of ancient man.
In Secrets of Ancient Man: Revelations from the Ruin by Don Landis, we discover details about advanced ancient technology and how the counterfeit religion of Babylon was mirrored in all the false religions that followed throughout time.
Explore Ancient History by cooking your way through time from Creation to the time of Jesus with Ancient History Cookbook by Meredith Curtis. We have researched ancient foods and dishes mentioned in histories and ancient literature. Then, we've updated the recipes so you can cook and bake in a modern kitchen. Such a fun book filled with lots of history, too!
Ancient History Timeline with Timeline Figures by Meredith Curtis is a great way to get a bird's eye view of Ancient History from Creation to the time of Jesus. Timelines are such a great way to connect people, events, and places. These timeline figures were lovingly created by Laura Nolette.
Let's Have Our Own Archaeology Dig by Meredith Curtis is a fun way to learn about archaeology with hands-on fun and real life learning. After all, archaeology is such a big part of what we understand about Ancient Times. This is such a fun hands-on learning activity for kids from preschool to high school! Enjoy!
This is a blast, especially if you follow our recommendation and make artifacts from different time periods and layer them accordingly. 🙂 🙂
Here is the living textbook and teacher guide for visual and hands-on learners from Diana Waring. Ancient Civilizations & The Bible and Ancient Civilizations & The Bible Teachers Guide made a great addition to our Ancient History studies. Packed with living books suggestions for further research and hands-on learning opportunities, this entire series is a hit in our house.
Oh, and I almost forgot to mention, there is an elementary activity guide that my littles loved! Ancient Civilizations & The BIble Elementary Activity Guide follows right along with the older book but has fun activities for little ones to enjoy.
One of our favorite textbooks ever, The Mystery of History Volume Iby Linda Hobar takes us from Creation to Jesus. It covers secular history, Bible history, and church history, weaving everything together in a beautiful way. Plenty of ideas for fun, too.
Drive Thru History with Dave Stotts, Ancient History Series: Rome, Greece, Turkey, Asia Minor DVDs are amazing! Dave Stotts is funny and shares history in a way that is easy-to-understand. All ages will enjoy these videos.
Our Ancient History Podcasts
Please share your favorite Ancient History Resources in the comments below. 
Until next time, Happy Homeschooling!
Meredith Curtis