Disclosure: This blog post contains affiliate links from my participation in the Amazon Services LLC Associates Program. I receive a small commission at no cost to you when you make a purchase using my link.
Do you want your family to do something more together than just watch movies? How about learning some new hobbies together? You can learn to wood burn, knit, scrapbook, decorate cakes, or create things with leather?
I've included a YouTube how-to-do-it video and some easy supply suggestions to get your started.
Learn to Wood Burn
After you watch a video on how to wood burn, pick up an inexpensive wood burning kit to start with. I like this one because the temperature is easy to read which is helpful when you are starting out. You can pick up this 42-Piece Wood Burning Kit at Amazon.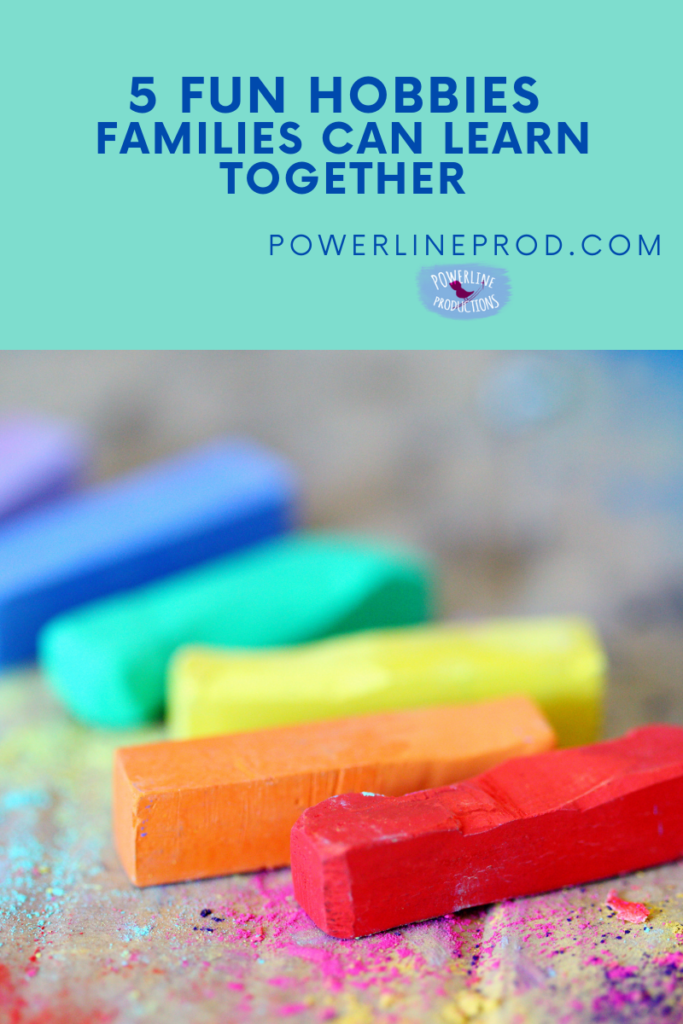 Learn to Knit
Learning to knit is pretty easy and you only need a few tools to get started. You will need knitting needles, finishing needles, scissors, and yarn. You can pick up these things at Wal-Mart, Joann's, Hobby Lobby, or Amazon. The video from Hobby Lobby above is a great one for getting started.
Learn to Scrapbook
I love scrapbooking! There are all kinds of ways to preserve memories and scrapbooks are so special to look at years later. Scrapbooking and card making can be as simple or elaborate as you want it to be. I have tons of scrapbooking supplies at my house like paper, fancy scissors, stickers, markers, and hole punches. But, I found this great beginner kit for people who want to get started! You can find SICOHOME Scrapbooking Supplies, Scrapbook Kit for Gift, Scrapbooking and Card Making at Amazon.
Learn to Decorate Cakes
We all love the beautiful cakes we see at a bakery, but did you know that you can decorate cakes yourself? It's not that hard to learn and you can make gorgeous cakes for a fraction of the cost. After you watch the video, pick up some cake decorating basics at Joann's or Amazon. You can pick up a beginner kit and add on as you need more supplies. I recommend springform pans if you don't already one at least one. Also, a turntable is a must for easy frosting. This kit below doesn't have the dyes, but you really don't need it when you are starting out. I like this 276-Piece Beginner Cake Decorating Supply Kit.
Learn to Create Things with Leather
After you listen to the YouTube video on how to get started in leather working, you can get started with a simple project like a wallet. In "Leather Working for Beginners on a Budget," the teacher recommends Harbor Freight. If you don't have a Harbor Freight in your town, order tools from Amazon or this Beginner 52-Piece Leather Kit.
A Blueprint for Learning a New Hobby
I've given you some ideas and you can come up with more on your own. Here is the basic formula for learning a new hobby:
Watch YouTube videos on how to get started
See if you have the materials you need to get started. If not, pick up the basic supplies
Have fun!
Ideas for Hobbies Your Family Will Enjoy Learning Together
Here are some more hobby ideas for you:
Learn to play the guitar
Learn to draw
Learn to paint
Learn to knit
Learn to crochet
Learn to bake bread
Learn to whittle
Learn to whistle
Learn to jump rope
Learn to juggle
Learn to do card tricks
Learn to write a poem
Learn to bird watch
Until next time, Happy Homeschooling!
Warmly,
Meredith Curtis