Disclaimer- I received this complimentary product through the Homeschool Review Crew.
We used The Fallacy Detective by Nathaniel Bluedown and Hans Bluedorn in our home school and I'm so excited to share it with you! A decade later, I'm happy to report that this logic curriculum is just as wonderful today as it was when my graduates used it. Learn more at Fallacy Detective.
Lately, I find myself saying, "Where has logical thinking gone. So many things are said and done that don't make sense." Maybe every American, especially those in Washington DC on both sides of the aisles should complete the 38 lessons in The Fallacy Detective. It is, after all, a logic course–it's just so easy to understand that your kids will never know they are learning logic.
I love how the book starts out with a challenge to engage your mind, cultivate a love of listening, and listen to opposing viewpoints. The Bible encourages us to be clear minded and quick to listen. It also speaks in Proverbs of listening to the other side of the story. The Fallacy Detective's opening lessons are biblical and logical.
Here are some of the things The Fallacy Detective addresses:
Red Herrings
Faulty Appeal to Authority
Straw Man Argument
Generalizations
Analogy
Lack of Evidence
Propaganda's Appeal to Fear
Propaganda's Appeal to Band Wagon
And so much more! There are 38 lessons, after all.
How We Used The Fallacy Detective
We used Fallacy Detective all together for the first three lessons so everyone was comfortable with using it. It was very easy to understand and use for all. After that, everyone did the lessons on their own. Surprisingly, the kids did extra lessons. They thought it was super fun!
After reviewing this book, I have decided to teach it as a homeschool co-op course. The kids could do a lesson at home and then we could get together and discuss it. We could also watch politicians talk and conversations on TV sitcoms and examine them for logical fallacies.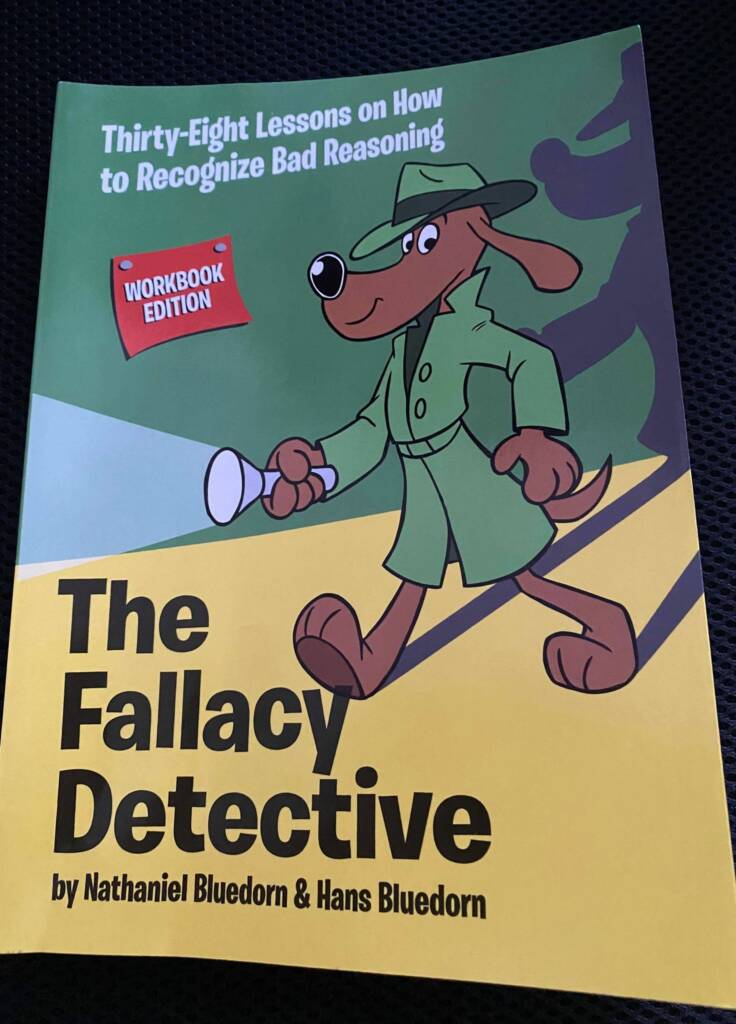 We all agreed that these brothers are wonderful writers–witty and funny. Yet, we learned so much going through the material that I can wholeheartedly recommend this curriculum to ALL! Most homeschooling families won't take a formal logic course, but they would enjoy this and learn a lot about logic!
Now, how do we get this book to Washington DC and every state capital?
Learn More about Hans Bluedorn
You can find Fallacy Detective on Facebook and Instagram.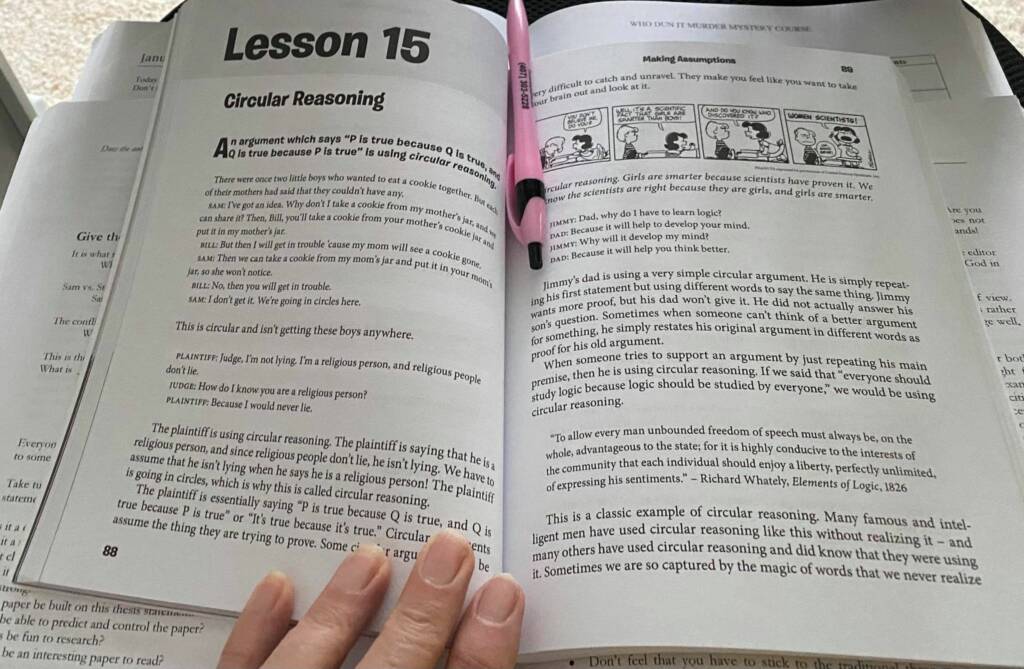 Hans Bluedorn also wrote a novel called Archie and Zowie about aliens, outer space, and how to be friends with someone different from you. Here is an interview where he talks about the book: Hans Bluedorn Interview.
I have to mention this. Hans' parents are Harvey and Laurie Bluedorn, pioneers in the homeschooling movement. They founded Trivium Pursuit with blogs and resources for classical Christian education. I have always loved their articles and books. Laurie went on to be with the Lord, but you will find treasure on this website: Trivium Pursuit.
Check Out More Reviews!
You can read more reviews from the Review Crew HERE. There are reviews on Fallacy Detective and Archer and Zowie. I love to read reviews before I shop!
Check Out TOS Review Crew
I also want to encourage you to check out The Old Schoolhouse's Review Crew Blog. You can read reviews on all kinds of homeschooling products for all ages.
Until next time, Happy Homeschooling!
Warmly,
Meredith Curtis