Do you like cozy mysteries?
​Do you have a kindle?
Legend of the Candy Cane Murder is FREE for your Kindle from Wednesday, December 14, 2022 until Sunday, December 18, 2022.
Meet little Billy who thinks he murdered his mom and meet Billy's uncle Thad. Or is Thad really his uncle? Maggie is trying to teach her Sunday school class about the very first candy cane when the adventure begins.
You see, it's Christmas time and the homeschool co-op is putting on the church Christmas play this year with Maggie helping her friend Sophia direct the extravaganza. First, she has to head south for her grandmother's 100th birthday. Even there, the adventure continues when Maggie meets a beautiful model who has been swindled by the prime suspect. Can she fit the pieces together and untangle Billy's past?
Join with pastor's wife and homeschooling mom, Maggie King and her family and friends as they match wits with the murderer who is out to ruin everybody's Christmas in Legend of the Candy Cane Murder, a Maggie King Mystery. ​
You will love hanging out with Maggie and her family and friends. They are just your typical homeschooling families–learning, exploring, and unraveling mysteries. Maggie King, worship leader and homeschool mom, and her husband, Pastor Matt have seven children: Joel, Bethany, Steve, Sheree, Amy, Stephanie, and Jordan. Along with her friends, Sophia and Mary-Kate, Maggie is often hot on the trail of a murderer. Join Maggie, her family, and friends on their adventures. See if you can uncover the murderer before they do.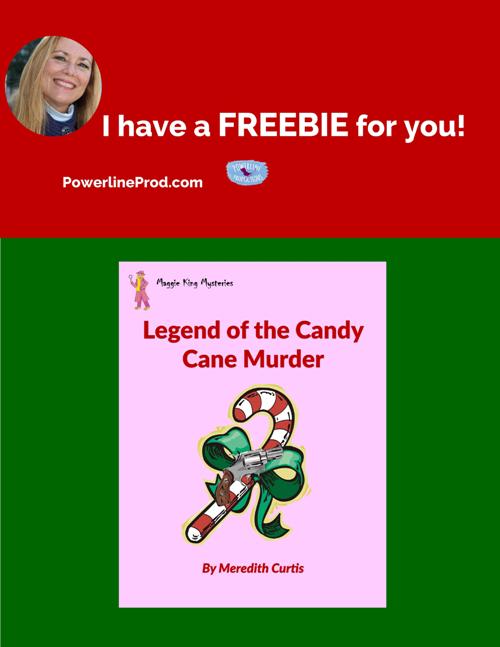 You can download your FREE copy of Legend of the Candy Cane Murder HERE. is Legend of the Candy Cane Murder #3 in the Maggie King Mystery series.
The print book is NOT on sale. The print book is NOT free this week. However, if you would like to order Legend of the Candy Cane Murder in print. You can order it HERE.
Enjoy! And Merry Christmas!
Meredith Curtis